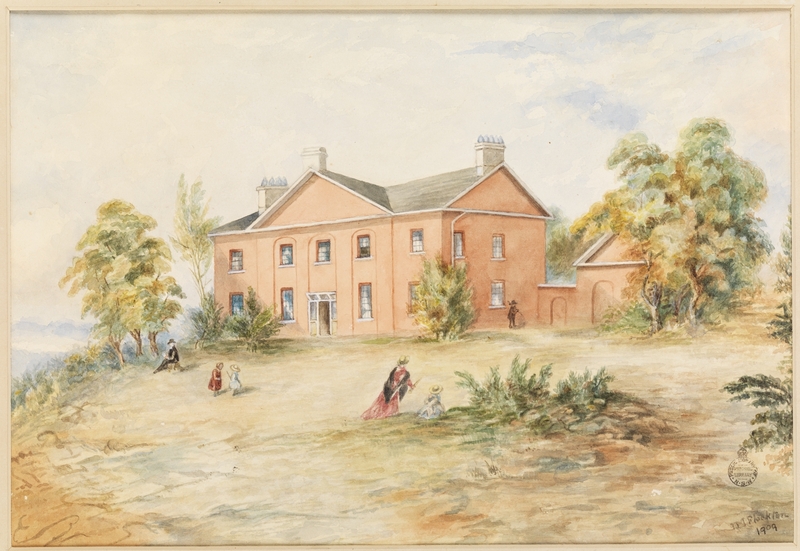 St John's Parsonage, Parramatta, was Francis Greenway's first major work as New South Wales, Acting Civil Architect. It is also the earliest documented house designed in the colony by a trained architect. In April 1816 James Smith signed an indenture, with Captain John Gill, as Acting Engineer. Work started soon after and the building was completed in November 1817. [1]
This was overseen by Rev. Samuel Marsden who was its first inhabitant and the house was described by the biologist, Allan Cunningham, as being
…the handsome brick house of the Rev. Mr. Marsden, crowning a fine rising ground to the left, surrounded by trees, and overlooking the whole town scattered loosely over the hollow beneath. The foundation-stone of this old parsonage was laid by the daughter of the Rev. Mr. Marsden on the 5 May, in 1816.[2]
The building was a substantial one and had cost 2000 pounds sterling to build but some 90 years later it was slated for demolition which finally happened around 1908. Frank Walker the Honorary treasurer of the Australian Historical Society wrote the following letter to the Sydney Morning heralkd about the event.
Image at top of post: Rev. Samuel Marsden's Parsonage at St. John's Parramatta, ca 1860 : a copy by I. M. Flockton of a drawing by E. Thomas, 1909. SLNSW a4962001r

Geoff Barker, Research and Collection Services Coordinator, Parramatta City Council Heritage Centre, 2016
References
[1] J H M Abbott, Macquarie's Architect, Windsor and Richmond Gazette (NSW : 1888 – 1954), Friday 28 January 1927, page 51, http://trove.nla.gov.au/ndp/del/article/85948773
[2] The Illustrated Sydney News, 3 October, 1889
[3] Frank Walker, The Sydney Morning Herald, 1908 http://trove.nla.gov.au/newspaper/article/15025443