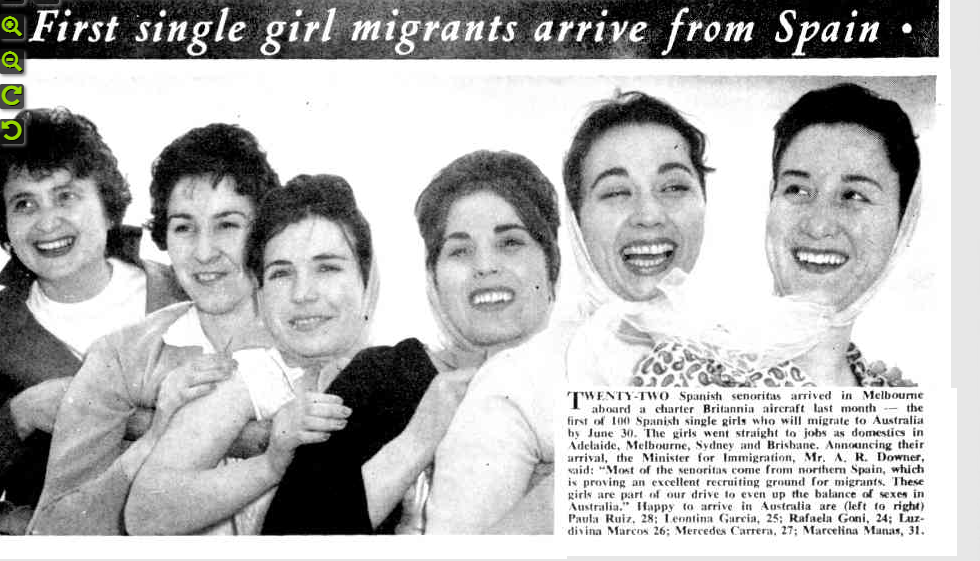 Plan Marta was an informal agreement signed by the Spanish and Australian governments in 1957. Between the years of 1960 and 1963, about 800 Spanish women arrived on Australian shores under "el Plan Martha or Plan Martha". Plan Martha was promoted to the women of Spain who were told that they would be arriving to Australia as domestic servants; when in fact they were called on to balance the sexes of the Spanish migrant population. Single Spanish women were to be nominated by their brothers and/or family members to sent over to Australia. Most of these women got married quite quickly upon their arrival to Australia and were not employed in domestic duties as they had been told.
The Australian Department of Immigration encouraged male migrants to nominate their single sisters of marriageable age to come to Australia, the purported motive being that some single migrants were even killing themselves because of loneliness and failure to obtain a woman.
The first Plan Martha group, of 18 young Spanish women, arrived at Melbourne Airport on 10 March 1960. Then six more groups arrived in Australia at Melbourne Airport on 10 June 1960 with 23 young women, 17 December 1960 with 23 young women, 13 March 1961 with 60 young women, 14 June 1961 with 57 young women, 24 June 1961 and  64 young women and final group on 2 February 1963 with 60 young women.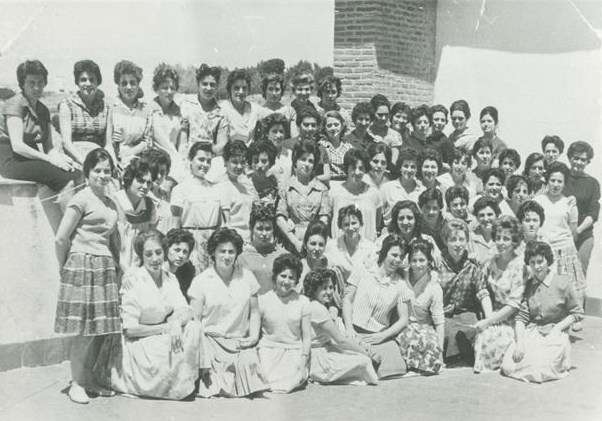 Group of Spanish immigrants from Plan Marta, early 1960s. (Source: Archivo Gráfico de Carta de España)
The first group arrived in Melbourne in March 10, 1960. The women were asked to sign a paper that they would undertake work as domestics for two years, but the document had no legal validity. A study of Operación Canguro, a small group in each contingent came to Australia to marry their boyfriends or to join relatives who had already migrated before. They normally did not engage in domestic work and some of the girls were married a week after their arrival. In some instances, marriage was arranged by letter, and the partners met for the first time at the airport.  
To make the transition smooth for the newly arrived immigrants, the Catholic Church proved to be a crucial factor. The women were assisted by various Catholic affiliated organisations, such as the International Catholic Migration Committee. Every Sunday, women from the Plan Martha would visit Saint Mary's Cathedral in Sydney.
Once in the country, the women found culture and religion to be a comfort in an unfamiliar nation. The women of the Plan Martha were instrumental in creating the Spanish Club in Sydney's Liverpool Street. The club offered free English classes for new arrivals, free Spanish classes for children of Spanish descendants, movie nights, cultural activities, and on Saturdays, ballroom dancing, and later, a youth club.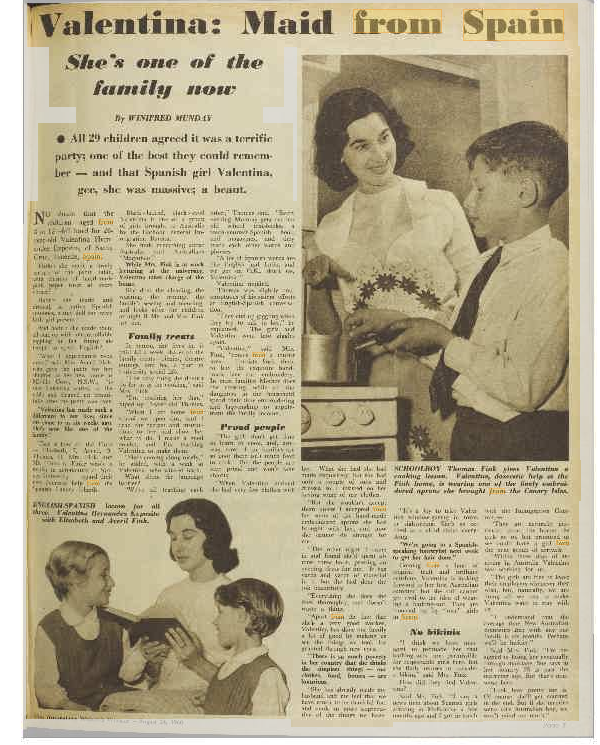 Valentina: Maid from Spain (August 1961), Women's Weekly
Poet and writer Mari Paz Moreno's sister Pilar Moreno and another woman, Carman Patallo were key figures in the Spanish Club. They one of the first Spaniards to arrive in Sydney through Plan Martha arriving in March 1960. In an interview with Natalia Ortiz, she explained
I arrived in Australia in March 1960 as part of the Plan Martha. My plan was to stay here [Australia] for two years working as a journalist, and then travel to India and Mexico where I had friends. I realised quickly that I needed to learn English if I did not want to work as a domestic servant. I was not planning to marry anyone I did not love. I met my current husband at the afternoon English lessons. It is hard to explain how many times I thought about returning [to Spain], nearly every day. But now I have children and grandchildren, so I won't leave. 
Other women like Valentia Hernadez Exposito did work as domestic staff.  Valentina worked for the Fink family of Castle Cove, NSW and accepted her as part of their family helping her to transition into Australian social ways. 
As the first waves of migrants arrived, most with no English, it was difficult for people to be part of the local social life.  The reports of five young Spanish women working naked to beat the heat at a vineyard near Mildura, Victoria some consternation.  As the story gained momentum in the press the Consul-General for Spain in Australia, travelled to Mildura and in company of the police inspected a number of vineyards in the district.  It was found that all of the women involved had worn plenty of clothes in the "traditional Spanish manner" and he was convinced the reports about nakedness were significantly exaggerated.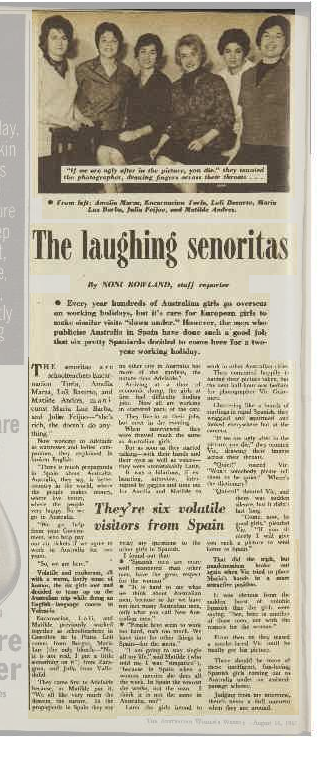 The Laughing Senoritas (August 1961), Women's Weekly
The establishment of community clubs played an important role. The foundation of the Spanish Club of Sydney in 1962, which closed in November 2013, was a major focal point for Spanish social life and its community during this period. A group connected with the origins of the Club was that of single women from the Plan Martha. The women used to get together on Sundays to hear mass in Saint Mary's Cathedral, Sydney and after the mass, some Spanish men joined them for a dance.
Of the women participating in Plan Martha very few returned to Spain, mostly marrying Italians rather than the lonely Spanish men and settled permanently in Australia.

 Neera Sahni, Research Services Leader and David Senior, Volunteer Research Assistant, Parramatta Heritage Centre, City of Parramatta, 2020
References:
Fiancees (Tuesday, 14 March 1961), The Age, retrieved on 11/11/2020
First single girl migrants arrive from Spain (Friday, 1 April 1960), The Good Neighbour, retrieved on 11/11/2020  
Natalia Ortiz (2019). Home Sweet Home, retrieved on 11/11/2020 from https://opus.lib.uts.edu.au/bitstream/10453/136177/2/02whole.pdf
Plan Martha, retrieved on 11/12/2020 from https://en.wikipedia.org/wiki/Plan_Martha
Senoritas to Work in Sydney Homes (Sunday, 19 March 1961), The Sun-Herald, retrieved on 11/11/2020