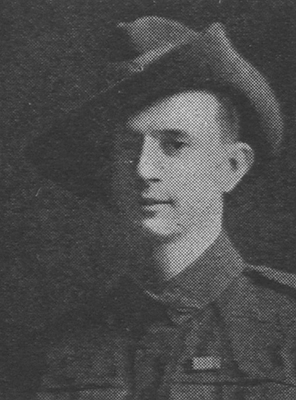 George Francis Clarke was a single 21 year old clerk
employed by The Sydney Morning Herald (SMH) at the time of his enlistment[1]. Born in Paddington, Sydney on 18 December 1894, Clarke was the son of  George Woods and Mary Ann (nee Sherwood) of "Ellamatta" Windsor Road, North Parramatta.
On 14 April 1916, he embarked from Sydney aboard the HMAT Ceramic A40 and arrived in Plymouth, England on 25 August 1916. By September, he was hospitalised for influenza and admitted to the 1 Australian Military Hospital at Harefield. Upon recovery in November he embarked overseas for France from Folkestone. Taken on strength he was transferred to the 53 Battalion (5 Division). In December 1916, the severe winters saw the start of Clarke being admitted to hospital for trench feet, including a stay at Norfolk War Hospital at Dartford for 51 days.
On 7 September 1918 he and 3259 Private Barron Ernest were recommended for a Distinguished Conduct Medal by Lieutenant Cheeseman:
for conspicuous gallantry and devotion to duty as Battalion runners during the attack on Peronne on the 1st and 2nd September 1918"[2] and received his Military Medal (L.C. 31405) on 17 June 1919.
On 13 February 1919, he was granted 6 months leave while in England to gain "non-military employment" as a Motor Engineer at J. Hodson, Gregson Lane, Preston. He was highly praised in the remarks by his employer.
8 September 1919, Clarke left England for Australia per Rananga, disembarking at Sydney on 29 October 1919. Upon his return, a welcome home party was thrown in his honour at "Ellamatta"[3]. After he was officially discharged from the Army on 11 January 1920, he returned to his civilian occupation as a clerk with the Sydney Morning Herald.
Sadly, on 20 April 1927 at Prince of Wales Hospital, Randwick, Clarke died from lung disease, having succumbed to the effects of mustard gas sustained during his time in the trenches. He was aged 32 and was survived by his beloved wife Marie Clarke, sister Mary Horwood and family[4]. He is buried in Rookwood cemetery at Lidcombe, Sydney.

Contributions by George Horwood, Northmead, 
Anne Tsang, Parramatta Council, Heritage Centre, 2015
References:
[1] "OF THE BOYS.". (1919, January 4). The Cumberland Argus and Fruitgrowers Advocate, p. 5. http://nla.gov.au/nla.news-article86116172
[2] Australian War Memorial. Honors and awards (recommendations): Clarke, George Francis.
[3] NORTHMEAD. (1919, November 1). The Cumberland Argus and Fruitgrowers Advocate, p. 13. http://nla.gov.au/nla.news-article86112381
[4] Family Notices. (1927, April 26). The Cumberland Argus and Fruitgrowers Advocate, p. 2. http://nla.gov.au/nla.news-article106226231