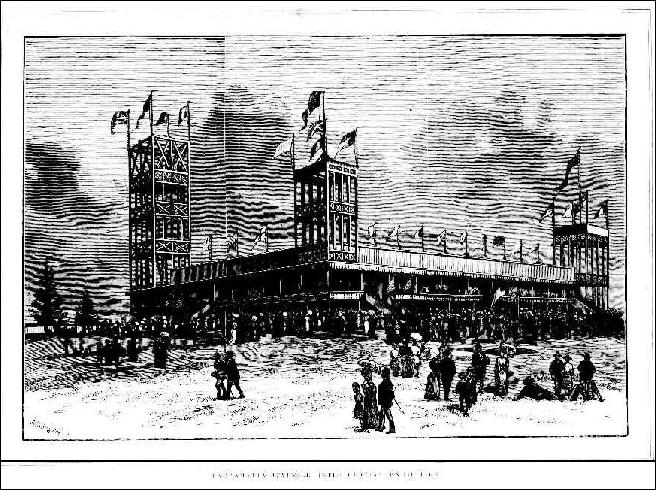 Recently uncovered in a box amongst a number of publications at the Heritage Centre was an 1884 minute book of the organising Committee for the Intercolonial Juvenile Industrial Exhibition, Parramatta. The discovery of the minute book brought to our attention a significant and newsworthy event seemingly ignored in the history books on Parramatta.
The purpose of the Intercolonial Juvenile Industrial Exhibition was to provide boys and girls with unrecognized talents opportunities to show their capabilities and encourage personal growth and development. However, it was at the catastrophic expense of another institution that Parramatta was presented with the opportunity to hold this event. Initially plans were made for a Sydney Juvenile Industrial Exhibition to be held at the magnificent Garden Palace but unfortunately plans were "…thrown into disarray. At about 5.45 on the morning of Friday 22 September, 1882, the night watchmen on duty…entered the Garden Palace building and noticed smoke rising from beneath the statue of Queen Victoria. Within minutes the fire was so strong they were forced out of the building and within hours the whole building was levelled."1
An enthusiastic and committed group of individuals quickly rose to the occasion to put Parramatta forward as an alternative venue for the event. A organising committee was formed and Parramatta Park was selected as the site for the exhibition building. The exhibition was initially planned to be a local affair but quickly grew to a point where the event could lay claim to be the first Industrial Exhibition "in which all the Australasian colonies have participated.." 2
Located almost on the spot of Australia's first observatory it took two months for the Hudson Brothers to build the largely glass and corrugated iron structure for the exhibition. However, for visitors and exhibitors the saw tooth roof structure could provide little relief from the intense summer heat that prevailed during the event. While nowhere near the size and grandeur of the Garden Palace the building was flanked by two towers and in one of the towers an Otis steam lift was to be installed to take visitors up to the top of the towers where they could experience a grand view of the surrounding area. It was reported by the press that 7000 people turned up on the opening day on the 19th December 1883 with thousands arriving by train and steamer ferry.3
Inevitably one discovery leads to another. Towards the rear of the minute book is pasted a newspaper clipping listing all the prizes awarded at the exhibition. At the beginning of the article special mention is made of a 6 ½ year old girl "whose performance on the piano was simply wonderful for a child of such tender years."4 The child's name was Elsie Hall who grew up to be Australia's first female concert pianist.

Peter Arfanis, Archivist, Parramatta Heritage Centre, Parramatta Council, Parramatta Heritage Centre, 2013
References
1. Barker, Geoff, Trial by Fire – the formation of the Powerhouse Museum's collections from the ashes of the Garden Palace
2. The Juvenile Industrial Exhibition. (1883, December 20). Evening News (Sydney, NSW : 1869 – 1931), p. 3
3. Parramatta Intercolonial Juvenile Industrial Exhibition. (1883, December 20). The Sydney Morning Herald (NSW : 1842 – 1954), p.9
4. Minutes to the Meetings of the Organising Committee for the Parramatta Juvenile Industrial Exhibition 8 January 1884 – 7 April 1884. Parramatta Heritage Centre