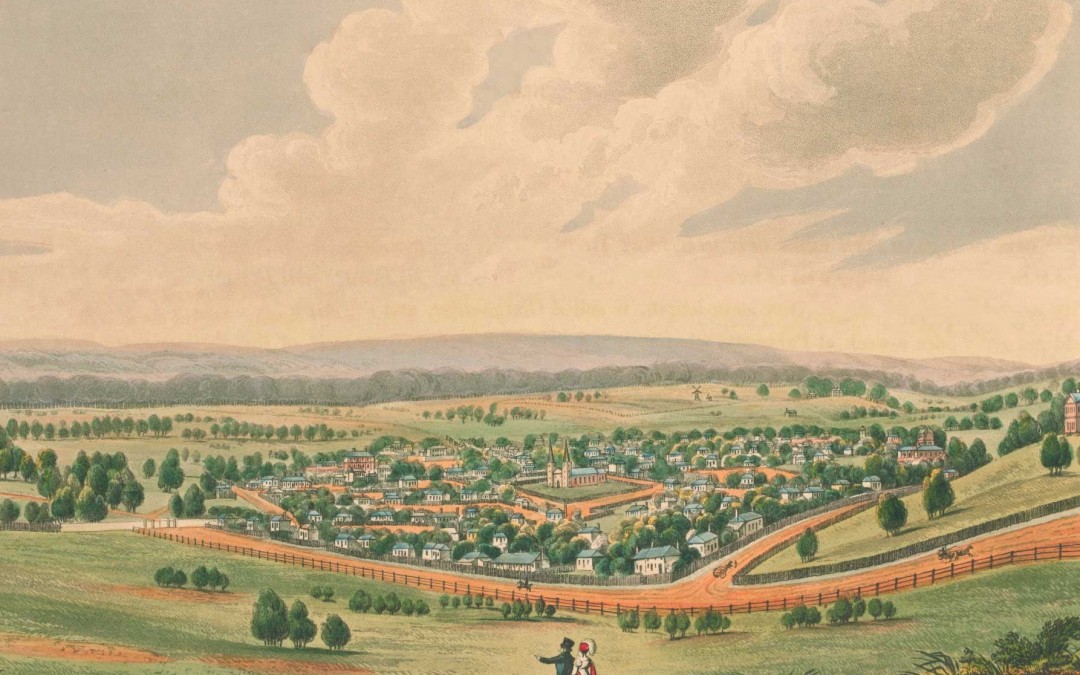 On 5th July 1822, an inaugural meeting was held at the residence of James Robertson, jeweller and watchmaker, at 96 George Street, Sydney that the first Agricultural Society of N.S.W. was formed by a group of the colonial's elite including landowners, stock owners, and merchants. It would become the second agricultural society in Australia after the formation of the Van Diemen's Land Agricultural Society (the current Royal Agricultural Society of Tasmania) on 8th December 1821.
The aim of the Society was to improve New South Wales from a struggling infant colony with a population of 30,000 – half of which were convicts through "furthering Australia's primary production through contest and competition". The Society established a stock fund through annual subscriptions to import improved breeding stock and better agricultural knowledge through literature and education.
A few days later, on the 16th of July, an official Council function was held at Charles Walker's "Red Cow" Inn. There Governor Thomas Brisbane, a patron of the Society, gave a land grant of 10 acres in Westmead (the current site of the Westmead railway station and Westmead Hospital) for a showground, as well as access to the Government Press for promotions and advertising and free stationery. 'Upwards of 80 gentlemen, of the first rank and opulence sat down at six o'clock to a splendid dinner' to draft the rules and regulations, later to be published in a Prospectus (from State LIbrary of New South Wales, SLNSW website). It was recorded in the Sydney Gazette that the Society celebrated until 3am.
First show: Parramatta Fair
One of the rules was to hold an annual show on the first Thursday of October to exhibit the year end produce and award prizes for outstanding results. The first show was called the "Parramatta Fair" and was described more as a sheep show in October 1823 as it appears the focal point was placed on the Report of our Agricultural Society at one of the meetings and dinner at Nash's Inn – a paper aimed to swede free settlers from England to come to N.S.W. over Tasmania. The first recorded prize was a silver quart tankard awarded to free settler Jonas Bradley, of Windsor Road, for 1 cwt. of tobacco on 4 February 1823.
In 1824 the real Parramatta Fair sprung into action with plenty of activities and an array of categories for produce to win awards. This includes classes for Australian Merino sheep, colonial breed bulls, heifers, stallions, boars, sows, and teams of horses and bullocks. Classes for the best colonial cheese, tobacco, and beer. Advertisements were also placed to offer people half a dollar to bring dingo tails to the Society to rid farmers of this unwanted pest.
Revival
The Society lasted until 1836 when it disbanded due to drought and economic depression. During this time many similar societies formed and then vanished until 1857 a Cumberland Agricultural Society formed in Liverpool. This Society would be renamed the 'Agricultural Society of New South Wales' in 1895 at William's Hotel, Parramatta and in 1891 gained permission to use the 'Royal' prefix.
The ASNSW held 'Exhibitions' and it first display and ploughing matches held at the new Parramatta Showground was from October 1860 to 1868 when it was decided the show would be moved to Prince Alfred Park in Sydney, and then Moore Park in 1882.
Staying connected
In 1922, there was a dispute within the RAS as to whether or not to 1822 is the accurate centenary of the Society given it was really formed in 1857. In the end the majority, who were decedents of the initial 1822 Society overruled and a 'Pilgrimage to Parramatta' was organised.
In 1999, to re-establish the RAS's link with its founding city, the Royal Easter Show was launched at Parramatta Mall with descendants of the founding families present as part of a heritage celebration.

Anne Tsang, Research and Collections, Parramatta Heritage Centre, Parramatta Council, 2013
References
Cooke, A. & Birkl, J. (1996). Going to the show?: images and memories of Sydney's Royal Easter Show. Sydney: Greenway Gallery Hyde Park barracks Museum; Historic House Trust of NSW & Royal Agricultural Society of NSW, p. 16-25
Fletcher, B. (1988). The grand parade: a history of the Royal Agricultural Society of New South Wales. Paddington, N.S.W.: Royal Agricultural Society of NSW
Mant, G. (1972). The big show. North Sydney, N.S.W.: Horwitz
Royal Agricultural Society of NSW. (n.d.). History. Retrieved October 4, 2013 from http://www.rasnsw.com.au/824.htm
Royal Australian Historical Society. (n.d.). The first agricultural show. Retrieved October 4, 2013 from http://www.rahs.org.au/history-resources/the-first-agricultural-show/
State Library of New South Wales. (n.d.). Royal Agricultural Society of NSW. Retrieved October 4, 2013 from http://www.sl.nsw.gov.au/discover_collections/history_nation/agriculture/communities/royal_agricultural_society/