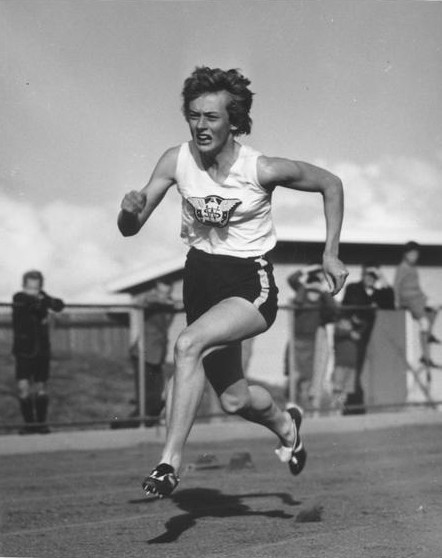 Betty Cuthbert won a place in the hearts of Australians after winning three gold medals in the 1956 Melbourne Olympics . Winning the 100m, 200m and 100m team relay, the blue eyed girl from Ermington was the first Australian ever to win three gold medals at a single Games, earning the title of the nation's Golden Girl.
The film below, from the Parramatta City Council Archives at the Heritage Centre, shows how popular she was with the people of Parramatta who lined Church Street to catch a glimpse of this extraordinary athlete.
How many of the landmarks in this footage are recognizable to you today?
Below is a newspaper account of the parade held on 10 December 1956.
The Argus – Tuesday 11 December 1956
SYDNEY, Monday: Fifty thousand cheering Parramatta people today hailed their Olympic golden girl, Betty Cuthbert, during a victory parade through her home town.
Work stopped in Parramatta's shops where Betty, in the back of an open Rolls Royce drove along the main street, where cheering crowds stood six deep.
Betty's parents, Mr. and Mrs. L. G. Cuthbert, her twin-sister, Marie, her grandmother, Mrs. McCleland, and her cousin Margaret, 11, followed in another Rolls Royce.
When the cars reached Church St. a band, marching girls, and 400 schoolgirls, joined the procession.
Trim in her green and white Olympic uniform the 18-year-old champion stood to acknowledge the roar from the crowd.
Betty drove under banners across the road reading: "Parramatta welcomes Betty Cuthbert." "Welcome to Betty, our Golden Girl."
Outside the flag-decked town hall, Alderman E. A. Hunt, Mayor, welcomed Betty and her family, and introduced her to a group of… children in wheelchairs.
Presenting Betty with a scroll granting her freedom of Parramatta, Alderman Hunt said: "Parramatta welcomes and acclaims you. Never in the field of international sport have so many honors been gained by such a young and charming representative.

Peter Arfanis, Archivist, Parramatta Heritage Centre, Parramatta City Council. 2013