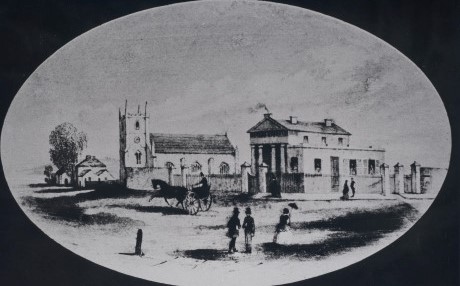 … a continuation from Part 1
Between George and Macquarie Streets stood the old Court House, the old building used as a school by John Tull, and at the Macquarie Street corner the house in which the Rev. S. Marsden lived, and later the school of John Eyre. Across the road was the land now occupied as a park, then came the church.
At the north-western corner of Church and Argyle Streets Hughes had a lease in 1823. The railway line is built over a portion of this land. In 1830, one, Hugh Hughes, had an inn known as "The Golden Lion", which doubtless stood on this site, as the land was granted to the, individual mentioned.
The land in Church Street, between Argyle and Aird Streets, was occupied by Charles Walker, of the "Red Cow," in 1823. It was later granted to his wife. John Eyre leased the block at the south-western corner of Church and Aird Streets, and a portion of land near the corner of Church and Campbell Streets was in the hands of John Campbell.
The land near the river now occupied by the Houison family was leased in 1823 to Thomas Woolley. A reserve wide enough to admit a horse and cart existed between the river and this block. In 1836 it was proposed to deepen the river right up to the bridge, so as to allow vessels to reach the heart of the town. The sum of £.5000 was to have been spent, which included a handsome remuneration to the proprietor of the mill dam further down the river.
At this period an inn known as the "Governor Bourke" appears to have stood on this property. It was advertised as for sale in the "Sydney Herald" of March 21, 1836. The property was described as being directly at the foot of the bridge, and stated that the little difficulty that prevented boats coming to the bridge would soon be removed. It was again advertised for sale on August 15, 1837. It was then described as the estate of Blackfriars, and mention was made of the effort for deepening the river, which would allow boats to reach the bridge.
Hannah Mockler occupied the next section, which was later granted to Richard Webb, who owned a timber yard, probably on this site.
The north-eastern corner of Church and Phillip Streets was granted to Francis Oakes on June 30, 1823. It is evident that substantial buildings had been erected on the land, otherwise no grant would have been issued. The Oakes family occupied this land until late in the last century, when it was subdivided after the death of Mrs. Oakes in January, i883, at the advanced age of 94.
… the final part of Old Church Street will be posted soon

References
James Jervis, The Development of Settlement in the Town of Parramatta, Parramatta Historical Society, Journal and Proceedings, 1935