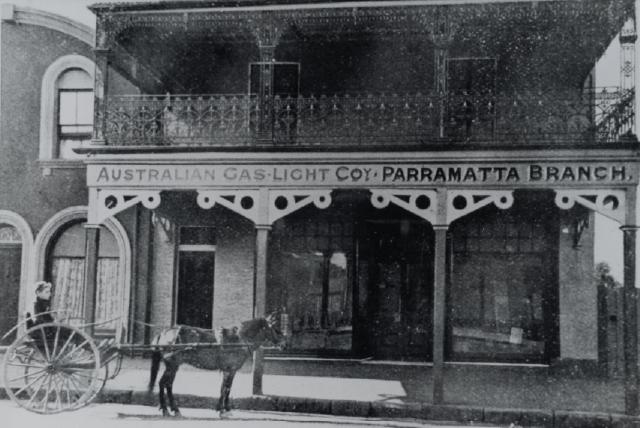 The Australian Gas Light Company was established by private interests in New South Wales on 7 September 1837 to light the streets of Sydney with coal gas. This is Australia's second oldest company to be listed on Australian Stock Exchange. Australian Gas Light Company has expanded businesses in all Australian states, as well as in Chile, China and Poland. The lights were turned on in 24 May 1841 to celebrate the birthday of Queen Victoria. Within next two years there were 165 gas lamps in the city – 14 Government lights, 11 Corporation lamps, 106 Publicans' lights, and 34 Private lamps.
The Australian Gaslight Company was located in Pitt Street on land south from Campbell Street. In 1850s. Gas lighting allowed for late night shopping in department stores. The first gasholder and a two story building were erected in 1855. By 1858 the company purchased another eight allotments in Pitt Street. By 1860 Australian Gas Light Company was considering extension of service to Newtown, Redfern and Glebe. Two new holders were constructed in 1861 and 1865; a fourth holder was built in 1874. The former Australian Gaslight Company Building at 479-487 Pitt Street, Sydney, was the company's head office. Coal was stored in a coal store from where it was delivered to the vertical retorts by overhead conveyor. Gas was produced in vertical retorts before being piped to the scrubbers and purifiers to remove any impurities. It then passed through a meter room before being stored in gasholders under pressure.
Gas was manufactured from coal, which was shipped in by barges and ferries. Consequently, suburban gas companies established their plants at harbour side locations. With the growth of Sydney, the sites where these now-abandoned plants were built have become valuable real estate, being at key locations around the harbour. Some sites have been re-developed for other industry or housing, while a few have been reserved for public use in the form of harbour side park-lands.
Australian Gas Light Company is an active member of the community and support organisations like The Smith Family and provide energy advice to Mission Australia.
In June 1871 about 30 men met with Reverend Ralph Mansfield (Secretary of Australian Gas Light Company) to form a local gas company. Parramatta gas works was established on the outskirts of Parramatta in 1872. The Parramatta Gas Company purchased land on the river in 1872 and immediately began the construction of the brick retort house. The gasworks opened in 1873, bringing coal along the river to the works where it was converted to gas. On 29th March 1873, First Street light was turned on at Parramatta. George Street was lit by gas in 1876. In 1913, gas lights were replaced by electricity.
The Australian Gas Light Company bought the Parramatta Gas Company property in 1890. It took one year to construct the new office and then old works on the Parramatta River was dismantled. Mr J Finlayson was in charge of Australian Gas Light Company (Parramatta Office) in 1890.
In 1933 gas was considered as one of the most important public utilities in Parramatta. Another showroom and company office was opened in about 1935 in Parramatta. After housing at different temporary locations, Australian Gas Light Company moved back to their new showroom at No 46, George Street, Parramatta.
The Gasworks Bridge over the Parramatta River is one of 32 lattice girder bridges built between 1870 and 1893 throughout NSW. 20 were road bridges, 12 were railway bridges. Meadowbank Railway Bridge is one of those lattice girder bridges. Gasworks Bridge is also known as Newlands Bridge.
The Gasworks Bridge was built around 1881. Bridge is supported on large sandstone piers. It has three main spans each 31m in length and two steel beam approach spans. The overall length is 110m and is still in use.
East of the Gasworks Bridge is the site of the first official landing place in Parramatta where Governor Phillip and a small party of Marines arrived in 1788 to establish the colony's second settlement. Gasworks Bridge is named after thriving industries such as flour and woollen mills at that time. Boatsheds and inns were located on the riverfront here to support the settlement.
References
Terry Kass et al, Parramatta, A Past Revealed, Parramatta City Council, 1999
Waddy, Lloyd, The Kings School (1831-1981), Parramatta & District Historical Society Inc
Vertical File, Local Studies and Family History Library, Parramatta Heritage and Visitor Information centre
Photos from Local Studies and Family History Library, Parramatta Heritage and Visitor Information centre.
Varman, R. V. J. (Robert V. J.), Queens Wharf Reserve Parramatta : archaeological assessment
Parramatta River Foreshores: bushland regeneration final report, November 2006 to October 2007 Toolijooa Environmental Restoration
Statement of heritage impact : Gasworks Bridge, Parramatta River, Parramatta
http://www.agl.com.au/about-agl/who-we-are/our-history
http://www.eoas.info/biogs/A000206b.htm


Neera Sahni, Research Services Leader, Parramatta Council Heritage Centre, 2014