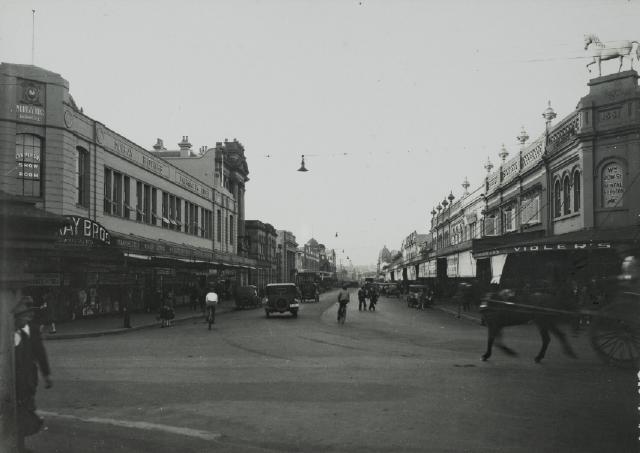 On 29 April 1876, his son Edward Nichol Murray (c1856-1931) opened a small hardware business in Church Street, Parramatta. In 1877, his eldest brother William Richard Murray (1849-1931) acquired Charles Tuke's general store next door.  In this store you could buy "Pianofortes and American Organs on easy terms and sewing machines on time payment, no interest.
The 'no interest' purchase was a new way of selling goods and at the time it appears to have been a successful for the brothers as they expanded the business and opened another  hardware and crockery shop. This time on the opposite side of Church street.
At this time 'Murray Brothers' employed over 100 people working in the shop and the various factories as well as the woolen mills.
In 1884, the two brothers joined forces and formed what would become one of Parramatta's best known businesses – 'Murray Brothers'.  A furniture section was added to the other branches of the business which included selling pianos & organs, the manufacture of clothes and even the production of their own jams.  At one stage the furniture and jam factories were located in the old Ice Works in Smith Street beside the river.
Murray Brothers purchased the 'Woollen Mill' from the French family in 1887 for 2000 pounds and operated it under the name of 'Parramatta Woollen Mill'.  They installed the machinery acquired from the 'Byrnes Australian Mill' in Granville.  Water from the nearby Hunts Creek was used for scouring the wool which was then dried in the sun, sorted, carded and woven into medal winning rugs and blankets.  'Parramatta Woollen Mills' won gold medals at Royal Agriculture show in Sydney in 1897, 1898 and 1899 for its rugs and blankets. In 1908 Parramatta Woollen Mills won a gold medal at Franco-British exhibition for uniforms. In 1911 the mill was sold to Alfred Edwin Daking Smith.
Stay tuned…more in the next blog!