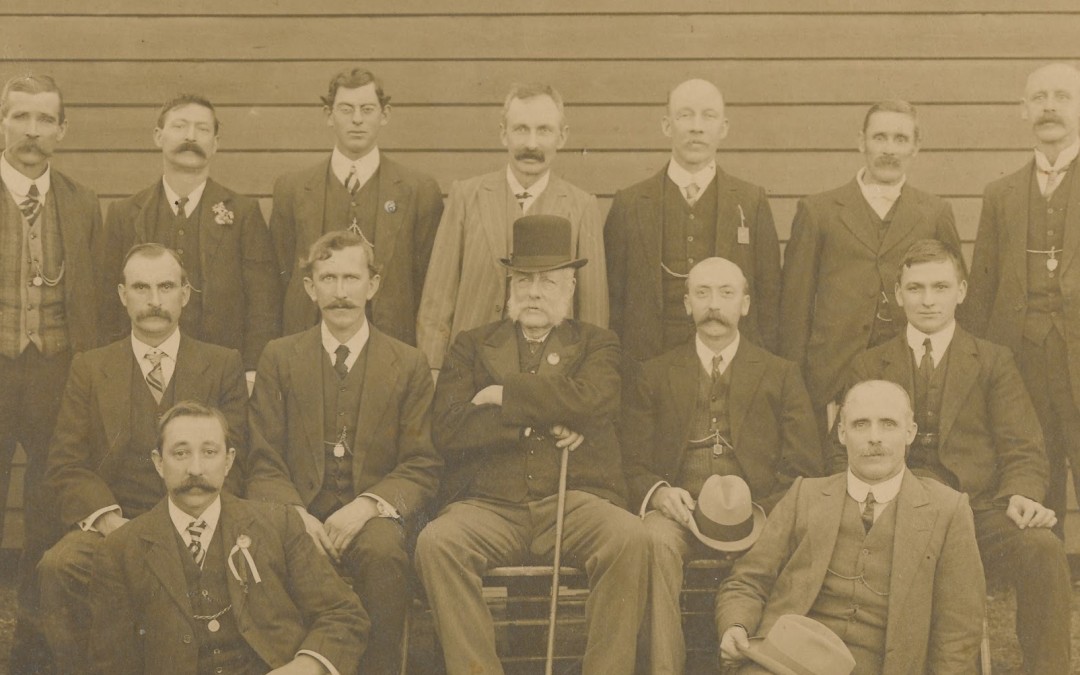 John Nobbs is considered by many a pioneer of Granville. In the early days he was seen as the leading spirit of the district, his heart and faith was in Granville which he believed was the centre of the district. He threw himself into developing Granville to be an industrial powerhouse of Sydney, ensuring the district had the services and employment opportunities required for its population.
Born in Surry Hills in 1845, and trained as a conveyancer, he saw the potential of what was then called Parramatta Junction. He moved there in 1877, purchased land in William Street, and in 1879 established his family home and business there.[i] Within a very short period his name became well know in the district as he strove to obtain better amenities for the growing population. Nobbs was primarily responsible for changing the name of Parramatta Junction to Granville in 1880 and then led the way to have the district declared a municipality in 1885.
In a gathering at Granville in 1914 to honour John Nobbs for his achievements he remarked he had lived in Granville for 36 years, was the first chairman of the Progress Association when at that time there was not a single school in the district. He was the first chairman of the School of Arts, the first mayor of Granville, re-elected 4 times, and sat in Parliament nine times. To the cheers of the audience he pointed out that when he arrived in Granville the population was about 60 people living in 20 or 30 houses and since that time it had grown to 10,000 with over 2300 houses. He was a driving force in increasing the number of factories from 3 employing 20 people to an industry of about 35 factories employing 2000 people. Notable among these was the Clyde Engineering Works, manufacturer of locomotives.[ii]
There is a long list of achievements attributed to Nobbs, including founder of the (Royal) Australian Historical Society and the New South Wales branch of the Australian Natives' Association (sometime president), a trustee of the National Park and of Captain Cook's landing place at Kurnell, a leading Freemason and a founder of United Grand Lodge of New South Wales, member of the Australian Protestant Defence Association and founder of the Cumberland Independent under the editorship of T. Courtney.[iii]
As well as being a "roads and bridges"[iv] type of politician Nobbs was an early supporter of female suffrage [v] and a keen advocate of the game of soccer, or as it was more commonly referred to in those days, British Association Football. He considered it a good, clean sport compared to the other version of footballs such as Rugby and Australian Rules Football. He was a great soccer enthusiast and was remembered for the deep interest he took in the game. He was involved in an official capacity as President or Patron of the Granville Soccer club from the beginning of its formative years in the 1880's. Nobbs together, with Mr. Fred. Barlow and other enthusiasts, was instrumental in forming the Granville and District Football Association in 1902, which developed into a major soccer association, bringing soccer and competitions to schools in the district, thus creating a steady stream of skilled footballers for the game's higher levels. Mr. Nobbs was elected the first president, a position he retained until his death in 1921.[vi]
He and Fred Barlow  were wholehearted supporters of football in the Granville district. Nobbs had earned the esteem of the 4000 plus members of the Association. It seemed there was hardly a trophy or medal presentation ceremony held for Granville soccer that John Nobbs did not officiate over, nor a photograph of a Granville district football team in which John Nobbs, with his distinctive mutton chop whiskers, did not appear.
Death had taken from Granville, as a local newspaper had written, "one of the most notable figures in the political, industrial, social and sporting life of Granville district – the Hon. John Nobbs, M.L.C."[vii]
References
[i]. Granville From Forest to Factory, Granville Historical Society Inc,1991. p.57
[ii]. John Nobbs Testimonial. (1914, April 11). The Cumberland Argus and Fruitgrowers Advocate p. 2. http://nla.gov.au/nla.news-article85965707
[iii]. Terry Kass, 'Nobbs, John (1845–1921)', Australian Dictionary of Biography, National Centre of Biography, Australian National University, http://adb.anu.edu.au/biography/nobbs-john-7852/text13639, published in hardcopy 1988
[iv]. Terry Kass. Ibid.
[v]. Terry Kass. Ibid.
[vi]. Death of John Nobbs. (1921, November 12). The Cumberland Argus and Fruitgrowers Advocate, p. 6. http://nla.gov.au/nla.news-article103816260
[vii]. Death of John Nobbs. Ibid.


Peter Arfanis, Archivist, Parramatta Council, Parramatta Heritage Centre, 2014