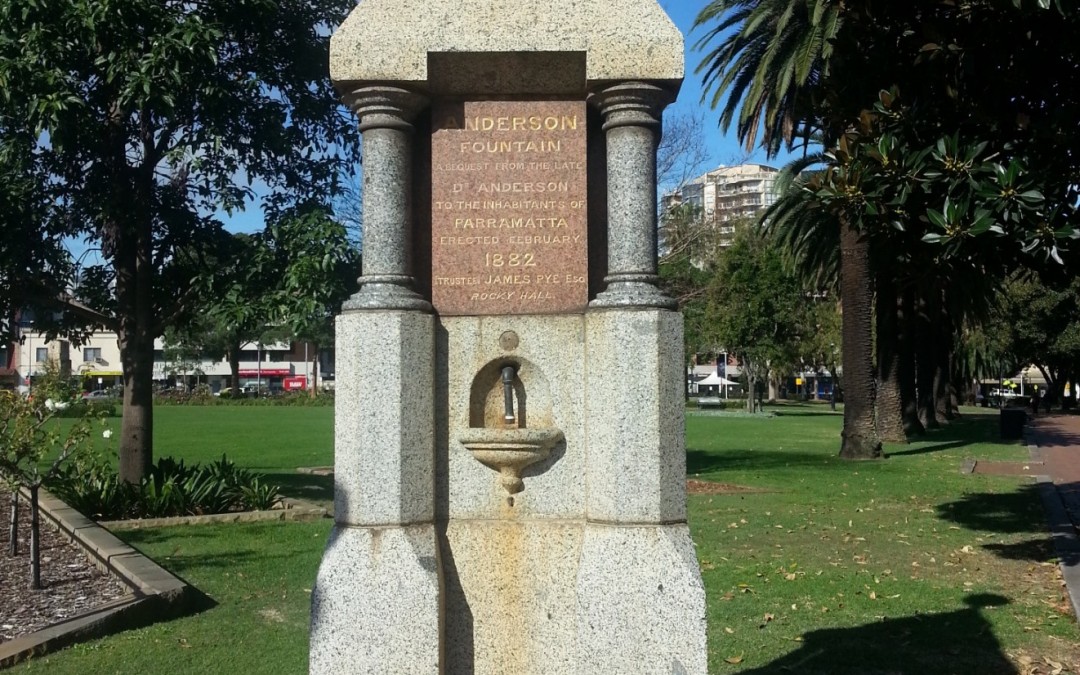 The Anderson Fountain – Photo Peter Arfanis
Many who have seen the Anderson Fountain, located at the north west corner of Prince Alfred Square, could be forgiven for thinking the fountain has occupied this same position since its construction in 1882. In fact the Anderson Fountain, originally located on the site of Centennial Fountain in Centennial Square, near the old Town Hall, must be one of the most relocated memorials in Parramatta.
The Anderson Fountain was named after Dr Mathew Anderson, a surgeon, who arrived in Parramatta from the United Kingdom in 1827 to take up the post of Colonial Government Surgeon. He remained in Parramatta from the age of 38 until his death in 1850, aged 62. He was considered a dedicated, educated and sociable man, a lover of art, in possession of a considerable and valuable art collection. He was a tireless campaigner on a number of issues including public access to fresh and continuous water supply and drinking fountains.[1]
Dr Anderson died 7 July 1850, bequeathing £200 for the construction of a drinking fountains on the south side of the Parramatta River.[2] The original site selected for this fountain was to be in front of St John's Church.[3]
The Fountain was presented to the town by the trustee, James Pye, in February 1882. It took over thirty years for the bequest for this fountain to become a reality. Orange trees were grown around the fountain, most probably courtesy of Mr Pye owner of reputable orchards in the area.[4]  By 1884, 11 fountains had been erected from the Lennox Bridge to Western Road (Great Western Highway).[5]
The Fountain's existence near the Town Hall was short lived when in 1888 Council decided to move the Anderson Fountain to Prince Alfred Square, to make way for the Centennial Fountain a far more elaborate drinking fountain to mark Parramatta's Centenary. The Anderson Fountain was moved once more in 1922 to make way for the War Memorial. It stood in its new location at the corner of Victoria Road and Church Street for 32 years, when, in 1954, it was again moved, this time for the erection of the Gollan Clock. The Fountain still stands at this location at the corner of Victoria Road and Marsden Street, looking across to St Patrick's Cathedral.

Peter Arfanis, Archivist, Parramatta City Council, Heritage Centre. 2014
1.The Colonials. A Colonial Cultural Medico. Parramatta and Hills News, 22 June 1967. P.4.
2. Country News. Parramatta. (1862, July 24). Empire(Sydney, NSW : 1850 – 1875), p. 2. from http://nla.gov.au/nla.news-article60478670
3. MEMS. (1886, May 6). Evening News (Sydney, NSW : 1869 – 1931), p. 3.  from http://nla.gov.au/nla.news-article107287585
4. Parramatta. (1850, July 16). The Sydney Morning Herald(NSW : 1842 – 1954), p. 2.  from http://nla.gov.au/nla.news-article12919468
5. Hanson, W. Historical Memorials. Parramatta and District Historical Society, Journal and Proceedings. v4, 1935.