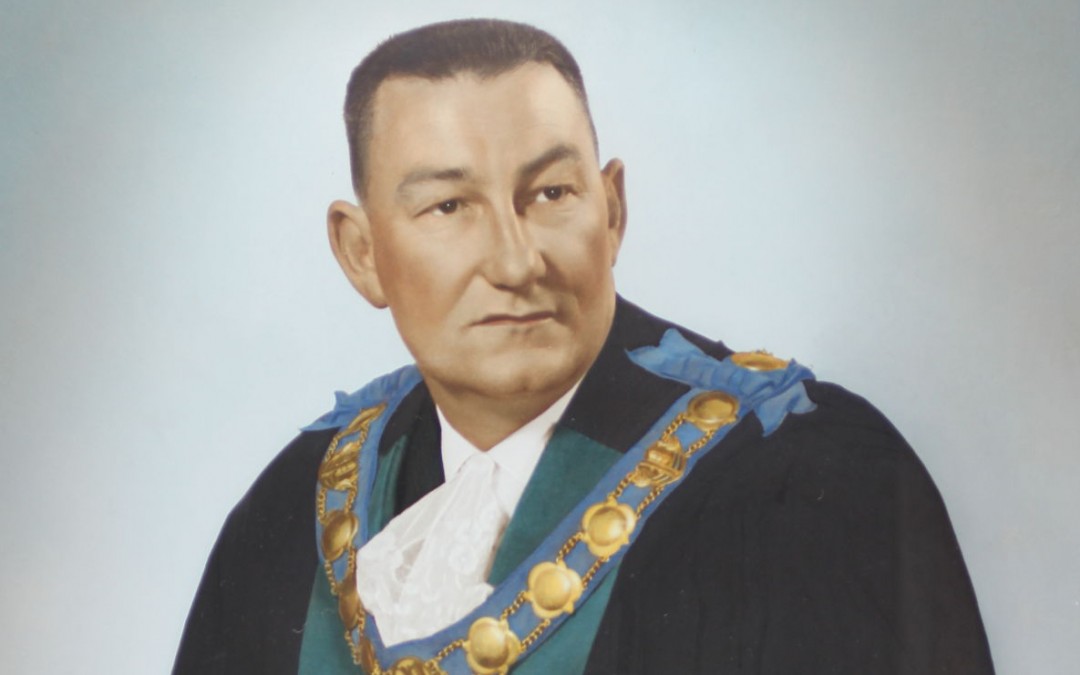 Mayor for the year 1962 and Alderman 1957 – 1961 Granville MLA until retirement in 1984. Died 9th December, 2013
Son of David John Flaherty, filler, Shell Oil Company, and English migrant, and Bridget Carroll, Pat was born in Granville in December , 1923 and was educated at Blaxcell Street public School and Marist Brothers high School, Parramatta.
He was a carpenter and joiner by trade and a member of the Building Workers Industrial Union. He married Joyce Archer on 18 February 1947 and had 3 sons.
Joining the Army he saw active service with the 27th Commando Squadron in New Guinea, participating in tow tours in 1942 and 1944.
Deciding that his local area needed better representation he stood for election to the Council and was an alderman from 1957 to 1962 serving as Deputy Mayor in 1960 and Mayor in 1962.
He considers the replacement of the Dog Trap Road gates with the Woodville Road underpass and the continued highlighting of the hazards of air pollution in Parramatta to be the highlights of his mayoral incumbency.
Entering state politics at the 1962 election he defeated the incumbent Labor MLA for Granville. He was re-elected seven times and retired at the 1984 state election where he was replaced by future federal minister Laurie Ferguson, (son of another former Marist High School student).
He moved to Townsville, Queensland, in 2005. He died on Monday 9th December 2013. His funeral Service was held in Townsville, on Tuesday 17th December at Morley's Funeral Home
Further References
Granville Historical Society. Obituary of James Patrick Flaherty 1923-2013. http://www.granvillehistorical.org.au/james-patrick-flaherty.php
Parliament of NSW. Former Members. http://www.parliament.nsw.gov.au/prod/web/common.nsf/key/Archives_MemberPage