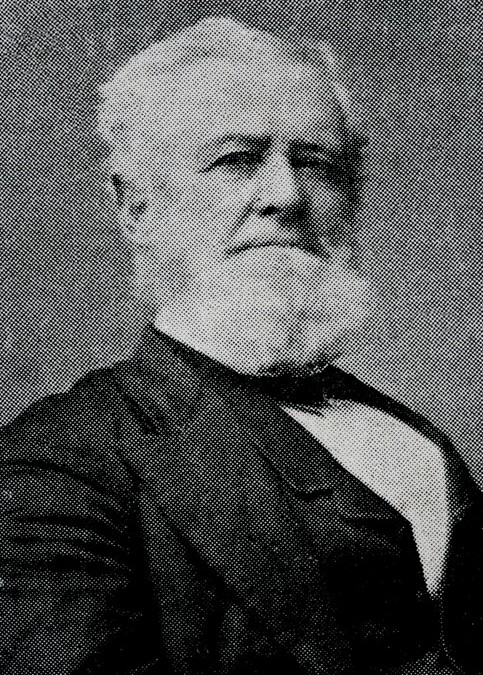 Mayor for the years 1871 – 1873. Alderman 1863 – 1870, 1874 – 1897. Died 13th December, 1897
(From The Cumberland Argus, December 18th, 1897)   The late Mr. Hugh Taylor was so much an institution in Parramatta that the news of his sudden death on Monday morning … came as a real shock to the people …. To none was … (his face) … more familiar than to those who had fallen on evil times. In Hugh Taylor these found a warm and generous friend. Remains for us to say farewell, however briefly and inadequately, to a man whose influence in his native town many have attacked but none have questioned …. And it goes without saying that the fierce light which blazes on the life, public and private, of a prominent man in a small community has been thrown without remorse on the citizen whose death we deplore. He had his enemies, on public and private grounds and it is only doing him the barest justice to say that, when he was beaten, he took his punishment standing and, when he was the conqueror, he made no mean use of his victory …. A pugnacious man, a man who knew what he was doing, he was constantly at war with some of his surroundings. Not unkindly, he has been described as a "Stormy Petrel". In the heat of the fight he gave hard knocks – and took them …
Hugh Taylor was born on March 19th, 1823, in Macquarie-street, Parramatta, in a house pulled down just about the time his illness commenced. His father lived in a low cottage adjoining Mrs. Galloway's residence opposite the Park. He was educated at the King's School at the time the Rev. Robert Forrest was headmaster, and on leaving school started butchering, which he carried on most successfully.
He was first drawn into politics as a supporter of Mr. James Byrnes … and as one of that gentlemen's most active agents soon learnt the ropes and really became more in touch than the candidate himself, so that when a rupture occured – and the Byrnes and Taylor families first broke out into open hostility – Mr. Taylor was quite ready to do battle on his own account and threw down the gauntlet. In February 1871, he defeated Mr. C. J. Byrnes for the mayoralty and in the same month next year was returned as a member for Parramatta.
At the close of 1877, Mr. Taylor was offered a portfolio after having served six years in Parliament. (He) was first elected to the Parramatta Borough Council in 1863 and attended his first meeting on February 18th. The borough had been proclaimed in November, 1861, but the first meeting of the council – the only surviving member of which is Mr. John Taylor – did not take place till January 2nd, 1862. Mr Hugh Taylor was elected next year and sat continuously from then till the day of his death, a period of 34 years, perhaps the longest record in the colony. He was mayor from 1871 to 1874. Once he was elected to the chair, but unseated on the application of Mr. Byrnes to the Supreme Court.
Mr. Taylor was in everything in Parramatta. A justice of the Peace, member of the Park Trust, president of the old Jockey Club, president of the Cricket Club and Liedertafel, a kind of godfather to the fire brigades, member of the Parramatta School Board, and so on.
There is no doubt he brought a great deal of money to the town. Bridges, buildings and roads testify solidly to this fact. One of his best acts was to secure the extension of the penny postage system to Parramatta, for which his constituents presented him with a costly gold medal of unique design. The old man lost this medal a couple of years ago, but another one was quickly subscribed to and presented. Later on the original was found in a dust heap in Sydney ….