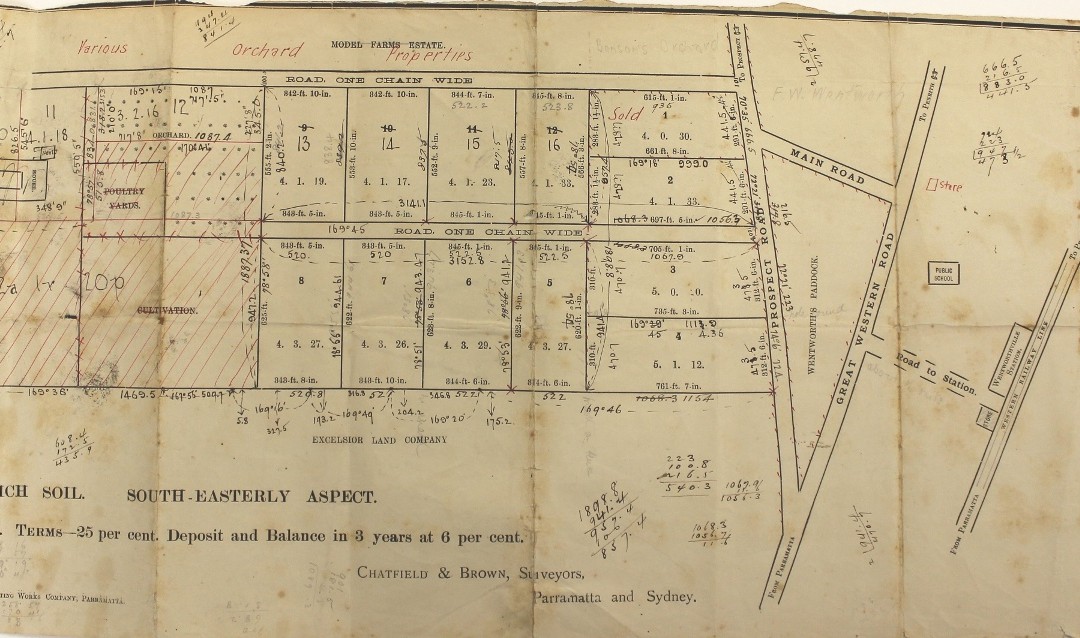 This recently catalogued collection of papers relate predominately to the work and activities of Edwin John Brown, a licensed surveyor based in Parramatta. The papers consist of a variety of notifications, correspondence, advertisements, meeting notices, and other ephemera from societies and businesses in the Parramatta area, many associated with Brown. The reverse side of many of these papers were actually reused to write down surveying calculations and notes, most probably by Brown. Even though Brown was in partnership with Samuel Chatfield it appears that these notes may belong to Brown since most of the recycled papers used to prepare the notes relate to activities that Brown himself was associated with at a personal level. Some subdivision plans and correspondence in this collection are in the name of the firm Chatfield and Brown.
Also in this collection are a small amount of land sales posters, where another well know Parramatta local, R H Mathews, was the surveyor.
To view a list of the items in the collection click here
A Short Biography of E J Brown
Edwin John Brown was born in 1859 at "Brislington" house, George Street, Parramatta. He was the son of Dr Walter Brown, highly respected Parramatta Physician and the first captain of the Parramatta Volunteer Rifles formed  in 1850. Brown was educated at King's School. He showed himself to be a competent sportsman excelling in football, boxing and of course rifle shooting.
He started work as at the Lands Department, serving his apprenticeship under the late Surveyor, Mr Milne, mostly in the Oberon district. He qualified as a Licensed Surveyor in 1884 but shortly after left the public service to start a private business as a surveyor. In 1885 he formed a partnership with another licensed surveyor, Samuel Chatfield, with whom he formed the well know firm Chatfield and Brown based in Sydney and Parramatta.
Samuel Chatfield himself had close ties with Parramatta, his grandfather being Captain Lamb of Parramatta. Chatfield was also on a member of the Parramatta Licensing Bench. He died in 1906.
Brown's father's love for shooting was passed onto his son who held the position of Chairman of the National Rifle Association for 24 years. His valuable service to the Rifle Association earned him an Order of the British Empire in 1929.
As well as being a licensed surveyor Brown also ran a business in Parramatta which advertised his services as property auctioneer, valuator, financial and insurance agent and arranger of mortgages. His office was located in the Hatte's Buildings, Church Street, Parramatta.
For many years Mr Brown was one of the most popular man in the Parramatta district. He was a multi talented individual who was involved in a number of societies including the Parramatta and District Philharmonic Society and Parramatta District Liedertafel. He had a talent for singing and on occasion performed in public.
He was elected an alderman for Parramatta in February 1900 and was returned on every subsequent election until February 1928. With his expertise in surveying he played a valuable role on the Council's Building Committee. He was also Trustee of Parramatta Park for 40 years.
Mr Edwin John Brown O.B.E. died on the 28th July 1932 at his home in Granville.