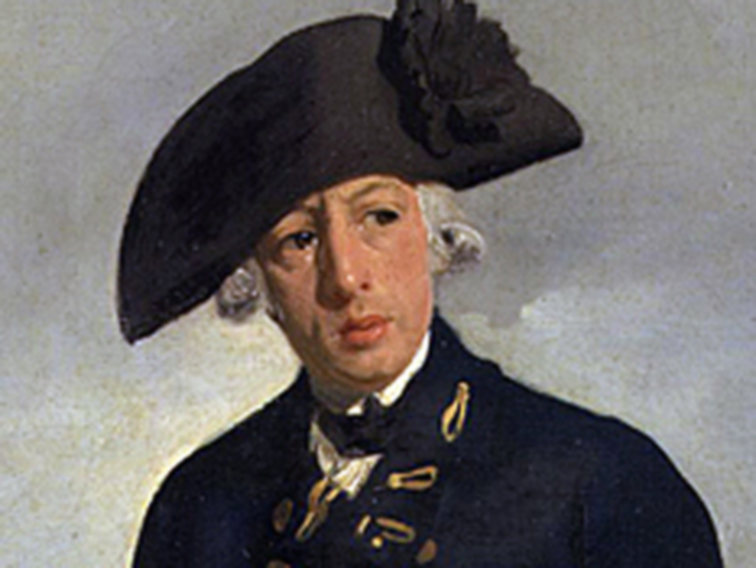 … in the lead up to 200 years since Australia's first Governor Arthur Phillip passed away on 31 August 1814, we will be publishing a series of posts covering his remarkable life written by the Parramatta historian, John McClymont. part 2, part 3, part 4, part 5 
Phillip's Parents – On 29 November 1728, Elizabeth Beach aged about 21 years, married 23 year  old seaman John Herbert in London. John swore a will in favour of his wife, a mandatory task that, in the event of his death during his naval service, would enable his wife to claim his pay and effects without problem. They lived on the north bank of the Thames in the Parish of St Botolph-without-Aldgate, a poor area where life expectancy was short. One in three children were expected to die in their first two years of life while their parents were fortunate to live beyond 50 years. Disease was rife in an unsanitary world. The Thames was an open sewer and typhoid, smallpox, tuberculosis and dysentery were rife. John Herbert escaped this world periodically while he was at sea in the Royal Navy although the couple do not appear have had any children during their short span of marriage.
John's ship, HMS Tartar, was on duty on the Jamaica station and before it returned to England, he died at Port Royal in 1831. Elizabeth Herbert would not have learned of this until Tartar returned in the following year. She would have borne the grief that many a sailor's wife suffered, claimed his meagre effects and pay and continued her life.
Arthur Phillip (1738 – 1814) – Elizabeth does not appear again in our history until 1737, and then as the wife of Jacob Phillip, 'a native of Frankfort' but it is suggested that they married in 1836. Little is known of Jacob other than the fact that he was a teacher of languages and that he and Elizabeth lived in Bread Street, London. Their first child was baptised Arthur at the parish church of All Hallows in mid 1737 and a daughter Rebecca was born in October of that year. There are no records of children. The family appears to have lived in reasonably comfortable circumstances in a rented house in the late thirties. The family's history following these meagre facts is unclear. It could be assumed that Jacob joined the navy as a purser's steward and one parent died before 1851, leaving the family to live under difficult circumstances. This is gathered from the fact that when Arthur Phillip was admitted to the Greenwich Hospital School, a charity school for the sons of seamen, he was registered as being the son of a steward.
Education – The Greenwich Hospital School, founded in 1694, was on the south bank of the Thames downstream from the London bridge. The London Observatory was established on the hill overlooking the Georgian complex below, and the river. Here, in the early 1600's the Stuart kings built a summer residence and between 1696 and 1745, William and Mary, Anne, George I and George II raised four matching hospitals, surrounding a large square. The occupants of these buildings had grand view of all the passing river traffic coming and going to the docks and to refit at the Thames yards. In this magnificent precinct, Phillip was able to absorb the feeling of the sea, for which he was to devote his life. Here he would have met sailors who told stories of the high seas and the 'Spanish Main'.
Phillip was enrolled to the Greenwich Hospital School on 22 June 1751. The school had two purposes, to admit boys who were 'the Sons of disabled Seamen, or whose fathers were slain, kill'd or drown'd in the Service' and  'to provide for the Sons of poor Seamen by training them up to a seafaring life'. On admission, they were between eleven and thirteen years old, in good health and able to read. At the age of fourteen they were apprenticed in a branch of the merchant navy where they followed their nautical education'.
Issued with clothing, a Bible and Common Prayer Book Phillip was also provided with the books and instruments required during his studies. He was only allowed out of the hospital grounds to attend school where he learned writing, mathematics, navigation and drawing. On 1 December 1753, Phillip left the school, 'with his voluntary and free consent', the governors having apprenticed him for seven years to William Redhead, mariner, to train him in the ways of the sea, to make him an able seaman.
Greenland and the Arctic Ocean, 1754 – Redhead was the master of the Fortune, a 210 ton vessel built for the 'Greenland whale fisheries', meaning that he fished the Arctic Sea east of Greenland, on the edge of the pack-ice where the Right Whale (Balaena mysticetus) flourished. This animal was most prized for its oil, the demand for which was increasing for lighting. During July, the Fortune joined the fleet of whalers that hunted in the bays or islands off Spitsbergen after having called at Lerwick in the Shetland Islands for the last provisions, warm clothing and extra men. Whaling was dangerous and arduous work, the crews suffering fro drowning, broken and lost limbs and, frostbite. The fleet returned to London with their catch' of whale-blubber from the unfortunate creatures four months later.
So, during the spring and summer of 1754, Arthur Phillip, now fifteen years old, learned the business of whaling in the Arctic Ocean. Of the experience, his thoughts are not known, although, many years later in New South Wales, he wrote of the possibility of the whaling industry commencing in the country.
The Mediterranean, 1754-  With the cargo unloaded, the crew were paid off and they looked for work on the European coastal trade. Redhead signed on a crew of twelve for a trading venture to the Mediterranean and so Phillip experienced a voyage in sunny climes to Barcelona in Spain, Leghorn in Italy, returning to London via Rotterdam. The master may have delivered say, herring at Leghorn, taken on currants at Barcelona and perhaps salt and grain and citrus fruit, which he unloaded at Rotterdam. Fortune reached London in April 1755, in time for the whaling season, Readhead signed on 30 men for Greenland again, returning almost immediately with the whaling fleet to the Arctic seas.
Phillip for the first time had visited Mediterranean Spain, Portugal, France and Italy, countries that he would visit numerous times in the future, countries whose languages he would learn to speak. He was beginning to discover the wide world.
… part 2 of Arthur Phillip's biography commemorating 200years since his death in 1814 will be published in a few days time

by John McClymont, Parramatta Historian, from the manuscripts donated to the Parramatta Heritage and Visitor Centre, 2014
References
The basic information for this biography has been drawn from Alan Frost's most comprehensive biography, Arthur Phillip, His Voyaging. This has been supplemented with and corroborated by the following sources:
Charles Bateson, The Convict Ships, Glasgow, Brown, Son and Ferguson, 1969 (2nd edition); FM Bladen (ed), Historical Records of New South Wales, Sydney, Charles Potter, Government `Printer, 1893. In nine volumes. Facsimile reprint pub 1978 by Lansdown Slattery & Company, Mona Vale.
Part 1, Cook's Charts, 1768-1770.
Volume 1, Part 1, Cook (1762-1780)
Volume 1, Part 2, Phillip (1783-1792)
David Collins, (Brian Fletcher, ed), An Account of the English Colony in New South Wales, vol 1, Sydney, Reid and RAHS, 1975. Originally published London, 1798
M. Barnard Eldershaw, Phillip of Australia, Sydney, Discovery Press – Penrith, 1972. (First published by G. Harrup 1938)
Brian Fletcher, 'Arthur Phillip', ADB, vol. 2.
Alan Frost, Convicts and Empire: A Naval Question, Melbourne, OUP, 1980.
Alan Frost, Arthur Phillip, His Voyaging, Melbourne, OUP, 1987.
Molly Gillen, The Founders of Australia, Sydney, Library of Aust History, 1989.
Terry Kass, Carol Liston & John McClymont, Parramatta, A Past Revealed, Sydney, Parramatta City Council, 1996.
Arthur Phillip – The Voyage to Botany Bay, [1789, Facs, Adelaide, Library Board of Australia, Hutchinson, 1982 edn.
Edward Spain, Manuscript Journal; ML mss C266
Ralph Sutton, 'Arthur Phillip (1738-1814), Our First Captain-General and Governor of New South Wales', United Service, vol. 47, no. 3, pp. 7-17.
Watkin Tench, (LF Fitzhardinge, ed.), Sydney's First Four Year, Sydney, Library of Australian History and RAHS, 1979..
For greater detail on Henry Dodd and Henry Brewer, refer to my mss 'Phillip's Household. A background to his personal staff and their performance in the colony'.