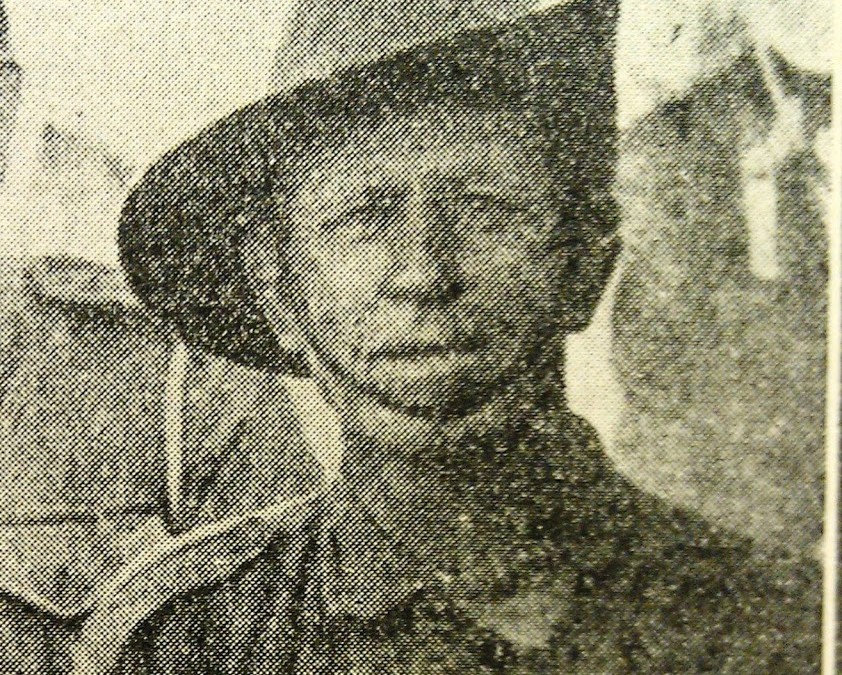 Richard Cutter, about 1915,
digital copy from photo-mechanical print in Parramatta District Soldiers, The Cumberland Argus, 1920
On 22 August 1914 Richard (Dick) John Cutter became the first Parramatta man to enlist in the Australian Infantry Services (A.I.F). He had presented himself for enlistment at Victoria Barracks, Sydney, on 13 August and while his embarkation record states he was 34 years of age (but given his later exploits he was possibly younger), and that he had been working as a labourer before he joined the Third Regiment.
Cutter was obviously a strong patriot as he had previously joined the St George Rifles, when it was formed in 1899. This group had been formed to as a Company of the 7th Infantry regiment to serve in the South African Boer war. The Company embraced Auburn, Clyde, Granville, Parramatta and Merrylands and was organised by a Corporal Brack.
Cutter was bitterly disappointed about not being selected to go overseas with the St George Rifles and perhaps it was this that spurred him on to enlist so readily for service in 1914. This time he embarked from Sydney on 18 October 1914 with the First Convoy and after training in Egypt served with the ANZAC's that stormed the beaches at Gallipoli on the 25th April 1915. His second enlistment however proved to be a double edged sword sword for one month later he received a serious ear injury before being wounded in the eye and leg and buried by a shell-burst while fighting at Lone Pine. This resulted in his being invalided home, although once recovered he served as a District Guard, in Australia.
These events seemed to have done nothing to curb his patriotism and when the Second World War broke out the 57 year old "Digger Dick" as he was popularly known was one of the first to arrive at the Parramatta recruiting depot, albeit claiming he was actually 42 years old. The Argus recorded Dick's resolve at the time … I wanted to have another go to keep the old flag flying, he told an interviewer at that time, but I couldn't get by them this trip. I have been a soldier all my life, and I thought that, when trouble came again, it was up to me not to back out … It wasn't because I love war, but, having played the soldier, as well as being the real thing, I felt it was my duty to again try to be there when the call came.
District 'Digger' reunions always welcomed a 'turn' by "Digger :Dick" as he was a natural comedian as well as surprisingly a clog dance and apparently his act never failed to bring down .the house. Cutter's home when he died in 1944 was in Bogalara Road, Toongabbie and he left behind a widow and a son, William who following his father's tradition was a member of the artillery militia in Parramatta.
References
The Cumberland Argus and Fruitgrowers Advocate, 13 September 1944, p.8
Australian War memorial, Embarkation Record http://www.awm.gov.au/collection/records/awm8/23/18/awm8-23-18-1-0076.pdf
The Cumberland Argus and Fruitgrowers Advocate, 17 June 1899, p.2
The Cumberland and Fruitgrowers Advocate 18 November 1937

Geoff Barker, Research and Collection Services Coordinator, Parramatta City Council, Heritage Centre, 2014