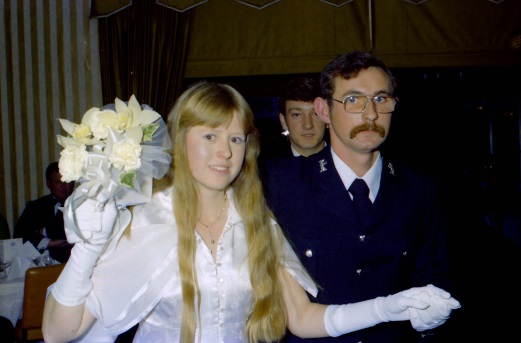 Debutante accompanied by member of the 1st/17 Royal NSW Lancers.
Debutante balls were a tradition imported from Europe to Australia by the early colonists and provided an opportunity for the well-to-do to formally present debutantes into local society. This was a privilege for girls of wealthy families and remained this way for many years until the Queen officially stopped the presentation parties around 1959. In Australia the tradition continued however, and in Parramatta the presentation parties continued to be hosted by the Mayors up until 1969 when the balls were finally suspended.
A few years later, in 1976, Parramatta Mayor, Alderman A. Hyam, proposed to host a similar event called the Mayoral Ball. It was first held on Friday night 23 July and many distinguished community members were invited. The Governor of New South Wales Sir Roden Cutler and Lady Cutler were the main guests and they were accompanied by the State Member for Parramatta Mr Barry Wilde and Mrs Wilde, and Mayor of Parramatta Alderman A. Hyam and Mrs Hyam.
Other guests included the Federal Member for Parramatta Hon P. Ruddock; the Deputy Mayor of Parramatta Alderman A.R.C. Thomas; Mayor of Auburn, Alderman T.H. Keegan; Mayor of Holroyd, Alderman R.W. Devlin; Chairman of Prospect Country Council, Alderman H.L. Maley; Lt. Col. C.G. Smith, Commanding Officer 1/15 Royal NSW Lancers. In all total of 300 guests attended that night.
The event was organised by the Mayoress of Parramatta Mrs Judy Hyam, and was held at Oatlands House which is still used for weddings and functions. Mrs Lucy Cannon trained the debutantes for their special night and as Matron of honour she presented them to the Governor of New South Wales, Sir Roden Cutler and Lady Cutler.
The eight debutantes did their entrance accompanied by members of the 1st/17 Royal NSW Lancers in full uniforms . They were dressed with white long dresses, long white globes and bouquets of white flowers.
One by one they were presented to the assembled guests but this was an especially memorable night for Miss Julie Hyam, daughter of the Mayoress of Parramatta who was presented to Sir Roden Cutler in front of her father and mother.

Maribel Rosales, Image technician, Parramatta Council Heritage Centre, 2014