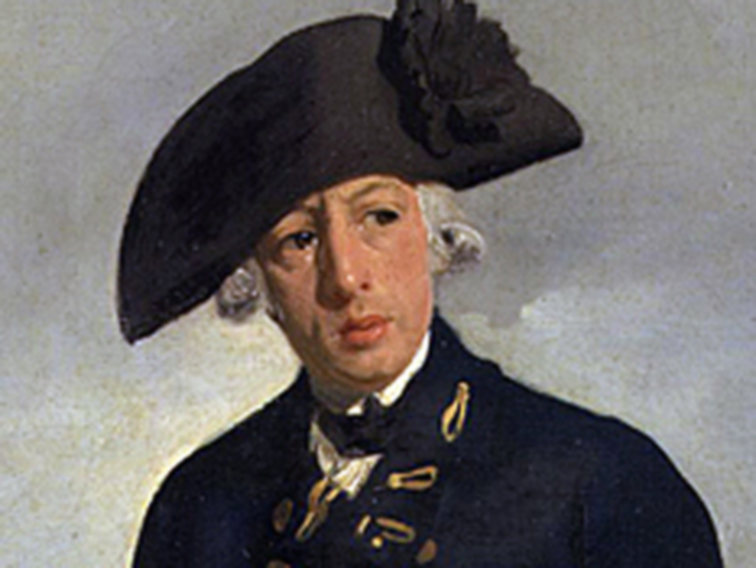 … this is a continuation of part 1, part 2, part 3, part 5 of the biography of Arthur Phillip, Australia's first Governor written by John McClymont.
By mid 1874, Phillip appears to have emerged as a person 'of considerable intelligence, experience and resourcefulness'. He was probably one of many officers suffering the problems of the peaceful years, deserving of promotion, anxious to return to active service but without the opportunity. However Phillip, who had come to Hervey's attention from the Havana battle and perhaps also his French reports, was about to ascend above his peers as a result of an unusual set of events whose outcomes would verify his potential.
Active service as a captain in the Portuguese Navy
In 1774 the two nations of the Iberian Peninsular, Portugal and Spain, became locked in conflict. Their conflict began in 1873-74 over some land in  South America, the ownership of which had not been resolved at the Portugal, the smaller nation, turned to her traditional friend for help at sea. The  Portuguese were lacking in experienced sea captains to man ships guarding a small province in South America on the river La Plata. Not wanting to engage in a war with Spain for which the English were not prepared, yet not wanting to offend an ally, a solution  was arrived at where the Admiralty offered to 'loan' some experienced Navy officers to Portugal. A number of 'half-pay' lieutenants were available and  the Admiralty was pleased for them to gain the work.
Augustus Hervey, Phillip's patron at the Admiralty, was in charge of negotiations with the Portuguese, and he suggested Phillip would be an ideal choice. He was well trained and war blooded in the Americas, he was available and keen to be involved in action again, he was experienced in theoretical military warfare and he spoke a number of European languages. What they did not say was that he was an intelligent and observant officer, already practised in 'discreetly' reporting on effective fortifications, utility of harbours and similar information back to the Admiralty.
Phillip's conditions of service and employment were suggested by Hervey who had been negotiating with the Portuguese ambassador and nominated that  "… he be appointed a Captain of the Fleet, that his pay be equivalent to the same pay as foreign officers receive when they are on foreign service and that he enjoy the same privileges as English officers if he is placed on half-pay". Other minor matters concerned 'table money' were agreed upon and the Court, in time, sent its approval.
Phillip, having received official Admiralty consent, left for Lisbon on or soon after 22 December 1774. On 14 January, King Dom Jose signed a warrant commissioning Phillip as a captain of the Portuguese Navy. Phillip saw the city of Lisbon in great disarray, still suffering from the devastating earthquake of November 1755. He saw however the impressive new city rising from the ruins. A magnificent Square of the Palace with three sides formed by extensive state buildings and the fourth side by the River Targus. Almost 200 new houses, uniform in design had already been constructed. The streets were broad and the flag – stoned footpaths were raised above  the streets.
To Brazil 1775
Phillip departed on his ship Belem, in early February and reached Rio de Janeiro, apparently without incident. Phillip had to report to Commodore Robert M'Douall RN who was in charge of the squadron of Portuguese ships stationed at Rio. M'Douall was apparently a blustering, bombastic autocrat whose behaviour had not only offended the other English officers, but also the Marquis de Lavradio, the Viceroy of Rio de Janeiro.
Lavradio took an intense dislike to M'Douall and an equal liking to Phillip, whose record had preceded him from London in the form of a recommendation by the Ambassador in London. Phillip responded and a firm respect for each other grew between the two men. Phillip was respectful and tactful and as a result he became Lavradio's confidant. Lavradio was outfitting a merchant ship, the Pilar, to a frigate and he appointed Phillip as its captain. Within twelve months Phillip had become both fluent and literate in the language and had studied the background to the conflict. In his sorties along the coast, Phillip was able to gather intelligence about the Spanish strength, chart their positions on coastline and pass this information back to the Admiralty.
The Colonia de Sacramento
A beleaguered Portuguese settlement at the southern shore of the mouth of the Rio de la Plata, known as the Colonia, was strategically located in relation to the Spanish controlled possessions of Montevideo and Buenos Aires. The Spanish had fortresses in both of these towns and wanted to expel the Portuguese from their commanding fortification commanding the straits and entrance to the river. To this end, the Spanish had blockaded the peninsular by land, forcing food and firewood supplies to be landed by sea. Portuguese supply ships were undependable and infrequently sent but politically, the home government was determined to uphold the garrison. To this end, Phillip was chosen by the Viceroy to command and guard the Colonia with the ship Pilar.
Phillip undertook his mission boldly and fearlessly. Even though there was no declared war between the two countries, he would not allow the Spanish ships to intimidate the colony from the sea. He fired his guns at any ship entering the straits which did not flying its country's flag, a naval custom which the Spanish ignored to intimidate and snub the Colonia. The Spanish soon came to heel.
Still attached to M'Douall's eight ship squadron, Phillip would return periodically to Rio for supplies and meet the fleet at Santa Catarina, a Portuguese held island midway between Rio and the Colonia. News came of a Spanish fleet sailing to the la Plata estuary and M'Douall was expected to engage it. An indecisive and cowardly commander, he deliberately left his opportunity too late to attack and backed off.
Impatient for action, Phillip, on hearing that another two large 70-gun ships, were sailing behind the Spanish fleet, in the small but speedy Pilar, chased and succeeded in engaging and capturing the ship, the San Augustin. The ship, carrying 550 men, was a considerable prize. It was new, 'built of excellent wood' with 'first rate artillery … and all munitions and accessories of the first class'. Viceroy Lavradio was greatly pleased and rewarded Phillip by giving him the command of the ship which became the most powerful in the Portuguese fleet.
Peace 1777
With the death of the Portuguese monarch Jose, and the accession of Maria 1, in October 1777, the two countries agreed on a truce. As a result, Phillip lost command of the San Augustin that was returned to the Spanish. But still being favoured by the viceroy, enjoyed the next nine months at Rio where it is thought he may have continued his intelligence work inland by visiting an area, known as the 'Forbidden District'. This allowed him to report on the lucrative gold and diamond mining area, worked by some 5000 African slaves. Phillip's report was very revealing, describing how river courses were diverted to be able to mine the diamond bearing gravel beds, and the immense amount of slave labour required. He was able to estimate the wealth produced and included in his report, drawings of the various operations.
Phillip's Portuguese contract is completed 1778
Phillip's service with the Portuguese Navy drew to a close in mid 1778. Learning that the French had supported the dissident American against England, he resolved to re-join the Royal Navy. Viceroy Lavradio gave him command of M'Douall's Santa Antonio and entrusted Phillip with a small convoy, carrying a valuable shipment of diamonds to Lisbon. His voyage was uneventful and he was greeted by a grateful monarch and court on his arrival toward the end of 1778.
For four years, Phillip had served the Portuguese faithfully and they were well aware of it. Lavradio advised Queen Maria that Phillip was "…one of the officers of the most distinct merit that the Queen … has in her service in the Navy, and I think that it will be a most fortunate acquisition to [retain him] in the Royal Service. As regards his disposition, he is somewhat distrustful; but he is an officer of education and principle, he gives way to reason … is an officer of great truth and very brave … is no flatterer, saying what he thinks, but without temper or want of respect. The length of the report on this officer implies that I regret his departure, and I confess that I do".
Metropolitan officials were of the same opinion as Lavradio. The British Ambassador reported home that the Portuguese court 'is extremely satisfied with the conduct of this gentleman &. … he has served in the Brazils with great Zeal & Honour. On his return to London in September, he carried a letter to the Portuguese Ambassador advising of these reports, adding that the Queen could not deny his patriotic object of returning to rejoin the British Navy. Partly in response to Maria's request, the Lords Commissioners of the Admiralty promoted him to master and commander in September 1779.
Phillip's service in Brazil was a distinct turning point in his life, personally and professionally. Entering the Portuguese Navy as a capable junior officer with little prospect, he returned after distinguished service in coastal patrol, sea battle and as a commander of a line-of-battle ship. His knowledge of the South American coastline and harbours and his intelligence reports were well noted by his naval superiors. Personally, he was able to associate with members of the court and became a confidante of a viceroy. These years showed him how the colonisation of a foreign country proceeded the difficulties in sustaining supplies to local outposts such as at the Colonia di Sacramento and the importance of the main base and headquarters at Rio. 
He had experience in dealing with the outpost at Colonia that had few local resources and gained experience in dealing with incompetent and difficult superiors. Personally he saw slavery at its worst, an experience which matured him to abhor slavery, seeing no place for it a civilised world. He saw the planning and building of two great cities, Lisbon and Rio de Janeiro. All combined, this experience was to add to his abilities when confronted with similar situations yet to come.
Phillip's rise to the rank of Captain 1778
Still ranked lieutenant, Phillip sought work, reminding the Admiralty that he had been promised the rank of captain. In October 1778, the 40 year old Phillip took up duties as first lieutenant on Alexander, a 74-gun, line-of-battle ship which carried a crew of 600. This was indeed a responsible move up the chain of command. At this period, the French were massing troops along their shores, opposite England and Phillip joined the fleet patrolling the Channel.
In September 1779, Phillip was promoted to commander and master of Basilisk, a channel fireship of eight guns and a crew of 45. Phillip selected Brewer
to join him as captain's clerk and he remained in this position until July 1780. Whilst Phillip filled a number of local positions, Brewer apparently
saw service aboard Hinchinbroke but when Phillip was appointed captain of the Europe, a 64 gun ship, one of the navy's large warships about a week later,
he had Brewer assigned as his clerk.
… part 5 will follow in a few days time.

by John McClymont, Parramatta Historian, from the manuscripts donated to the Parramatta Heritage and Visitor Centre, 2014
References
The basic information for this biography has been drawn from Alan Frost's most comprehensive biography, Arthur Phillip, His Voyaging. This has been
supplemented with and corroborated by the following sources:
Charles Bateson, The Convict Ships, Glasgow, Brown, Son and Ferguson, 1969 (2nd edition); FM Bladen (ed), Historical Records of New South Wales, Sydney,
Charles Potter, Government `Printer, 1893. In nine volumes. Facsimile reprint pub 1978 by Lansdown Slattery & Company, Mona Vale.
Part 1, Cook's Charts, 1768-1770.
Volume 1, Part 1, Cook (1762-1780)
Volume 1, Part 2, Phillip (1783-1792)
David Collins, (Brian Fletcher, ed), An Account of the English Colony in New South Wales, vol 1, Sydney, Reid and RAHS, 1975. Originally published
London, 1798
M. Barnard Eldershaw, Phillip of Australia, Sydney, Discovery Press – Penrith, 1972. (First published by G. Harrup 1938)
Brian Fletcher, 'Arthur Phillip', ADB, vol. 2.
Alan Frost, Convicts and Empire: A Naval Question, Melbourne, OUP, 1980.
Alan Frost, Arthur Phillip, His Voyaging, Melbourne, OUP, 1987.
Molly Gillen, The Founders of Australia, Sydney, Library of Aust History, 1989.
Terry Kass, Carol Liston & John McClymont, Parramatta, A Past Revealed, Sydney, Parramatta City Council, 1996.
Arthur Phillip – The Voyage to Botany Bay, [1789, Facs, Adelaide, Library Board of Australia, Hutchinson, 1982 edn.
Edward Spain, Manuscript Journal; ML mss C266
Ralph Sutton, 'Arthur Phillip (1738-1814), Our First Captain-General and Governor of New South Wales', United Service, vol. 47, no. 3, pp. 7-17.
Watkin Tench, (LF Fitzhardinge, ed.), Sydney's First Four Year, Sydney, Library of Australian History and RAHS, 1979..
For greater detail on Henry Dodd and Henry Brewer, refer to my mss 'Phillip's Household. A background to his personal staff and their performance in the
colony'.