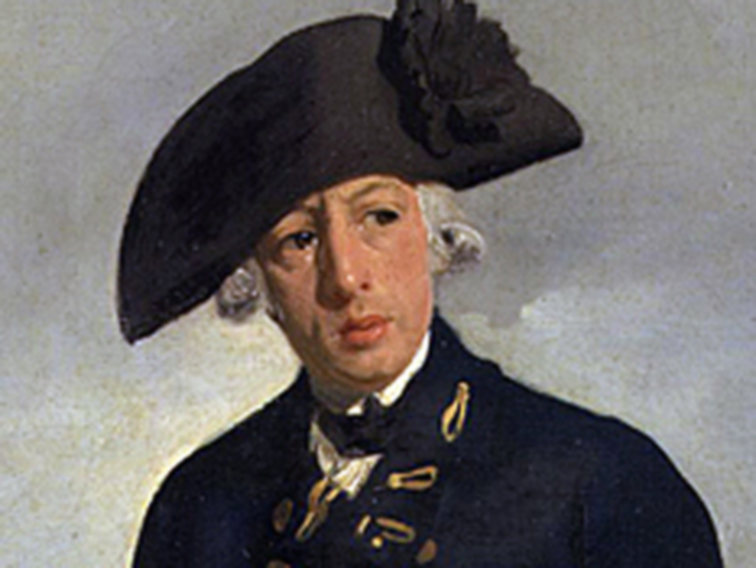 … this is a continuation of part 1, part 2, part 3 and part 4 of the biography of Arthur Phillip, Australia's first Governor written by John McClymont.
Background
There were a number of reasons for Captain Arthur Phillip being appointed as the governor of a colony to be founded at Botany Bay in new South Wales. Transportation to the American colonies had stopped when the colonists had rebelled between 1778-84 and alternatives, such as Africa, appeared to be impractical. The British Government instead resolved to develop an overseas colony that would have strategic benefits, would grow to become and outlet for British trade and provide raw materials to supply British manufacturers.
Members of the Pitt administration, in deciding to rationalise the transportation problem, by opening a colony, agreed that a naval base somewhere in the east should have 'naval strategic dimensions' linking it with India. A base was needed to provide a way to China and to the west coast of South America to not only gain trade but to keep abreast with their rivals Spain, France and Holland.
On investigation, Botany Bay looked a potential source of naval timber and flax (for sail canvas) and could provide a base from which to attack the French at Mauritius, the Dutch at Batavia and Spain in the Philippines. Also, it would prevent other nations, particularly the French from colonising the country and had more to recommend it than the other alternative, Das Voltas Bay in Africa, .
Campbell and Nepean had Treasury draw up costs which appeared to be satisfactory and on 21 August, Evan Nepean and Lord Sydney informed Treasury officially of the decision to colonise New South Wales. The Home Office informed the Admiralty and the East India Company and plans were made to outfit the First Fleet. The Navy Board became responsible for the logistics while the Home office, under Nepean, was responsible for appointing a governor.
Various people in the Home Office such as Lord Sydney and Nepean, wanted to reward Phillip for his past services at sea and in gathering 'intelligence'. Phillip too, was now looking for employment. Despite the fact that the Chief Lord of the Admiralty, Admiral Howe, when informed of Sydney's decision had replied, 'I cannot say the little knowledge I have of Captain Phillips (sic) would have led me to select him for a service of this complicated nature.' Howe would have preferred Captain John Blankett but Lord Sydney had his choice and Phillip was appointed on 3 September, 1786. Phillip was about to face the most daunting task in his career.
The First Fleet 1786
Despite Howe's lack of enthusiasm for him, Phillip was well qualified for the task. He had sailed to the West Indies, Rio de Janeiro, Cape Town and India, he knew the perils both for the voyage and for founding a colony. He was fluent in the languages of the countries en route, knew their resources, and was welcome in the Canaries, Rio and Cape Town. As a land owner in the New Forest he even knew the rudiments of farming.
His experiences in Brazil during his years with the Portuguese had given him a confident and easy manner, which despite his humble beginnings, allowed him mix freely with high officials. His experience with Portuguese colonies was important as he was aware of the difficulties faced by colonists in the far flung Colonia del Sacremento and Rio de Janeiro.
There was a close association between Phillip, the Admiralty, and Home Office officials which allowed for smooth communications. While his experience in gathering intelligence for them had proved him to be a discreet and intelligent officer. On top of this he had an impressive record in the equal and fair care of men aboard his ships, perhaps derived from his humble origins.
The Voyage of the First Fleet Departure from Portsmouth
On 13 May 1787 Phillip's fleet of two naval vessels HMS's Sirius and Supply, six transports: Alexander, Charlotte, Friendship, Lady Penrhyn, Prince of Wales and Scarborough, and three store ships – Borrowdale, Fishburn and Golden Grove were assembled for departure.
Phillip, as Commodore and senior ranking officer was nominal captain of Sirius although Captain John Hunter was the operative captain, his first mate being Lieutenant William Bradley. The Supply was commanded by Lieutenant Henry Lidgbird Ball. Major Ross was officer commanding of four companies of Royal Marines who totalled 174 (accompanied by 42 wives). Some nine surgeons under the charge of Surgeon John White were sent to care for all those who sailed. The Deputy Judge Advocate, David Collins was charged with conducting the courts with the assistance of a Provost Marshall. There was also a small Commissary staff under the charge of the Sirius purser, John Palmer. Phillip's personally chosen staff included Henry Edward Dodd (manservant), Midshipman Henry Brewer (clerk), John Livingstone (steward) and Thomas Daveney (servant). Phillip had also requested Lieutenant Philip Gidley King, as second lieutenant on Sirius; like Brewer, King had sailed with him on Ariadne and Europe.
The Fleet arrived off Teneriffe in the Canary Islands on 3 June, and although Phillip thought of travelling next to Trinidad, strong winds decided on a course to Rio de Janeiro in Brazil. The fleet anchored in the harbour on 4 August, and because of his distinguished service there in the Portuguese navy, Phillip and his officers were received with great kindness. They 'wooded and watered' here and all hands were recommended to enjoy the bounty of inexpensive oranges and fresh food.
On 4 September the Fleet departed for Table Bay, Capetown, where the Dutch governor was polite but unhelpful. All goods, livestock and services were very expensive, considered to be about three times the normal price. When the Fleet sailed on 13 November, Phillip transferred to Supply with King to arrive earlier than the Fleet to choose and prepare the site. Phillip arrived on 18 January 1788 with the advance party at Botany Bay while Hunter and the rest of the Fleet arrived on the following day. Dissatisfied with Botany Bay as a settlement site, Phillip reconnoitred Port Jackson and having found a suitable stream of fresh water at a deepwater anchorage that he named Sydney Cove, moved the Fleet there. The Union Flag was hoisted on 26 January and Collins read George the Third's Commission to the assembled Fleet, proclaiming Phillip, Governor in Chief of the Colony.
Although 750 convicts were to be transported, for various reasons such as deaths during the voyage (mainly the elderly), misspelling of names, late pardons and those convicts withdrawn from the ships because of old age and infirmity, an accurate number of convicts landed cannot be accurately given. Nor can the number of children be given as two died during the voyage while 22 were born during the journey. Also there were accidental deaths through misadventure. Molly Gillen, in the epic biography, Founders of Australia, identifies 1420 individuals in her book as having embarked, 69 persons having died or left the Fleet en route, and 22 births. This gives an aggregate of 1373 together with about 110 seamen on the other ships not identified by name. This would then account for some 1530 departing and 1483 arriving at Sydney Cove (Gillen, Founders, 1989).
The transportation of almost 1500 passengers over 15 000 miles and eight months of time was a credit to Phillip's planning. No one died from scurvy as at every opportunity everybody had fresh food, vegetables and fruit and Phillip insisted on personal cleanliness, airing of bedding of all hands. The fact that the whole convoy arrived at Botany Bay within days of each other was another credit to Phillip's planning, experience and seamanship.
Problems Encountered Establishing the Colony
Minor problems were to be expected on such a huge enterprise. For instance, the stores of women's clothing were left behind, as were the convict indents, the Great Seal and the marine's musket ammunition. Some problems were solved en route, others had to wait for the next transports.
A health problem which had to be dealt with on landing was scurvy. Surgeon White stressed to Phillip the need for growing fresh vegetables as the convoy's supplies were depleted. This was partially solved by making 'personal' gardening plots a priority and also helped to supplement the food supply. Many of the 'First Fleeters' on landing became ill with dysentery, causing an unexpected run on medical supplies. Additional supplies were picked up later at the Cape by Hunter.
Phillip's own health was a constant problem. Frost suggests that he suffered from 'kidney stones', caused by years of eating salt preserved food and which had caused a build-up of calcium carbonate in the kidneys [this is a still disputed see Harvard Medical School Family Guide].
Immediate problems
Having overcome the chaos of landing convicts and stores Phillip was faced with antagonism from Major Ross, and his second in command, Captain Campbell. Ross declared that his marines were sent to guard the colony only and accordingly they refused to act as superintendents of convict work parties. Phillip was forced to employ men such as Dodd, Livingstone and Daveney in that capacity, the government having not considered special skilled people necessary. Henry Dodd became the man whom Phillip could trust to get necessary farming programme under way. Nevertheless, it would take almost two years before land could be cleared, crops planted and harvested. When it was apparent that the sandy soil at Farm Cove would not support the colony in cereal crops, foreseeing an emergency, Phillip sent Hunter in Sirius to get flour from the Cape.
Solving the agricultural problems
By mid February 1788, Phillip was able to concentrate on his most serious problem, the location of the settlement on a site with arable land and water. Despite exploring the 'head of the harbour' and the north side (Narrabeen and Pymble) it was not until April 24 that he discovered, accidentally, the ideal site for a farming settlement, which came to be settled on November and named Rose Hill (subsequently known as Parramatta).
Another major problem was the death of many of the transported stock and the loss of the cattle through the carelessness of an convict. The designing buildings was overcome by using Brewer, who already was acting as Provost Marshall, and he was fortunate to find a convict, James Bloodworth, with brick making and brick laying skills.
Although he didn't realise it Phillip's arrival corresponded with the land beginning a long drought. His street plan for Sydney had to be aborted because many of the population, by necessity, settled along the Tank Stream where fresh water was available. While the geography of Sydney Cove determined it's street pattern at Rose Hill there were not the same problems. Phillip's commission allowed him to make land grants to emancipated convicts. In an experiment with James Ruse, who knew about agriculture, he had land cleared, a hut built, and provided assistance with toolsm seeds and provision to draw food and clothing from the stores. But Phillip was also pragmatic in his approach and as an incentive withheld title of the land from Ruse until he had proved his worth.
The experiment worked and by April 1791 Ruse had title to his land. This had proved that others could do it and Phillip then proceeded to grant land to time expired convicts at Prospect, The Ponds, The Northern Boundary and The Eastern Farms. This resulted in many becoming self-sufficient with limited assistance from the stores. He also encouraged marines and sailors to remain and become settlers. By late 1792 he judged the programme to be successful.
Norfolk Island
Charged with promptly founding a colony at Norfolk Island, he made King Lieutenant Governor and sent him there to establish a colony. When the Sirius was wrecked on the island, it left the colony with only one vessel, HMS Supply. All that Phillip could do was to hire another vessel, the Waaksamheyd from Batavia unti a replacement for Sirius was eventually made.
The Guardian and the Second Fleet 1791
To ease the critical lack of flour, Phillip had donated his private supply to the general store and placed all ranks, including himself, on the same rations, much to the chagrin of Major Ross. The next ship, HMS Guardian with stores, medical supplies and superintendents was expected daily, having left England soon after the others. Carrying 12 convict superintendents, 25 selected artisan convicts and 1003 tons of much needed food (including 2000 gallons of wine!) and medical supplies. It was a disaster that the ship was holed in a collision with an iceberg and all of the supplies and passengers were lost.
Survivors however included Philip Schaffer and his young daughter. Schaffer was a German officer who had fought for the British in America, had secured a position as a superintendent but his knowledge of English proved him unsuitable for the task. Phillip showed his kind nature by befriending the Schaeffers until he placed them as settlers on a grant of land on the river that became known as The Vineyard.
The ship Lady Juliana, carrying a cargo of women, and stores led the Second Fleet (Surprize, Neptune and Scarborough) which left England in late July 1789. Unfortunately, apart from Lady Juliana, the greedy contractors starved the convicts to the point that their landing at Port Jackson was a sight 'truly, affecting and shocking'. They were filthy, lean and emaciated and many died even as they were landing. Phillip's problems were compounded in having to care for the ill, who had to spend months recuperating before they could join the work force. Phillip bitterly complained to the Home Office and his actions saw a Navy agent being placed on all future convict ships.
A major task was to establish law and order, and to prevent petty crime and theft. Phillip made the colony aware that theft of food and clothing, because of their acute shortage, would be treated as a criminal offence, punishable by death, no matter what he station of the individual. He was forced to hang several marines who were caught thieving stores that they were supposed to be guarding.
To overcome the crime problem, because the marines would not act as police, Phillip instituted a 'night watch' comprised of recommended convicts and a nightly curfew. This brought instant results until some marines were apprehended and gaoled over night. Ross became very angry over the event and Phillip sensed an air of rebellion, a confrontation he could not afford. He solved the problem by sending Ross to Norfolk Island to replace King. However, the pervading problem remained the food supply.
The Second Fleet and the development of Parramatta
Anticipating that the Second Fleet was on its way with more convicts, Phillip hastened the building of a permanent 'gaol town' at Rose Hill which Phillip renamed by its indigenous native name, Pa-ra-mat-ta. After having considered the farming here under Henry Dodd was successful he drew on his experience of the town planning of the cities of Lisbon and Rio Janeiro, with his Surveyor-General Augustus Alt, to plan a classic, but simple Georgian street plan. Complete with a grand square and vistas centering on two main streets.
The town now moved into a phase of planned streets, brick barracks and stores to replace the primitive temporary buildings on the lee of Rose Hill. Ever the visionary, he even planned in his grand square, a new Governor's 'Palace', a treasury, a library, a market place and town hall. He held a market and began the foundations of a Town Hall, but the need for a new hospital saw him re-direct labour in this direction. Watkin Tench in his account 'Sydney's First Four years' stated … December 2 1791: Went up to Rose Hill … the storehouse and barrack have long been completed, also apartments for the chaplain of the regiment and the judge advocate … we feel consequential enough already to talk of a treasury, an Admiralty, a public library and many other similar edifices, which are to form part of a magnificent square. The great road from near the landing place to the governor's house is finished, and a very noble one it is too…
Phillip always had a sense of what he had not accomplished – what he could have achieved had he been 'more fortunate in receiving the necessary supplies and a few intelligent men'. He had laboured under every possible disadvantage since landing, overcoming problems that could not have been anticipated. He admitted once that he was surprised that the settlement should have attained such a 'flourishing state' and at the end of 1792, he was able to leave with the knowledge that the struggle to establish it had been achieved.
To England on leave 1792
Weary and ill, after almost five strenuous years in the colony, assured in his own mind that the little colony was progressing satisfactorily, Phillip decided to return to England on leave to seek medical help. David Collins wrote … He was now taking leave of his own government… Governor Phillip quitted the charge with which he had been entrusted by his Sovereign, and in the execution of which he had manifested a zeal and perseverance that alone could have enabled him to surmount the natural and artificial obstacles which the country and its inhabitants had thrown in his way'. (Collins, Account of the Colony, vol 1, p. 208).
Returning on the transport Atlantic, via Norfolk Island, he arrived in London, 11 December 1792, where he reported to the Home Office and advised them of the progress and state of the colony.
Now 54 years of age, recovery from his illness was slow and he determined, a day before his 55th birthday in 1793, to resign his commission as Governor of New South Wales. In February 1794, Phillip went onto the Navy's half-pay list while he recuperated and attended to his personal affairs; he had been granted a pension of £500 as governor, so his finances were satisfactory. His relief from New South Wales' responsibilities and the return trip had not greatly improved his health so he sought permission to live at Bath,' to take the waters'.
On his return to England he also learned that his first wife Charlotte had died. Her will absolved him of any monies that he had 'borrowed' from her estate and she left him an £100, on the condition that he did not contest the provisions of the will, which he didn't. Instead, he took a second wife, Isabella Whitehead, daughter of a prominent and affluent North Country family, involved in the cloth trade.
Phillip and his wife lived at the fashionable address of 19 Bennett Street, Bath, which they had purchased in December 1806 for £2200. It could have been described as a 'commodious and gentleman's dwelling' and was built in 1744, having been designed by John Wood the Younger. The dwelling would have been comfortable and with his admiral's half pay of £750 per annum in addition to his governor's pension, and Isabella's fortune, the couple were more than well provided for.
Unfortunately Phillip suffered from a stroke in February 1808, after which he hovered near death's door but then gradually recovered, only to be hit by another stroke. His tough will to win saw him retain his intellect, but a loss of the use of his right side. Phillip King visited him and later declared of his old patron and mentor, … He may linger on some years under his present infirmity, but from his age, a great reprieve cannot be expected.
However, despite his affliction and his crippling arthritis, he saw another six years of life; he adjusted the staircases to suit his physical needs and received Henry Waterhouse and Phillip King in May and September 1808 and John Hunter saw him in July 1811. He holidayed on the coast with Isabella and he met Francis Greenway whom Macquarie was to later employ to continue Phillip's work into making the colony a permanent one.
It seemed that he was determined to live beyond his 76 years, but, on 31 August 1814, Arthur Phillip fell from the third floor balcony of his house to the pavement below and was killed. He was buried in the Church of St Nicolas at Bathampton and later in a special chapel, called the Australia Chapel, in Phillip's honour. A commemorative church service is held there in October annually. His old home in the Bennett Street terrace is marked with a simple plaque that simply states that 'Admiral Arthur Phillip lived here'.

by John McClymont, Parramatta Historian, from the manuscripts donated to the Parramatta Heritage and Visitor Centre, 2014
References
The basic information for this biography has been drawn from Alan Frost's most comprehensive biography, Arthur Phillip, His Voyaging. This has been supplemented with and corroborated by the following sources:
Charles Bateson, The Convict Ships, Glasgow, Brown, Son and Ferguson, 1969 (2nd edition); FM Bladen (ed), Historical Records of New South Wales, Sydney, Charles Potter, Government `Printer, 1893. In nine volumes. Facsimile reprint pub 1978 by Lansdown Slattery & Company, Mona Vale.
Part 1, Cook's Charts, 1768-1770.
Volume 1, Part 1, Cook (1762-1780)
Volume 1, Part 2, Phillip (1783-1792)
David Collins, (Brian Fletcher, ed), An Account of the English Colony in New South Wales, vol 1, Sydney, Reid and RAHS, 1975. Originally published London, 1798
M. Barnard Eldershaw, Phillip of Australia, Sydney, Discovery Press – Penrith, 1972. (First published by G. Harrup 1938)
Brian Fletcher, 'Arthur Phillip', ADB, vol. 2.
Alan Frost, Convicts and Empire: A Naval Question, Melbourne, OUP, 1980.
Alan Frost, Arthur Phillip, His Voyaging, Melbourne, OUP, 1987.
Molly Gillen, The Founders of Australia, Sydney, Library of Aust History, 1989.
Terry Kass, Carol Liston & John McClymont, Parramatta, A Past Revealed, Sydney, Parramatta City Council, 1996.
Arthur Phillip – The Voyage to Botany Bay, [1789, Facs, Adelaide, Library Board of Australia, Hutchinson, 1982 edn.
Edward Spain, Manuscript Journal; ML mss C266
Ralph Sutton, 'Arthur Phillip (1738-1814), Our First Captain-General and Governor of New South Wales', United Service, vol. 47, no. 3, pp. 7-17.
Watkin Tench, (LF Fitzhardinge, ed.), Sydney's First Four Year, Sydney, Library of Australian History and RAHS, 1979..
For greater detail on Henry Dodd and Henry Brewer, refer to my mss 'Phillip's Household. A background to his personal staff and their performance in the colony'.