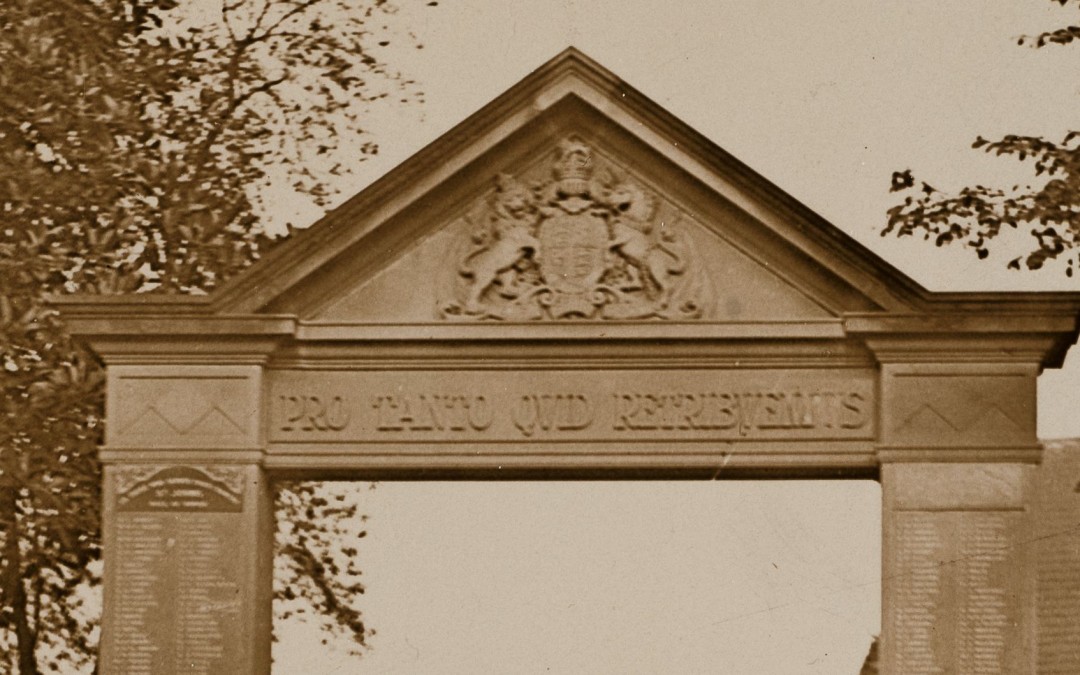 Each day hundreds of people walk through this gate perhaps without noticing or giving a single thought towards the names inscribed on the columns on either side of the gate. Above their heads, as they pass through, are carved in the lintel of the pediment bearing a Coat of Arms, the latin words Pro tanto quid retribuemus,  foreign words uninterpretable for most people these days.
But for many others this memorial gives recognition to the sacrifices made by loved ones and acted as a reminder of the debt owed to those who served. This is the Royal Memorial Gate of St John's erected to honor the soldiers, sailors and the nurses of St. John's parish, Parramatta, for their duty to country during World War One. The Foundation Stone for this memorial was laid on 15 September 1917, more than a year before armistice day, and while war was still raging in Europe. It could have been nothing less than an extremely emotional day as friends and relatives of those serving gathered at the memorial site for the laying of the foundation stone by Lieutenant Governor Sir W. P. Cullen and again on the 23 March 1918 for the dedication and the unveiling of the gates by the Governor-General, Sir Ronald Munro Ferguson. Many of the spectators there on those days had already lost loved ones in the war while others had sons, brothers and fathers still fighting abroad and were anxious for them to return unharmed. On the columns of the gates were names of some who would surely never return.
For the Church the names engraved upon those columns represented parishioners regarded as defenders of "the faith'  and this is why the gates were erected on this spot, to act as a gateway leading to their church. The motto surmounting the gates — 'Pro tanto quid retribuemus'— invites us to consider "what we ought to do for those who had done so much for us."
The Governor General, who was responsible for securing permission to use the Royal Coat of Arms, spoke on what they represented,
…the sign of unity in the nation — that only by unity in our ranks could we hope to succeed in the great tasks to which we as a people had to put our hands to-day.   And the names on the stone about to be unveiled were the names of those who saw their duty right ahead, and who, when their services for their fellows and their country were called for, were not found wanting.
… and that memorial would remain, no doubt, first among the memorials of the old town one rich in old historic associations and sacred monuments.
For a detailed account of the laying of the foundation stone, the unveiling of the gates, and general history of St John's Church you can access this copy of the publication St John's Church; a souvenir of the Royal Gate, 1918.
Other References
The Royal Gates Opened. (1918, March 30). The Cumberland Argus and Fruitgrowers Advocate (Parramatta, NSW : 1888 – 1950), p. 10. Retrieved from http://nla.gov.au/nla.news-article86213739

Peter Arfanis, Archivist, Parramatta Council, Heritage Centre, 2014