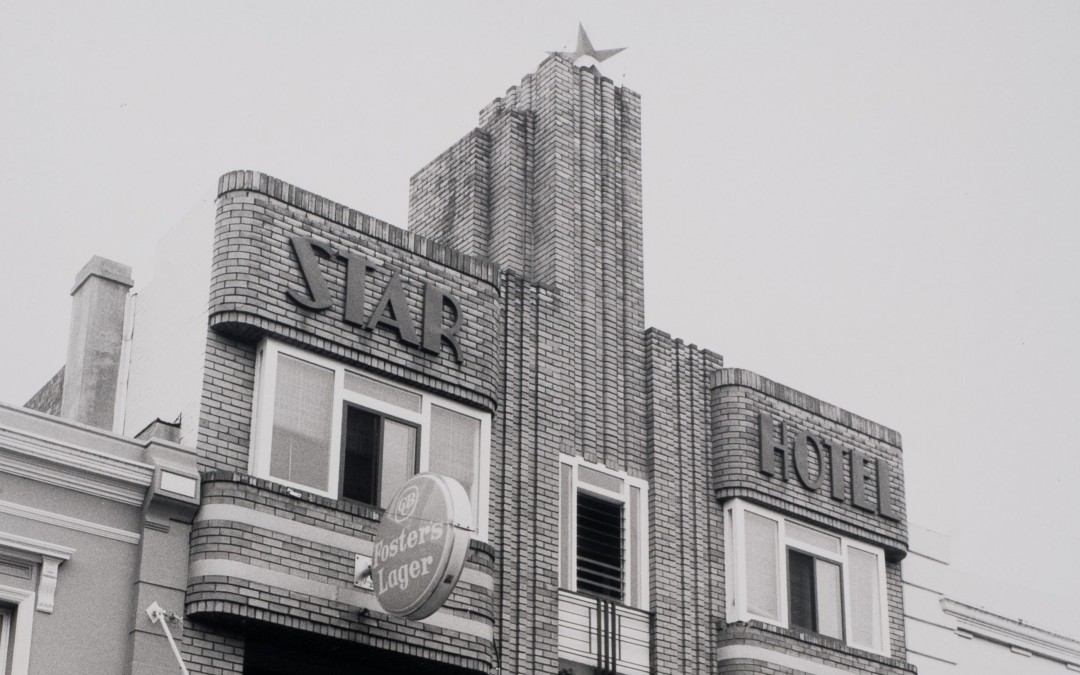 The Star Hotel, not one of Parramatta's earliest or oldest hotels, but certainly one of its longest trading, had been through a number of changes when it began trading sometime around 1843 at what is now 146 Church Street Parramatta.  Early proprietors of the hotel were John Horgan, James Watsford and John Holland.
A 1902 newspaper article claims that the Star Hotel was constructed around 1820
… by Mr. Start (bother of the late Mrs. Houison) who opened it as a bakers shop. Later on Mr. Blake ran it as a pub and bakery, and dispensed the rival staffs of life (bread and rum). Old Jack Holland got into it about 1858, and Mrs. Harriet Holland kept it going until 1888, when Mr. Waddell, State Treasurer, bought it through Mr. John Taylor.[1]
The first building was a simple two storey building. Located on its southern side, at what was the Connection Arcade, was  J. Craig Monument and headstone maker, as can be seen in the photograph above. Standing in this same photograph could be 'Jack' Holland. A reporter from the Cumberland Argus was right on the money when he described Holland as a 'bit of a character' a how on most days Jack could be found sitting at the watering trough in front of the Hotel wearing,  … his cabbage-tree hat, doeskin pants, frill shirt and velvet vest. [2]
It appears Mr. Holland was also a keen horticulturist who often visited the nursery run by Silas Sheather in Camellia and this in turn created his long running war with the local cats. This was because Jack insisted they dug up the pot plants he grew on his property. In one vivid account the Argus describes how Jack at one time spied a guilty-looking feline from the back of his property. Grabbing his shotgun he fired down the hall dispatching the cat and leaving a bullet hole in the Hotel's signage.[3]
In 1902 the original Star Hotel was demolished to make way for the construction of new three storey building owned by Tooth's Brewery Co.[4]
In 1938  Tooths announced that the Star Hotel building would be demolished after only 36 years to make way for a new art deco style hotel. It will be "a Palace compared to the Star that provided for man and beast in the very early days." [5]
In the publication "Historic Buildings and Sites of Parramatta" the building is described in the following terms,
Three storeys. Carefully detailed yellow brickwork. A strong and unashamedly vulgar combination of the pseudo-futurist curves and striations. A brashly symmetrical composition; recessed balconies, projecting parapets and balustrades, thrusting central tower. Interior is rather dingy. "Star Hotel" lettering on parapet is a go0d example of Jazz Style.[6]
By 1987 the Star Hotel was considered by many as an "eyesore" especially as Parramatta Council was in the process of putting the finishing touches to the new Church Street Mall on which the hotel was located. Council eventually decided to convert the hotel into a retail store.

Peter Arfanis, Archivist, Parramatta Council, Heritage Centre, 2014
References
[1] Old Land Marks. (1902, May 24). The Cumberland Argus and Fruitgrowers Advocate  p. 4. http://nla.gov.au/nla.news-article86199087
[2] The Star Inn. (1900, December 19). The Cumberland Argus and Fruitgrowers Advocate  p. 7 Supplement: CHRISTMAS NUMBER OF THE CUMBERLAND ARGUS. http://nla.gov.au/nla.news-article85817527
[3] Ibid
[4] The Star Hotel. (1902, January 15). The Cumberland Argus and Fruitgrowers Advocate  p. 2. http://nla.gov.au/nla.news-article86200163
[5] The New Star Hotel. (1938, April 14). The Cumberland Argus and Fruitgrowers Advocate  p. 13.  http://nla.gov.au/nla.news-article104970304
[6] Proudfoot, Helen. Historic Buildings and Sites of Parramatta. 1975
Greg Williams
My great grandfather was licencee of the Star Hotel from 1906 till his death in 1909, his wife then took over the lease until 1919.