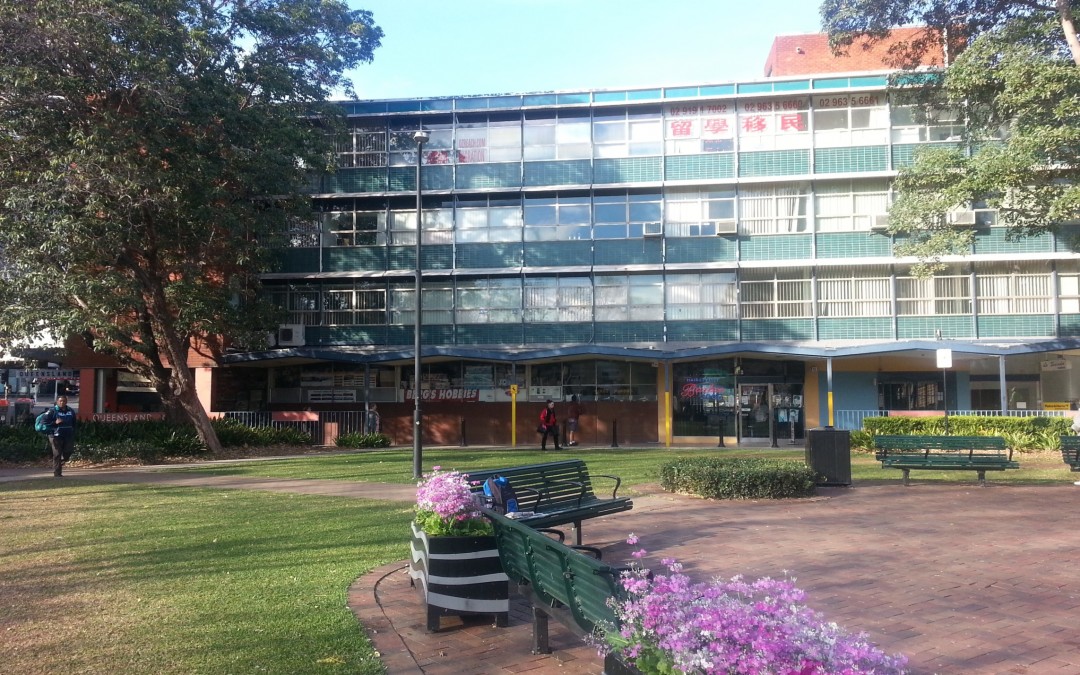 The Queensland Insurance Building (QIB), constructed at a cost of £200,000, was opened in June 1960. Located at the southern side of St John's Cathedral Church it was opened by Mayor Thomas, who was assisted by James Burns, the son of Sir Major James Burns, founder of Burns, Philp and Company and former owner of "Gowan Brae" house in Parramatta.
The Queensland Insurance Company, originally known as the North Queensland Insurance Company, was founded in 1886 by Sir James Burns. The site of the QIB was acquired by Queensland Insurance Ltd from Sisters of Mercy in 1951.
This four storey building was considered, at the time, to be one of Parramatta's most modern buildings. Made up of large plate glass windows it was presented by the Cumberland Argus as a "glass palace dominating the city's park". It comprised 12 shops, 13 offices over three floors and on the fourth floor were 8 flats overlooking St John's Park.  The building took the place of the livery stable and funeral parlor of Metcalfe and Morris Ltd which had been operating there since the 1880s.
The London style arcade, named Queensland Arcade, introduced a touch of continental life to Parramatta with the opening of the La Petite Carlton coffee shop, managed by Mr and Mrs Frank Gibble. The coffee shop allowed patrons to "sit on the footpath" while relaxing. Other shops included Wolfe's Sea Foods, the Maverick Butchery, Wheelers Pharmacy, Cumberland District Florist, and Rowney Oil Paints.
The architects, Carr Allen and Watts, attempted to design a building that would blend in with the layout and colour of the St John's Park.  While the building looks rather "tired" these days it does seem to sit quietly in the background among the landscape of the park. The building also acts as a reminder of a period where Parramatta turned the corner from traditional enclosed styled commercial architecture to the modern architectural designed glass structures.

Peter Arfanis, Archivist, Parramatta Council, Parramatta Heritage Centre, 2014
References
Glass Palace Dominating City's Park. (1960, November 2). The Cumberland Argus(Parramatta, NSW : 1950 – 1962), p. 11. Retrieved September 2, 2014, from http://nla.gov.au/nla.news-article131621668
£200,000 building for insurance co. (1960, June 29). The Cumberland Argus (Parramatta, NSW : 1950 – 1962), p. 10. Retrieved September 2, 2014, from http://nla.gov.au/nla.news-article131621185