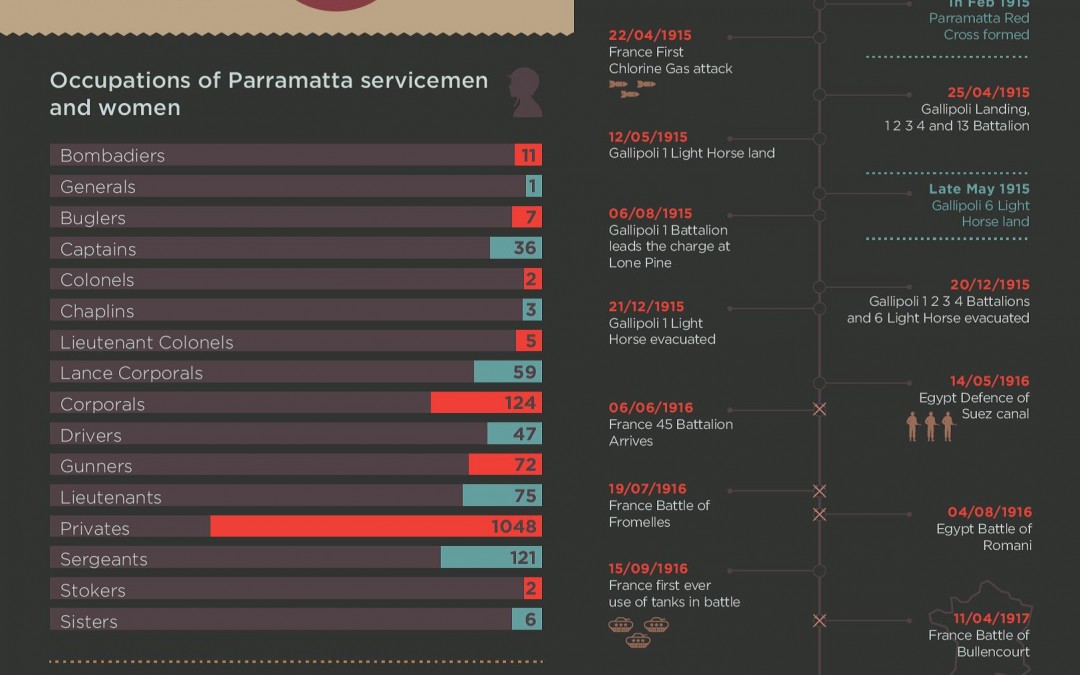 World War One 1914-1918 infographic (Source: Parramatta Heritage Centre)
While the Research team at the Parramatta Heritage Centre has been researching World War One servicemen, servicewomen and volunteer organisations we have uncovered a number of key dates which relate to Parramatta. Below are some of the key dates we have come across so far. Some cover broader events of the war but we also decided to include dates that were very specific to Parramatta at home and abroad, as well as dates which related to the broader demographic of the current local government area.
Some dates relate to the actions of army and naval units which soldiers or nurses from Parramatta served in. Some relate to the heroic endeavours of individuals while others we have included to mark an individuals contribution. All in all it should continue to provide food for thought as we highlight the contribution of Parramatta and Districts contributions to this major world event.
3 August 1914
Pennant Hills wireless station, and all other Australian wireless stations placed under the control of the naval board.
11 August 1914
HMAS Parramatta and Worrego enter Simpson Harbour, German New Guinea – Australia's first action of the war
22 August 1914
Richard (Dick) John Cutter became the first Parramatta man to enlist
September
The Home Front – Parramatta Soldiers Wives and Mothers Centre starts
26 September 1914
First Indian troops arrive in France
30 September 1914
Action at Wytschaete, France and 1st Indian Victoria Cross
1 November 1914
First Australian troops embark from Albany
9 November 1914
Sinking of the SMS Emden by HMAS Sydney,
15 November 1914
ex Parramatta man, Billyard-Leake, owner of Harefield Park, in Middlesex, England .offers his house to the Australian military authorities for use as a hospital
24 November 1914
Sister Edith Faber accepted into 2 Australian General Hospital Nursing Service
1 December 1914
Parramatta Woman, Dorothy Cawood, first Sydney nurse to be awarded a Military Medal, selected to work in the 1 and 2 Australian General Army Hospitals
18 December
Parramatta Dentist, Arthur James Mills, Commander of the 4 ANZAC British Imperial Camel Corps, enlists
19-20 January 1915
First Zeppelin attack at Yarmouth, aerial warfare comes to England
December 1914
1& 2 Battalions arrive Egypt
14 March 1915
Gallipoli campaign outlined to Sir Ian Hamilton by Lord Kitchener.
22 April 1915
First successful gas attack, Second Battle of Ypres.
25 April 1915
1 2 3 4 Battalion – Anzac landing 2and 3 waves
13 battalion – lands late afternoon
26 April 1915
Victoria Cross won by Mir Dast, British Indian Army
2 May 1915
Parramatta soldier, James Durrant involved in fighting at the 'Chessboard', Gallipoli
12 May 1915
1 Light Horse – Anzac landing
17 May 1915
Private, Cecil George "Curly" Eather, from Parramatta, killed in action at Gallipoli
Late May 1915
6 Light Horse –  Anzac landing with Colonel Cox
3 July 1915
Maori Battalion lands at ANZAC Cove, Gallipoli
6 August 1915
1 Battalion leads charge Lone Pine
20 August 1915
17, 18 Battalion landed ANZAC
21 August 1915
19 Battalion landed ANZAC
22 August 1915
20 Battalion landed ANZAC
27 August 1915  
Privates Ernest and Alfred Currell of  Baulkham Hills enlist
December 20 1915
1 2 3 & 4 Battalion, 6 LH – Evacuation Anzac
December 21 1915
1 Light Horse – Evacuation Anzac
14 May 1916
1 Light Horse defend Suez Canal
19 July 1916
Battle of Fromellesl
4 & 5 August 1916  
1 Light Horse, Battle of Romani
June 6 1916
45 Battalion arrives France made up of half Gallipoli veterans and new recruits
11 April 1917
13 Battalion – first battle of Bullecourt
21 July – 6 November 1917
3 Battle Ypres also known as battle of Passchendaele
26 September 1917
54 battalion – Battle of Polygon Wood part of Passchendaele engagement
31 October 1917
1, 7 Light Horse Battle of Beersheba
27-31 March 1918
Anzac Mounted Division and Camel Corps – first battle of Amman, Palestine
30 March – 5 April 1918
54 battalion – first battle of Villers-Bretonneux
14 July 1918
Engagement Abu Tulul, Jordan Valley, Palestine
11 November 1918
Armistice

Geoff Barker, Collection and Research Services Coordinator, Parramatta City Council Heritage and Visitor Centre, 2014