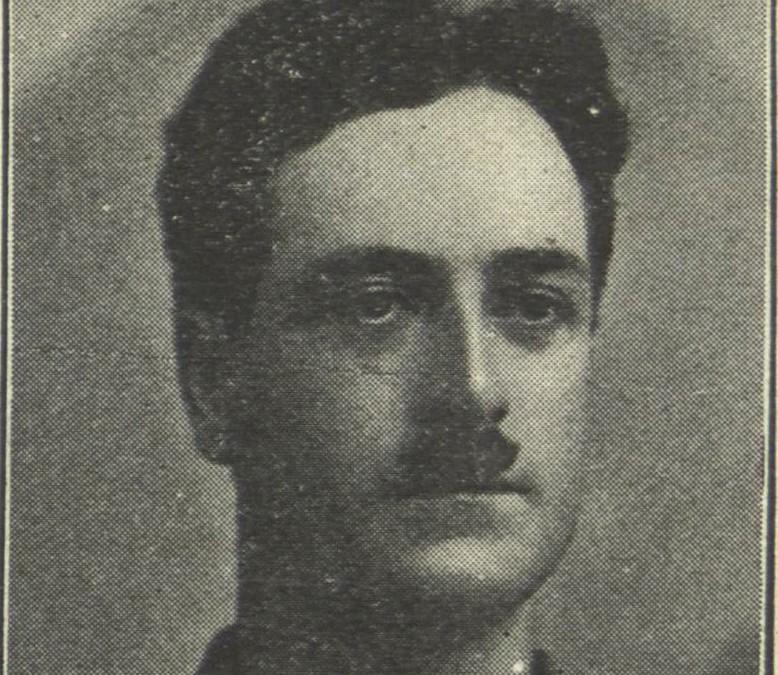 Gilbert Goldie Anschau (244) was a 29 year old clerk, who signed up in Newcastle but whose father worked as Postmaster at Parramatta.
Born in Lismore, new South Wales, he signed up 16 September 1914 and embarked with First Division, 3 Infantry battalion. Gilbert had a very eventful career in the Army before being killed at Bullecourt on 5 May 1917 (his name is on Villers-Bretonneux Memorial), France. Initially he appears to have served in the 1 Field Ambulance, A.M.C.
In a letter to his sister published in the Tamworth Daily in August 1915 he says "… This certainly is the life for me and I am perfectly happy in the trenches, helping some poor beggar, with the bullets whizzing and the shrapnel bursting all around."
Gilbert later caught a severe form of dysentrry known as 'enteric fever' at Gallipoli and after a stay at Netley hospital he was invalided home in April 1916. After making a full recovery he sailed for the front again in October of the same year. He was made Corporal in recognition of his services at 'Hermies' where he was again wounded, this time in the head. A report in a Newcastle paper said he received the wound while he and some others were defending a trench with a Lewis gun and a bullet hit the top of his steel helmet, tore of the rim, and split the steel making a huge dent. The hat saved his life but he received a nasty scalp wound as a result.
Gilbert was soon back in the thick of the fighting and on 5 May was recorded as missing, his death was confirmed later. Although his name is associated with Tamworth and the Memorial there he was brother to Private C E Anschau (2900) who is also recorded as being the son of Mr J. Anschau, Postmaster at Parramatta. By 1917 his mother was living at 36 Robinson Street, Croyden, Sydney.

Geoff barker, Collection and Research Services Coordinator, Parramatta City Council Heritage Centre, 2014