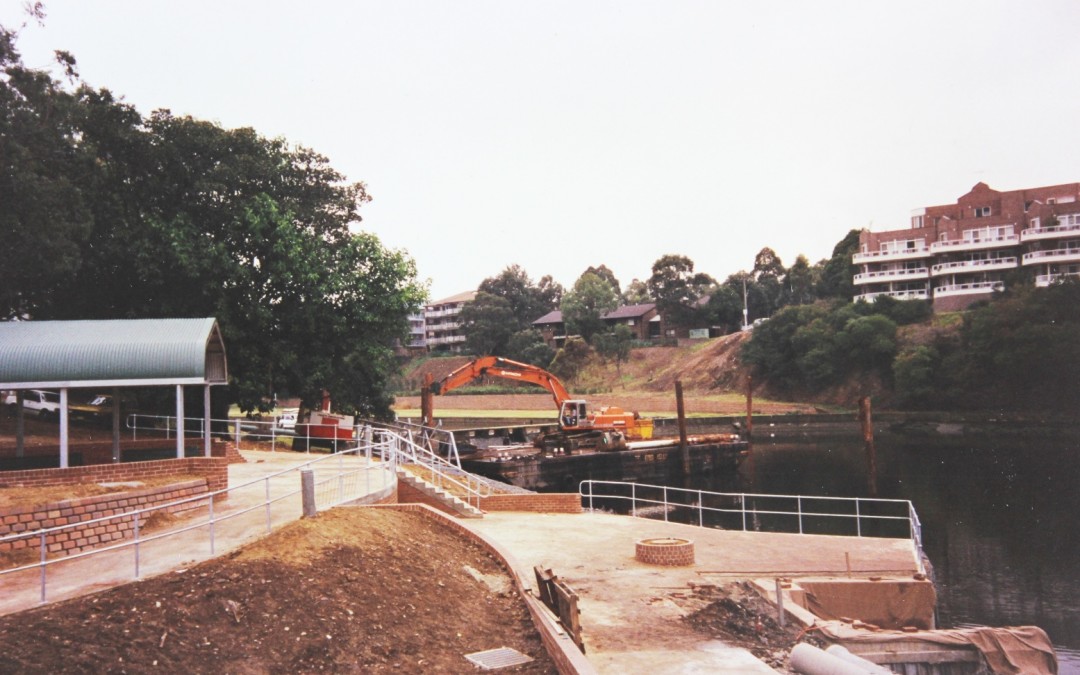 In 1951, the State Government took over the Sydney Ferries Ltd. operations. Between 1969 and 1973 an attempt to revive ferry transport between Circular Quay and Meadowbank was made by Stannard Brothers Launch Services Pty. Ltd. but the service was both slow and unprofitable. Attempts were made in 1973 to introduce fast hydrofoil and hovercraft ferries along the river, from Gladesville to the City, also without success.[1].
Financial viability depended upon speed, comfort, and the regular custom of commuters of the burgeoning Central Business District of Parramatta, and in addition, the tourist trade. In 1988, Parramatta's bicentennial year, State Government financed a programme to dredge the silted river between Charles Street and Silverwater to allow fast ferry mooring facilities and close access to the CBD. More than 20,000 cubic metres of the river bed was dredged between Rydalmere and Silverwater and a channel excavated for the remaining 4.6 kilometers to Parramatta.
Passenger shelters, carparks and landscaping at Rydalmere and the Charles Street wharf at Parramatta cost $400,000, the two wharves alone costing $190,000.[2]  Six new shallow draft, low wash catamaran ferries, known as 'rivercats',  were designed for the run to Parramatta. Overall length of each craft was 40 metres with a beam of 10.5 metres. The hulls are constructed of marine grade aluminium alloy and when fully loaded, displace 58 tonnes, can carry 230 passengers and travel at 22 knots[3]. Named for famous sportswomen, Betty Cuthbert, Dawn Fraser, Shane Gould, Evonne Goulogong, Marjorie Jackson and Marlene Mathews , the distance can be covered in 40 minutes calling at 7 wharves.[4].
The service commenced on 9 December 1993 and carried more than 10,000 passengers in the first week, becoming so popular over the festive season that three ferries had to be employed on the daily run–a far cry from the ships gigs and the passage boats of two hundred years ago.[5]. A seventh vessel, the Nicole Stevenson  was commissioned during 1994 to cope with the unexpected demand.
References
[1]  AM Prescott, Ferry Fleets, p. 9.
[2]  Parramatta Advertiser, 9 Jun, 1993.
[3]  State Transit-Authority Sydney Ferries,35m Rivercat Ferry-Technical Specifications. Dec, 1993.
[4]  Parramatta, Rydalmere, Meadowbank, Gladesville, Darling Harbour, McMahons Pt, Circular Quay.
[5]  Parramatta Advertiser, 15 Dec 1993; Sydney Morning Herald, 24 Dec 1993.

By John McClymont, Parramatta Historian, unpublished work, Parramatta Council Heritage Centre, 2014