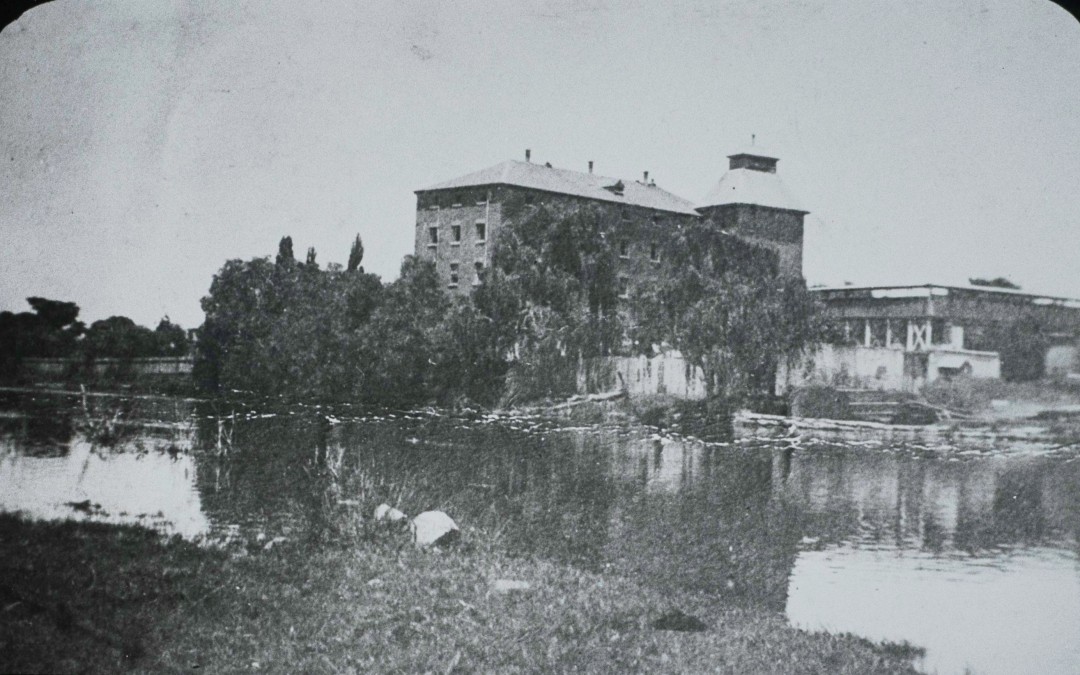 On the lot to the south of the Rivercat Wharf on George Street and next to Harrisford House, James and William Byrnes, had an allotment from which they conducted their river ferry and industrial interests and agencies in the 1840's and 50's. Their remarkable tale begins towards the end of 1841 when the two brothers built a steam flour mill on land leased from the Elizabeth farm estate. They must have done well for five years later they built a five story cloth mill next to the first mill.
The new mill was located approximately between the modern Noller Parade and the Rivercat wharf to the east of a line drawn to the river through modern Purchase Street. By January 1847 the cloth factory was manufacturing lama cloth, tweeds (and a durable cloth called 'Parramatta Tweed'), checks, doeskins and kerseymeres and for the first time tartans were woven in the colony. Using imported English  machinery, the mill started with 39 employees and by 1849 had manufactured 32,882 yards of tweed.
James Byrnes was born in Edgeworthstown in Ireland and came to Sydney with his father James Snr. ( a member of the New South Wales Corps) with his wife Francis (nee Moorhouse) in 1808. James Junior was initially apprenticed as a carpenter but in the 1830s he and his brother started one of the first steam ferries to run on the Parramatta River. They then built on this success with the construction of the flour and tweed mill both of which were highly successful until the Gold Rush of the 1850s drained the area of workers and forced them to close the mills in 1857.
The cloth mill was re-opened in 1862 as Charles F. Byrnes & Co. but was closed in the 1880s and the machinery was transferred to a new site at Granville. In 1908, the government bought the old mill for £2,300 and the site for £2,800 converting the buildings for use as part of the George Street Asylum for aged men.
James also had a successful political career becoming Parramatta's first effective mayor in 1861 while both he and his brother later became members of parliament. A memorial to his contribution to the construction of the Leigh Memorial Church can still be found on its wall on George street.
References
James Byrnes, http://adb.anu.edu.au/biography/byrnes-james-3135
J. Jervis, Cradle City, pp. 105-6;
J. Jervis,'A History of politics and politicians in Parramatta' in JPDHS, vol. 3, 1926, pp. 26-38

By John McClymont, Parramatta Historian, unpublished work, Parramatta Council Heritage Centre, 2014