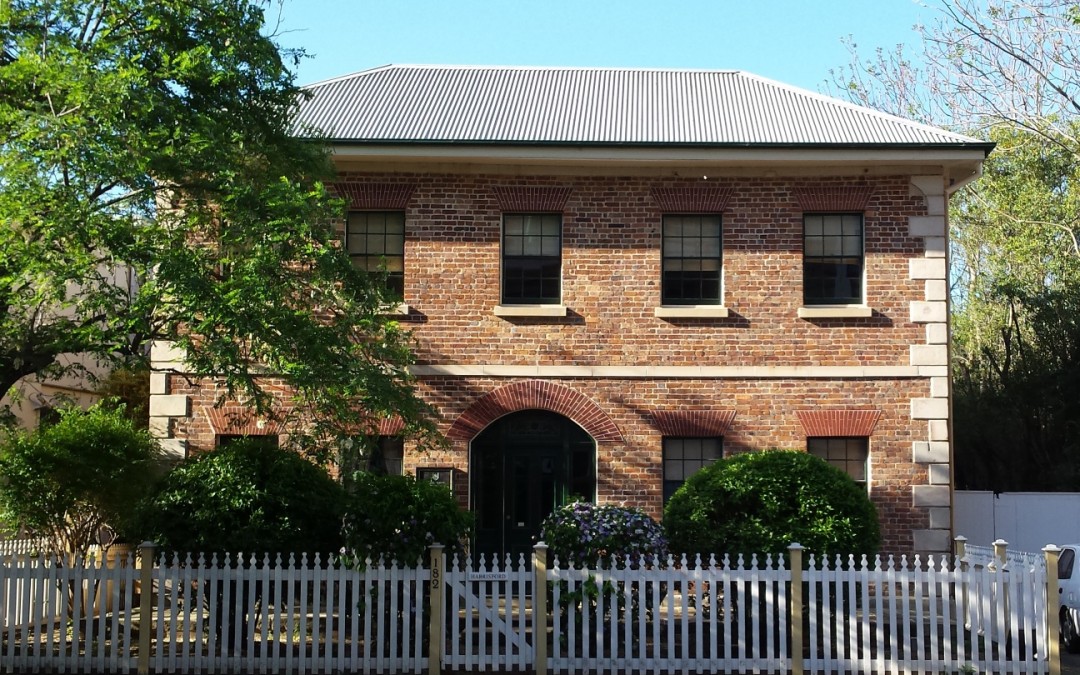 Harrisford House, George Street, Parramatta, 2014. Source: Geoff Barker, Parramatta City Council
The first lessons given by this famous Australian institution were in February 1832 in a house leased on two blocks in George Street, Parramatta. The King's School is Australia's oldest independent school and its alumni includes many of Australia's more famous names including: New South Wales Premier, Mike Baird, director Bruce Beresford, and rugby player Stirling Mortlock.
When King's started in 1832 there were two schools, one in Pitt Street, Sydney, the other in Parramatta. However this first site was not at the current site in North Parramatta or the site of the current New South Wales Heritage Office. In fact the first school actually started life in a modest house on two blocks of land at the bottom of George Street Parramatta. Remarkably the building in which these first pupils started their lessons still stands on the same site, although it is now known as 'Harrisford'.
The origins of the site date back to Governor Macquarie's realignment programme which saw Section 23 split into Lots 68 and 15 with the latter being the one on banks of the river.  In 1823 Joshua Abbot or Allot gained a lease of lot 15, and erected a hut on the site while William Carter leased lot 68 but both lots were purchased by Reverend William Walker in September 1829. He purchased the Riverside lot for £15 and the George Street lot for £60 and after building a school on the site leased the block to the King's School. Walker also was forced to mortgage both blocks to Samuel Terry for £500 before finally being issued with the title on 13 October 1852.
Unfortunately the death of the headmaster of the Pitt Street School in September 1832 led to its closure and the Parramatta school under Reverend Robert Forrest was left to establish the school's reputation as one of Australia's finest independent schools. By November 1832 the school had 41 borders, many the children of military officers and public servants and in 1836 moved to a new and larger site in North Parramatta, just above the weir.
After Forest left  the school was let to a Mr Bradley who set up another school, the Parramatta Academy before in 1841 becoming a private school under the care of the schoolmaster and local botanist, William Woolls. After Woolls moved his school to 'Broughton House' the title was passed to master mariner Michael Eury in 1853. In 1890 the property was sold to John Harris of Shane's Park, who was the nephew of Surgeon John Harris after whom Harris Park is named. John Harris Victorianised the building, and named the renovated building Harrisford.
Recently the house underwent some significant renovations and is worth a look if you are walking long the eastern end of George Street.

Geoff Barker, Research and Collection Services Coordinator & Caroline Finlay, Regional Studies Facilitator, City of Parramatta, Parramatta Heritage Centre 2014, 2018
References
Cable, K.J. (1966). Forrest, Robert (1802 1854). Australian Dictionary of Biography. Retrieved on 09/09/2014 from http://adb.anu.edu.au/biography/forrest-robert-2055
Cable, K.J. (1976).Woolls, William (1814-1893). Australian Dictionary of Biography. Retrieved on 09/09/2014 from http://adb.anu.edu.au/biography/woolls-william-4886
Dr. William Wools. (1893, March 15). The Sydney Morning Herald, p. 8. Retrieved on 28/02/2014 from http://nla.gov.au/nla.news-article13901096
McClymont, J. (n. d.). Riverbank 4, unpublished research. Parramatta Heritage Centre.
The King's School, Parramatta. (n. d.). In Wikipedia. Retrieved on 09/09/2014 from https://en.wikipedia.org/wiki/The_King's_School,_Parramatta
The King's School Old Boys' Union. (1982). Parramatta, N.S.W.: The Union.