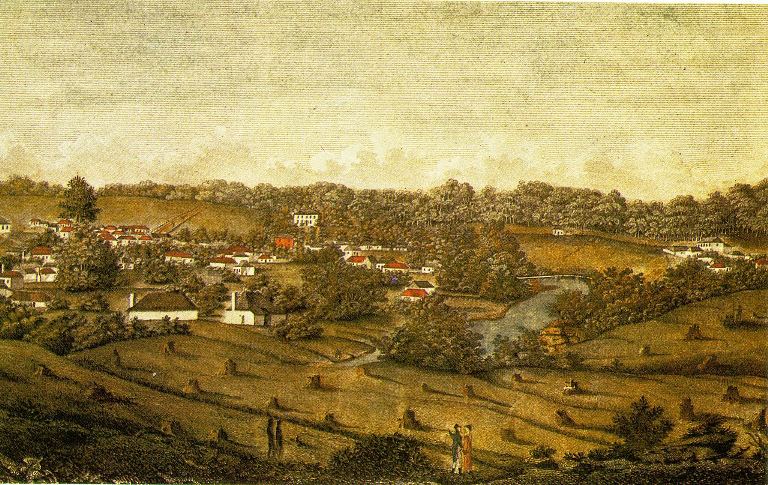 William Sherwin was a Sergeant in the New South Wales Corps who arrived in Sydney in 1792 and by 1803 had settled in Parramatta very near the site of the old Howell's Mill. Sherwin's first few years in Australia were marred by a the scandal caused when his wife Anne deserted her family to live with Captain, later Major Joseph Foveaux. To add insult to injury Foveaux made life so difficult for the Sergeant he was forced to leave the regiment.
A grant to James Thomson on 1 January 1806 of 100 acres was purchased by William Sherwin but was  subsequently surrendered in exchange for land near his 400 acres in the Parramatta District. By 6 August 1808 he was Chief Constable at Parramatta and was living with Mary Duggan who arrived in Sydney on the "Marquis Cornwallis" and by whom he had a number of children.
On 22 January 1820, Government and General Orders in The Sydney Gazette announced the re-appointment of William Sherwin as the new Chief Constable of the district of Parramatta. Two years later he was appointed storekeeper in the Commissariat Department at Parramatta but was replaced by John Gowan 26 October, as he died in the same year aged 59.
One son William Jnr. was the first fully qualified medical man in private practice and the first Australian to go abroad to study medicine. William left for England in 1823 and three years later gained admission into the Royal College of Surgeons. He returned to Australia in 1827 and after a brief spell practicing in Melville Island he returned to Parramatta where he set up business.
Another son George Sherwin J.P. and resident of "Noelera" in Parramatta North died in 1898 bringing to a close his long and interesting association with pioneering in New South Wales and Victoria. He was born in 1816 at the home of his father William Sherwin which was then located in George Street, close to where the 'Gasworks Bridge' now stands.
At the age of 16 he went to sea to seek his fortune whaling but returned to Parramatta where he was married to Miss Thorn by the Reverend Samuel Marsden. Looking around for new opportunities to bring in an income for his new family he turned his hand to 'squatting' and was one of the second group of colonists to set themselves up on the site of the present city of Melbourne. After spending many successful years in Victoria he returned to New South Wales to take up some properties on the Castlereagh and Macquarie Rivers.
However in 1890 as his health started fading George returned to the site of his boyhood and along with his family bought a house in Pennant Street, Parramatta. Mrs Sherwin died 12 months later and despite the care and skill of the local doctor R. Bowman George's health continued to decline and he died in 1898.
In 1838 what was known as the Parish of Toorurrong was surveyed into allotments by Robert Hoddle, who laid out the City of Melbourne, but before that (in 1837) George Sherwin Son of Thomas Sherwin of Parramatta, New South Wales, had taken up land in the district and built a hut on the present recreation reserve. The site being the hillock where the sixth green and seventh tee of the golf course now stands. George Sherwin was one of four brothers: William, George, John, and Thomas who came to Port Phillip in 1837 and took up a large area of land along the Plenty river.
George was born at, Parramatta in 1819 and he remained at Whittlesea for a while and then managed the Australian Inn in Bourke street, Melbourne. In 1849 he was cattle dealing in the Mulwala district on the Murray, but he returned to the Whittlesea district about 1852. George Sherwin revisited Sydney in 1811, for on March 17 of that year he married Mary Thorn, at Parramatta. He was made a J.P. in 1852.
Research
Old Pioneers, http://www.the1788-1820pioneerassociation.org.au/William%20Sherwin%20snr.html
Sketches of the Early History of Australia 1787 – 1850, Memoirs of Joseph Holt, Fitzroy City Press, 20 April, 1912
The Sydney Gazette and New South Wales Advertiser, 22 January, 1820
The Sydney Gazette and New South Wales Advertiser, 31 May, 1822 and The Sydney Gazette and New South Wales Advertiser, 1 Novemebe, 1822
The Argus, Melbourne, 20 September, 1937
The Cumberland Argus and Fruitgrowers Advocate, 10 September, 1898
Early Whittlesea and How it was settles, Advertiser, 12 November, 1937

by Geoff Barker, Research and Collection Services Coordinator, Parramatta Council heritage and Visitor Centre, 2014