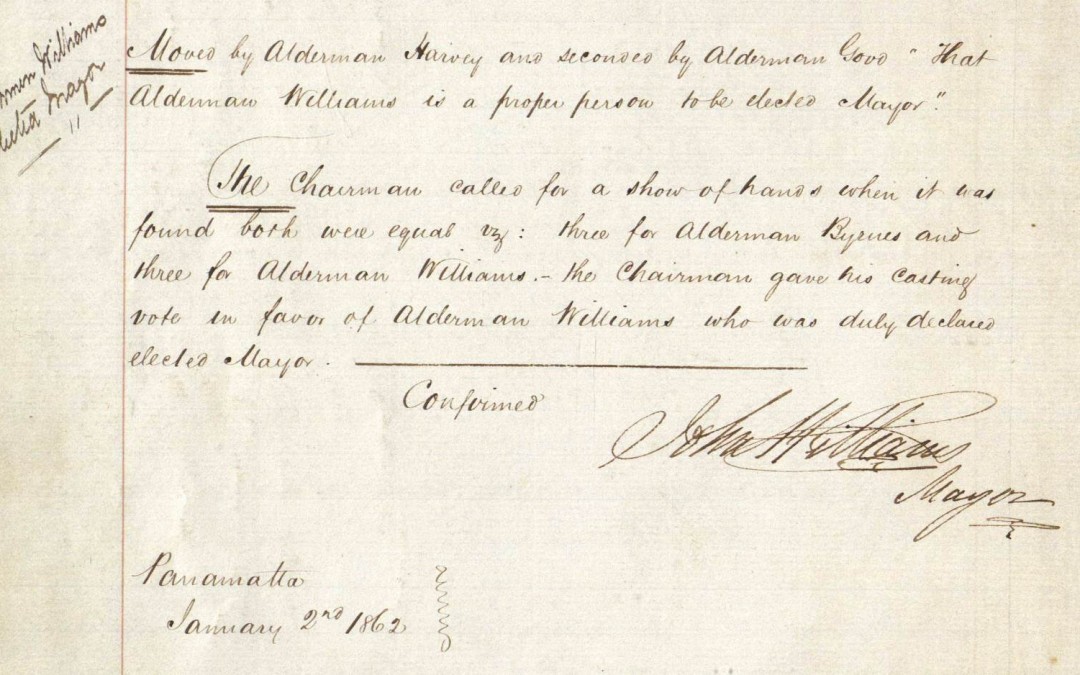 The 1933 exhibition seems to have been very comprehensive with an amazing array of interesting objects.  Part Two of this blog post continues to describe some of these objects which, I am sure, would hold just as great, if not greater fascination for the general public as they did in 1933.
J.K.S.Houison, reports in the journal of the Royal Australian Historical Society (1933), about a selection of objects that he found interesting.  He thought the most noteworthy of these was the register of Licence Applications from 1838 to 1850.  This register contained a list of all the applications for publicans' licences in Parramatta and surrounding districts as far away as Burwood.  It would be interesting to see the list and determine which of these establishments are still standing today – whether as pubs, renovated for other uses, or demolished altogether.
A lottery ticket with W.C. Wentworth written on the back of it was also displayed.  The lottery date was 1 January 1849 – it was described by Houison as a lottery for disposing of the Bank of Australia assets.[1]
Also on display were Parramatta Council documents and these are in our collection today – the first municipal rate book that was used following the proclamation of Parramatta as a borough in 1861, and the minutes from the first Council meeting electing Mayor Alderman J Williams as the first Mayor (see featured image above).
Portraits of early Parramatta families were exhibited such as Marsden, Blaxland, Brown, Weaver, Hunt, Macarthur, Sutter, King, Caldwell, Betts, Cawood, Watkins, Cox, and Houison.  A crested button belonging to one of the Blaxland family servants, who had worked for them at Newington, was also on display.
A train timetable illustrating the nature and frequency of travel between Parramatta and Sydney was on also display.  It was dated November 1855 and the stations between Sydney and Parramatta (now Granville) were Newtown, Ashfield, Burwood, and Homebush.  The trains departed from Sydney at 6am, 8am, 10am, 12noon, 3pm, and 5.15pm – not particularly useful for commuters today!  The journey took 45 minutes and there were three classes of travel –first, second and third class (which included dogs).  The dogs paid the same fare as third class passengers, 1/6!
Of particular interest was a pair of 'Mutes Staves' representing a funeral tradition which is not seen today.  Brief research indicates that staves (wooden sticks) were carried by people who were professional mourners or mutes.[2] Houison reports that the staves on display in the exhibition were draped in black silk and had been carried at funerals in Parramatta over eighty years ago.  "It is interesting to note that the first occasion on which staves were carried in the colony was at the funeral of Catherine Connell, the wife of John Connell, of Pitt Street, Sydney on May 7, 1811.[3]"  It seems the use of mutes conferred respect upon the ceremony and, perhaps, status as the funeral of a merchant Thomas Burdekin had "at least six mutes and porters.[4]"
It is intriguing to wonder where some of these other objects are now………
References:
Cumberland Argus and Fruitgrowers Advocate, 30 October 1933    http://trove.nla.gov.au/ndp/del/article/107804621
Houison, J.K.S    Historical Exhibition at Parramatta    Royal Australian Historical Society, Journal and Proceedings 1933, Vol 6, page 386-388
Murray, Lisa       Death and Dying in Nineteenth Century Sydney, 2013    http://www.dictionaryofsydney.org/entry/death_and_dying_in_nineteenth_century_sydney, viewed August 2014
[1] Houison, J             Historical Exhibition at Parramatta, 1933, page 387
[2] Murray, L              Death and Dying in Nineteenth Century Sydney, 2013
[3] Houison, J             Historical Exhibition at Parramatta, 1933, page 387
[4] Murray, Lisa          Death and Dying in Nineteenth Century Sydney, 2013