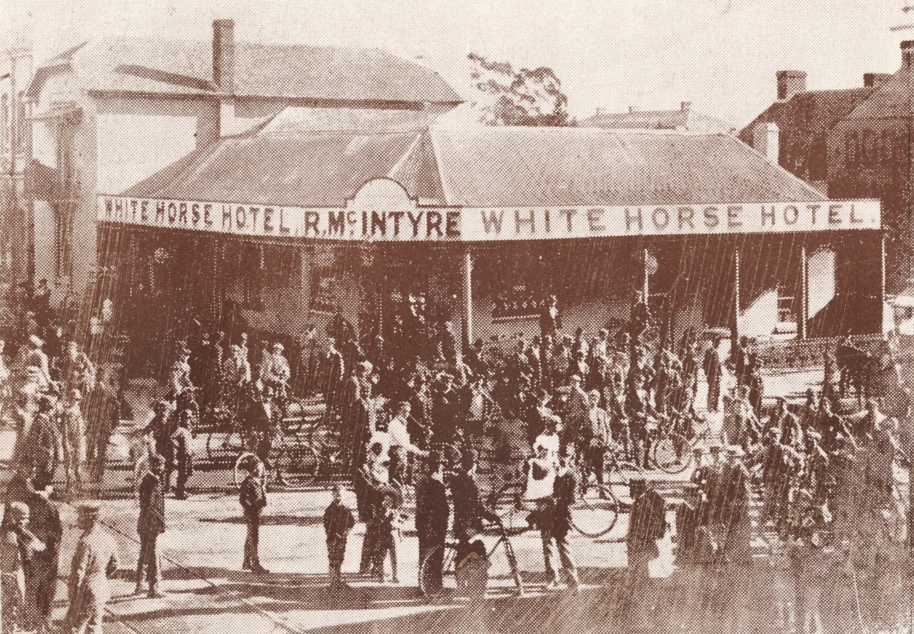 The White Horse Hotel, the north west corner of George and Church Streets, was one of the best known of the hotels in Parramatta.
Initially it appears to have been known as the 'White Horse Cellars' as there was already a 'White Horse Inn' on the corner of Smith and Macquarie Streets. In 1851 John Hilt bought the 'White Horse Inn' to run his 'horse and coach' business and sometime around 1894, when the inn was demolished, the word 'cellar' appears to have been dropped from the George Street property and it became commonly known as the 'White Horse Hotel'.
But by this time the White Horse was already a successful business. Originally it was a small cottage containing a jumble of small rooms built under the auspices of John Thorne, the Chief Constable of Parramatta, in 1836. Later that year it was opened as an inn by a man named Hogan who after just a short time gave up his lease, which was then transferred to Isaac Titterton. From 1838 until his death in 1847 Edward Smith held the license. After Edward Smith's death the license was transferred to Richard Francis Teasdell.
On the other side of the street was the 'Australian Arms Inn' which ran the mail coaches from Windsor to Penrith. Both of these ran coaches from the site every day, making this corner one of the busiest in Parramatta township, especially when all the coaches were assembled to take up mail and drop off passengers and their luggage. The coaches used to start from these hotels before 6.00 a.m.; those for Sydney leaving at 6.00 a.m; the mail and passengers arrived from Sydney 2 hours later at 8.00 a.m.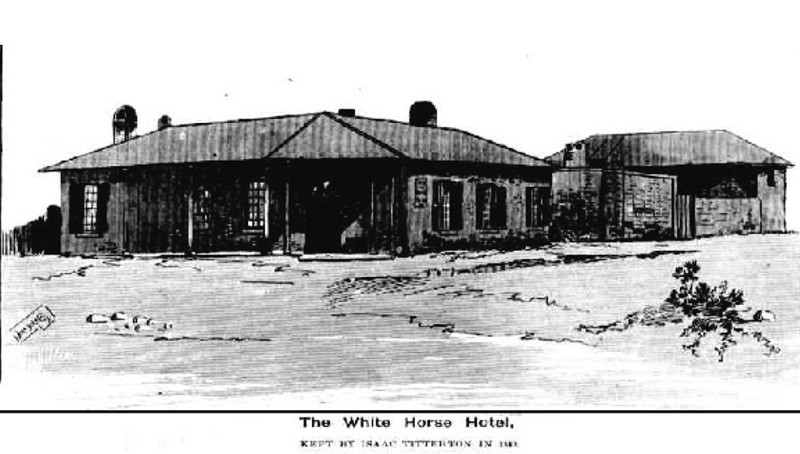 In these early years the hotels also proved to be hot-beds for political debate with many politically leaning residents hosting competing events, like the one held by the friends of Mr Oaks in 1848. Sixty years later the White Horse hotel was still drawing large crowds to as its balcony provided the stage for the Liberal candidate T. R. Moxham to debate the Land Tax.
According to the Argus the hotel was still going strong in 1890 under the management of Percy Hagin.
References
The Sydney Morning Herald (NSW : 1842 – 1954), Monday 27 December 1847, page 3
The Sydney Morning Herald (NSW : 1842 – 1954), Monday 26 September 1910, page 5
Evening News (Sydney, NSW : 1869 – 1931), Saturday 21 June 1890, page 6
Old Parramatta, The Cumberland Argus, 1 November, 1913
The Cumberland Argus, 10 December, 1936, p.46

Geoff Barker, Research and Collection Services Coordinator, Parramatta City Council Heritage and Visitor Centre, 2014