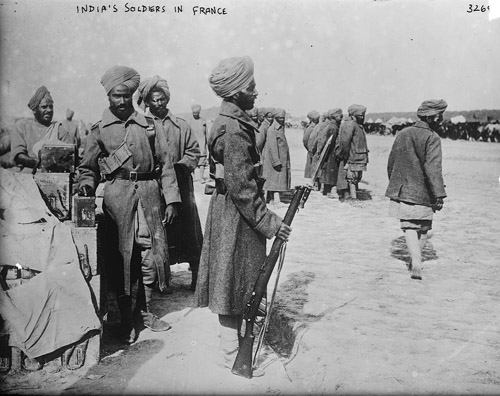 Indian troops, France, Library of Congress, Prints and Photographs Division, Washington, D.C. 20540 USA, hdl.loc.gov/loc.pnp/pp.print, date unknown.
Starting on the 23 October 1914 the 1 Connaught Rangers, forming part of the Ferozepore Brigade and the 57 Rifles and 129 Baluchis (originally raised in 1846 and known as a " Baluchi " battalion) were the first battalions of the Indian Army Corps engaged in the war. The 129 consisted in 1914 of two companies of Punjabi Musalmans, three of Mahsuds, and three of Pathan. They had already seen service in Persia, Afghanistan, and Egypt, with the Duke of Connaught as their Colonel-in-Chief.
However the high casualties among the British troops in this early phase of the war meant these two Indian regiments were separated from their own Brigade and put into different trenches along the front. Instead of fighting together they were split up into half companies, attached to various British corps of cavalry, infantry, artillery, and hurried from one trench to another, from one front to another, hardly realising the meaning or object of it all; and then fighting as they were driven from their trenches time after time by the Germans.
The 57th (Wilde's) Rifles on arrival found themselves in occupation of trenches near Oosttaverne and between Wytschaete and Messines. Sepoy Usman Khan of the 55th (Coke's) Rifles (commonly known as "Cookies") on won the Indian Distinguished Service Medal for their first action with the 1 Connaught Rangers. He was the first Indian to gain a decoration in France. The 57th was composed of two companies of each of the following: Sikhs, Dogras, Punjabis and Pathans and their last active service had been in China in 1900.
Meantime the 129th Baluchis operating on the left had to advance over very bad ground and as a result fund it difficult to make any progress. This battalion had taken over trenches on the 23rd October, where it came under rifle and machine-gun fire for the first time. In the attack on Gapaard a company of the Baluchis got to within 300 yards of the German trenches before being ordered to retire due to machine gun fire. They had fifty nine casualties between the 23 and 30 October. Of the seven British Officers in charge of the Regiments six were either killed or wounded a great loss as many in the regiment could not speak English making the interpreting and initiating of orders extremely difficult.

Geoff Barker, Research and Collection Services Coordinator, Parramatta Council Heritage Centre, 2014