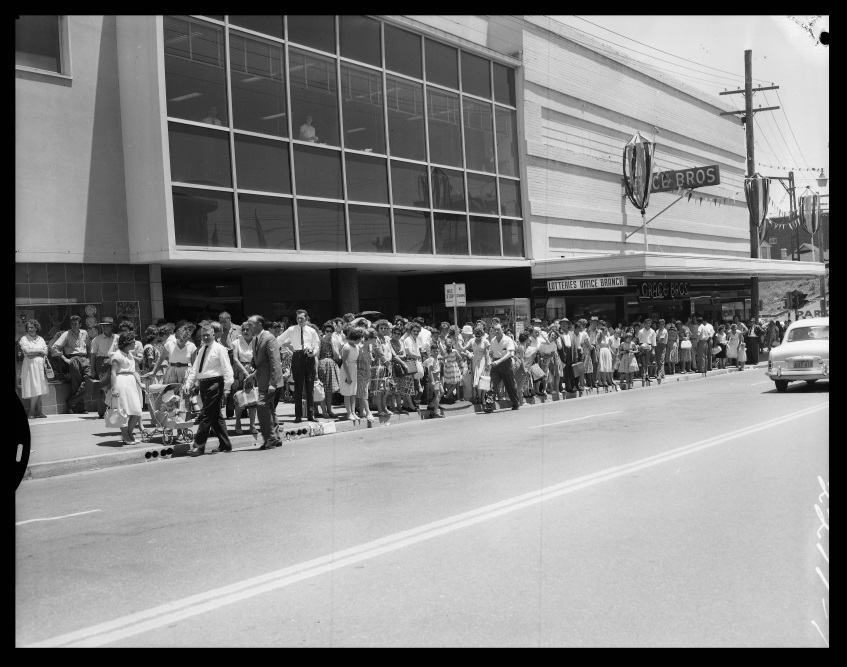 Waiting outside Grace Bros. shop at Church Street to see Miss Australia Tania Verstak, 1961
During the Centenary Celebrations of Parramatta as a municipality, from 25 November to 2 December, 1961, many official personalities participated in various events around the council. The opening parade to the celebration was one of the most anticipated for all and it took place along the commercial hub of Church Street Parramatta and it was described as unequalled in the city's long history.
The procession was leaded by Miss Australia 1961 Tania Verstak standing in the Land Rover previously used by the Queen Mother on her visit to Australia. With more than 2000 participants the procession filled the streets of Parramatta and it took almost an hour for all to pass in front of the Town Hall.
There were also other activities and events during that week, one of them was a dinner organised by Parramatta Soroptimist Club and hosted at Grace Bros. on the 28th November 7:00pm at the Commodore Room.
Although there is not much more evidence than these images; perhaps Tania Verstak, Miss Australia 1961, attended the Parramatta Soroptimist Club dinner, as it was especially an event for women and she was one of the main personalities taking part of the Centenary as Local Government Celebrations in Parramatta.
She probably took some time before the dinner to visit the shop to say hello to the many of women waiting at the entrance. She did a similar visit as her predecessor Miss Australia 1960 Miss Rosemary Fenton in November 1960 , both did a small appearance inside the store at the Pacific Paradise section and had some time to say some words to those waiting inside the shop hoping to see her.
References
"Royal vehicle in parade". The Cumberland Argus. Wednesday 22 November 1961. p42.
Motor section: "Parramatta entertains". The Cumberland Argus. Wednesday 22 November 1961. p2.
"Local women to celebrate". The Cumberland Argus. Wednesday 22 November 1961. p17
"Miss Australia visits Parramatta". The Cumberland Argus. Wednesday 16 November 1961. p1.

Maribel Rosales, Image Technician, Parramatta City Council Heritage Centre, 2014