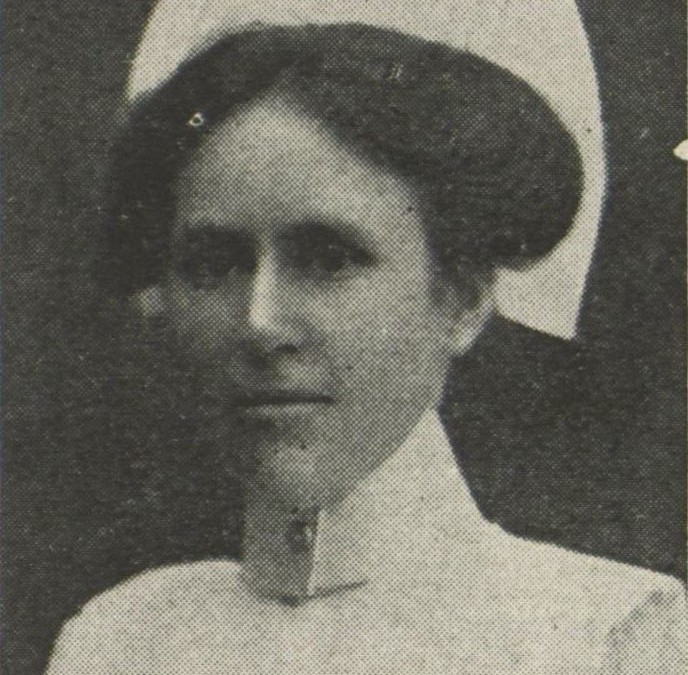 On the 1 July 1919 Nurse Dorothy Cawood returned home to Parramatta after 4 years continuous service (CA 014/07/1919 p.10).A year earlier she had been mentioned in dispatches by Sir Douglas Haig for her conspicuous serves in Egypt, France and Italy (CA 014/06/1918 p.10). Just before leaving England to return home she had been awarded a Military Medal by the the King at Buckingham Palace for her bravery during the action at Messines, France. She was the first Sydney woman to receive this award.
Dorothy left with the first contingent of Australian nurses and after working in France was transferred to Genoa, Italy, with the 38th Stationary Hospital where again her fine service called forth the highest  praise from military officers there. It was at this time that her matron wrote the following letter of appreciation … 38 Stationary Hospital, A.P.O.L. 3, B.E.P., Italy, 31/1/18.Dear Mrs. Cawood, You may have received a notification from the Defence Department that your, daughter, Dorothy, is sick In hospital; so I am writing to tell you not to worry – it's nothing serious – just tonsillitis. I hope to have her back on duty long before this letter reaches you. I want to take this opportunity, Mrs. Cawood, of congratulating you upon having such a good daughter as Dorothy. She is a most excellent nurse – one of the very best Australia has sent out. 'When I told my O.C. that I had sent Dorothy to the Sisters hospital, he said, 'I'm sorry; I like that little girl. She does her work well, and gives no trouble to anyone. I will take care of her for you, and not let her work too hard. Kindest regards. Yours sincerely, Ethel S Davidson, Matron, A.A.N.S., 38 Stationary Hospital.' (CA 05/07/1919 p.4)
Her parents Mr and Mrs John Cawood lived in Hunter Street Parramatta but when Germany declared war in August 1914 Dorothy was attached to the Coast Hospital at Little Bay in Sydney's Eastern suburbs. In December 1914 it was announced she would be one of the the 186 nurses selected to work in the 1 and 2 Australian General Army Hospitals and soon after she was on her way to Egypt. While based at the 2 Australian general Hospital at Mena and Ghezireh, on the outskirts of Cairo also did some work on the hospital ships ferrying soldier between Gallipoli and Alexandria.
But the great test of her courage came while on duty in France. On 2 July, 1917, she was under fire at No. 2 casualty clearing station, France, when the Germans attacked and killed many of the patients and some hospital staff. This station had been operating as usual for nearly a year when around May 1914 the work became heavier and more staff were added. By July they had 3 operating tables in use and performed around 2000 operation between July and August. In addition many of the soldiers coming in needed intensive care as they were badly affected by 'mustard gas' which had caused large blisters to form on the body and created temporary or even permanent blindness.
To make matters even worse the unit was bombed on 2 July, and Sister Cawood, along with three others,  remained at her post, afterwards bringing many of the wounded to a place of safety. The Military Medal official recognition of her courage and coolness under fire. (CA 014/07/1919 p.10).
References
Cumberland Argus and Fruitgrowers Advocate, 14 June, 1918, p.10
Cumberland Argus and Fruitgrowers Advocate, 14 July, 1919, p.10
Cumberland Argus and Fruitgrowers Advocate, 5 July, 1919, p.4
No.2 Caualty Clearing Station, Through These Lines in Sydney, http://throughtheselines.com.au/research/2-ACCS

Geoff Barker, Collection and Research Services Coordinator, Parramatta City Council Heritage Centre, 2014