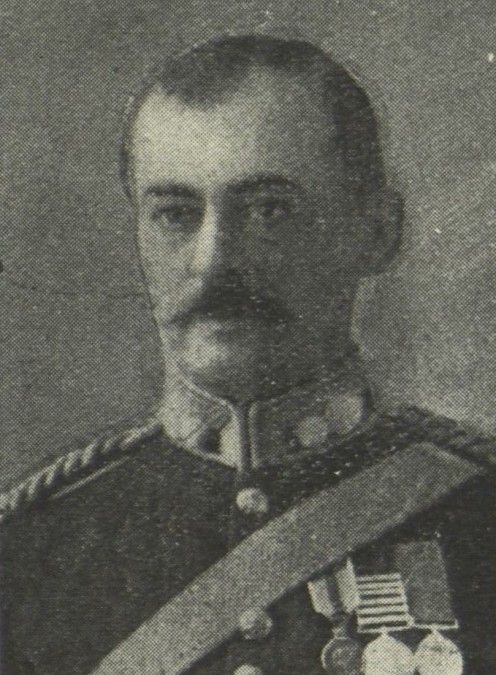 Arthur James Mills was a 31 year old dentist when he enlisted on the 18 December 1914.While he lived with his wife Florence Bellsy, and the villa "Ashburnham" in Hassell Street, Parramatta, he had a for some time been active in the Parramatta Volunteer Lancers and as a result joined the ANZAC forces as a Major.He left Australia with the 1 Light Horse Regiment (1-10 Reinforcements) on the 22 May 1915 and thus was not part of the first Gallipoli landing force but over the next three years he would go on to receive a CBE and DSO for his work in the Sinai and Palestine.
He returned to Sydney in 1919 after an absence of 4 years. His brother George N. Mills served in Palestine, with the Flying Corps and was wounded while flying there. Mills was appointed Commander of the 4 ANZAC British Imperial Camel Corps and served with great distinction in the drive of the Allied forces pushing the Turkish and German forces in the Middle East from Romani in the south back to Amman in the north.
From 1918 to 1919 he was in command of the 15th Light Horse Regiment. In 1921 he was appointed to command the 7 Light Horse Regiment and in 1926 the 1 Light Horse. In January 1927 took over the 4 cavalry Brigade with the rank of Colonel , and in January 1932 succeeded General G Macarthur Onslow as commander of the 1 Cavalry Division, with the rank of Brigadier-General.
References
The Sydney Morning Herald, Friday 13 July 1934, p.15
The Sydney Morning Herald, Thursday 4 September, 1919, p.6

Geoff Barker, Collection and Research Services Coordinator, Parramatta City Council Heritage Centre, 2014