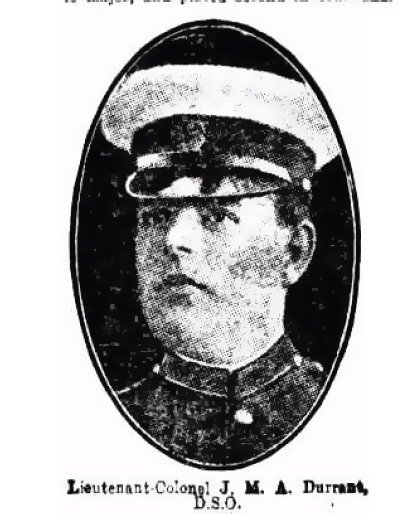 When the war broke out in 1914 one of Australia's most recognised hero's from the next four years of conflictsigned up for service from Parramatta. James Murdoch Archer Durrant served at Anzac, Egypt, France, and Flanders.
Rising from the rank of captain to that of Lieutenant-Colonel and winning the Distinguished Service Order and the C.M.G. He served with conspicuous bravery at Gallipoli with the 13th Battalion, and in recognition of this service 'Durrant's Post' at Gallipoli was named after him.
When war broke out Durrant was a 29 year South Australian whose career as a soldier had led him from his birthplace in Gleng to his appointment as Captain-Adjunct at the Parramatta Barracks. Born in 1885 he had been educated at Goodwood Public School, and the old Agricultural School, in Adelaide. From 1899 to 1903 he served as a bugler in the Adelaide Rifles, and four years in the No. 1 S.A. Battery of A.F.A., in which he finished as a sergeant. In 1908 he successfully passed his examination for Staff Sergeant-Major and was appointed to the New South Wales 'A & I' staff at Parramatta. He was promoted to Lieutenant in July 1910. His career then took another turn as he was transferred to Queensland where he was promoted to Captain, and then to military headquarters in Melbourne, Victoria.
However throughout all these moves, and indeed for the rest of his life, his ties Parramatta remained strong, for while he was stationed at the Barracks he met and married a local girl, Miss Birk, whose mother lived in Westmead .
Soon after war was declared he signed up for active service but initially this was declined as his administration skills acquired over seven years at the Barracks were deemed more important by the Military. Finally in October, 1914, he was sent to New South Wales to be adjutant to the 13th Battalion, Australian Infantry Force.
But while Durrant was a born leader and organiser, he was also, as would soon be proved, courageous under fire. on 19 December 1914 he was released from administration duties and leaving with the New South Wales Battalion under Lieutenant-Colonel Burridge and so it was he was stationed in Egypt when he was called upon to be part of the first wave to land at Gallipoli on 25 April 1915.
Very soon after the landing, in part due to the high casualty list, he received a number of promotions. Firstly he was made Major with the 13th Battalion, and then Brigade Major of the 15th Infantry Brigade and later the 4th Infantry Brigade. Owing to Burridge being wounded Durrant was given temporary command of the battalion, which he commanded through the heavy fighting around Quinn's Post.
This action was among the most significant of the Gallipoli engagement, not so much for it's strategic success, or failure, but rather because of the courage and heroism of the soldiers caught up in the events around the 'Bloody Angle' and 'Baby 700'. Just how bad this particular spot was can be gauged by the following description by Charles Bean … the right flank of that attack brushed past the extreme left of Quinn's, which was not itself involved. But the mere strain of holding the post was equivalent to that of a battle. Stray men from the other companies, who had served there, used to speak in awestruck tones of the bombs which the enemy threw. Stories were related of Turkish attacks during which the garrison fired until rifles jammed with the heat and bayonets became twisted. Men passing the fork of Monash Valley, and seeing and hearing the bombs bursting up at Quinn's, used to glance at the place (as one of them said) "as a man looks at a haunted house.
Durrant was compelled to relinquish this position some months later owing to an attack of enteric fever. But even before he was completely recovered he had resumed duties, his knowledge of staff work being utilised as brigade major for the 4th Infantry Brigade, which was then being reorganised. On rejoining his battalion he continued as major till after the evacuation, when he was attached to tho 4th Brigade as Brigade Major.
James was then amongst the first to proceed to France we he supervised the training of recruits for engagements at both Pozieres and Mouquet Farm. During the fighting Lieutenant-Colonel Durrrant was again given command of his old battalion, and he and his brigade were highly commended by the Divisional Commandant. It was for this action that they were mentioned in dispatches. Durrant's only brother (Staff Sergeant E. H. Durrant) also served as a soldier but was refused permission to go to the front. A highly skilled marksman he served on the staff of the School of Musketry in New South Wales. In January 1917 his name was added to the New Years honors list.
By December 1917, he had been appointed to assistant the Adjutant and Quartermaster-General of the 2nd Army Division. He held this position till shortly after the armistice when he was appointed to the Repatriation and Demobilisation department until December 1919.
In 1920, Colonel Durrant was appointed assistant Quartermaster-General of the 1st Military District in Queensland, where he held high administrative appointments until 1920, when he was transferred to South Australia as chief administrative officer, A.A. and Q.M.G., of that district. In 1930 he was given the brevet rank of colonel, which was made substantive in July, 1935. Colonel Durrant wasappointed Director of supply transport movements in the Quartermaster-General's branch at Army Headquarters, Melbourne, in January. 1935, and was also appointed A.D.C. to the Governor-General in the same year.

Geoff Barker, Collections and Research Services Coordinator, Parramatta City Council Heritage Centre