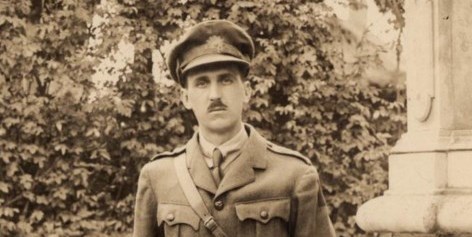 Keith Sigismund Macarthur Brown [i] was born at 'Brislington' on 14 April 1890. Keith was educated at the nearby  King's School (1900-04)[ii]  and Sydney University where he studied medicine (1910-1915). In 1916 he joined the AIF Medical Corp with rank of captain and was sent to a hospital in London. Before he embarked overseas he married Ayesha Borthwick of Walcha whom he had met at university. They had four children.[iii]
Ayesha joined him in London at the conclusion of the war, Keith took the opportunity to undertake some postgraduate medical research in Paris. On his return to Parramatta in 1920, he became the third Brown to conduct a medical practice from Brislington. His father Walter Sigismund gratefully retired after having been ravaged by a 'virulent and deadly influenza epidemic in 1919'.  Between 1927 and 1938 Keith also maintained a practice in Macquarie Street, Sydney. He was an honorary doctor at Parramatta District Hospital but not as well accepted as his father and grandfather were.
Keith is remembered as the author of Medical Practice in Old Parramatta , Angus and Robertson, 1935. The book is regarded as an authoritative addition to the history of Parramatta in its field.  It is understood that he was an honorary lecturer at[iv] University of Sydney in this field of the history of early colonial surgeons and physicians.
Keith and his wife eventually moved from the heritage listed Brislington, almost a century after Walter Sigismund began to practice there. It was resumed by the Department of Health for the use as nurse's quarters. When it was no longer required for that purpose, it became a medical museum.

by John McClymont, Parramatta Historian, April 2006.

From manuscripts donated to the Parramatta Heritage and Visitor Centre, 2014
[i]   'MacArthur' was the original spelling of the Macarthur family that gradually changed in most of John's and Hannibal's Australian descendants to the current spelling.  M H Ellis, in his definitive John Macarthur, Sydney, A&R, 1969, in pp. 4, 5  – debates the reason for the changes.
[ii] Peter Yeend  (ed), The King's School Register 1831-1990.
[iii]  John McClymont (ed) – The Family of  Governor King – The First 200 Years,  Sydney, Privately Printed, 2006, p. 280.
Additional Reference
Sydney University. Beyond 1914. The University of Sydney and the Great War. http://beyond1914.sydney.edu.au/profile/2536/keith-sigismund-macarthur-brown