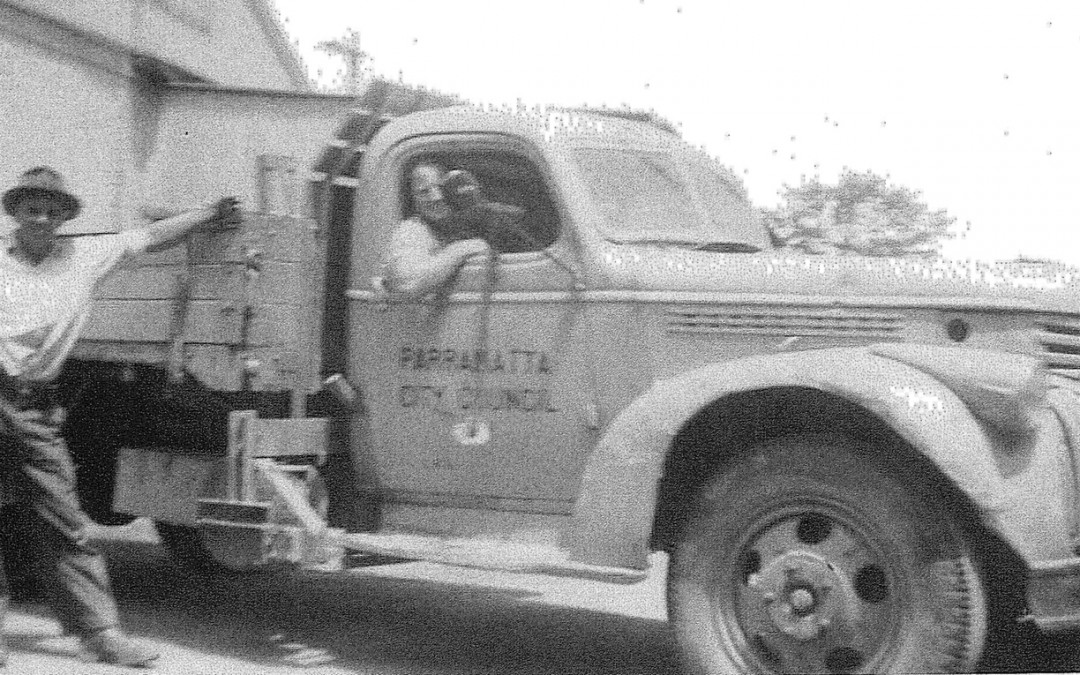 The Council Works Depot at Parramatta is in many ways its heart for it is from here that all the materials needed to upgrade and upkeep Parramatta's streets, gardens, footpaths and other amenities start their journey. But storing the life blood of a large council requires lots of room and as the city expands there is increasing pressure for redeveloping land near the CBD. This, and the upgrading of the forty year-old facilities, were sound reasons for moving out of the current depot at Morton Street, next to Rangihou Reserve.
But the depot's latest move to its new premises, "The ROC" at Rydalmere, is just the latest in a long history that dates back to the origins of Parramatta Council in the 1860s.
For most of the 1900s the depot was located in Market Street next to the old Parramatta Baths (currently Riverside Theatre) and was a well-known landmark for the locals. One of the more interesting stories I came across while researching for this post was from 1929. Apparently one of Australia's best known snake handlers, a man by the name of Tom Morrisey, was allowed to camp at the depot along with his snakes. The logic being that the profound respect most of us have for snakes would deter any would-be thieves.
But after Morrisey died in 1929 the snakes also departed forcing Council to look into the appointment of a two-legged caretaker. One was obviously needed for as Alderman Prudames pointed out the lack of fencing around the depot was an open invitation to the public to take the materials piled up outside the main shed.
Around the 1940s the land around Parramatta's Central Business District was increasing in price and in a scenario similar to today the value of the larger industrial or farming sites began to increase. As a result many sold up and moved further out to where land was cheaper. The Council Works Depot was no exception and in the 1940s the Mayor and Aldermen began to look at selling the Market Street site and moving to another location.
In July 1945 the King's School was in negotiations with Parramatta Council for its purchase. The school offered £6,000, while the Council ultimately offered to sell the site for £8,000, provided the public lavatories remained where they were. Five years later the site was still unsold and Councillor Musto was one of those now opposed to the sale to King's school and was instead advocating turning the site into a community hotel. In 1956 there was even talk about the Council library being moved to the site.
Obviously all of these plans failed to materialise and the decision to move the depot to Morton Street was made sometime in the early 1960s. The long-awaited opening of the $250,000 Morton Street Depot finally occurred, to the sounds of the Parramatta City Band, on 19 September, 1970.
References
The Cumberland Argus and Fruitgrowers Advocate (Parramatta, NSW : 1888 – 1950), Thursday 15 August 1929, http://trove.nla.gov.au/ndp/del/printArticlePdf/104725978/3?print=n
The Cumberland Argus and Fruitgrowers Advocate (Parramatta, NSW : 1888 – 1950), Wednesday 11 July 1945, http://trove.nla.gov.au/ndp/del/printArticlePdf/106125880/3?print=n
The Sydney Morning Herald (NSW : 1842 – 1954), Wednesday 14 November 1934, page 14, http://trove.nla.gov.au/ndp/del/printArticlePdf/17115898/3?print=n
The Cumberland Argus (Parramatta, NSW : 1950 – 1962), Wednesday 29 November 1950, page 1, http://trove.nla.gov.au/ndp/del/printArticlePdf/110014092/3?print=n

Geoff Barker, Research and Collection Services Coordinator, Parramatta City Council Heritage and Visitor Centre, 2015