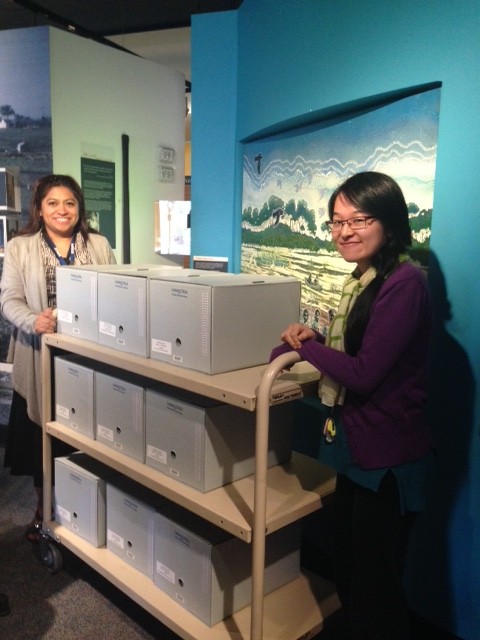 Research Services staff Maribel and Sally transferring the Corporate Library boxes at Parramatta Heritage and Visitor Information Centre, 2015
Parramatta City Council's original Corporate Library was a collection of past reports and documents, including selected drafts, maps and electronic versions. These reports were made or commissioned as part of business operations from all sections and departments of the Council staff in activities such as social planning and environmental protection. Reports include:
– local environmental plans
– development control plans
– management plans
– bush regeneration reports
– ward profiles
– archaeological reports (including photographic materials)
– community directories;
and more.
Over the past few months we have been working on cataloging and transferring 1000s of reports, documents and ephemera and transferring them to Research Services here at the Parramatta Heritage Centre. After transferring the collection from the old Council Chambers, we consolidated the  reports and documents onto a fully searchable database. These were all cross references against other items held across council and archives before we finally ended up with 1888 items cataloged and stored in 57 boxes.
This collection is a substantial resource available to Council staff and they are a great way of finding earlier Council Commissioned reports on areas across the LGA as well as being an excellent way to see how Parramatta City Council has effected change and developed into what it is today. The collection contains original research relating to demographics, traffic surveys, environment, archaeology, history and more, it is a significant reference source for planning the future.
This collection complements the existing resources in the Local Studies and Archival Collection. Access to general public is possible by special request through the Parramatta Local Studies Library. For more information, please refer to this enquiry form.

Sally Chik and Maribel Rosales, Research Services, Parramatta Cit Council Heritage and Visitor Centre, 2015