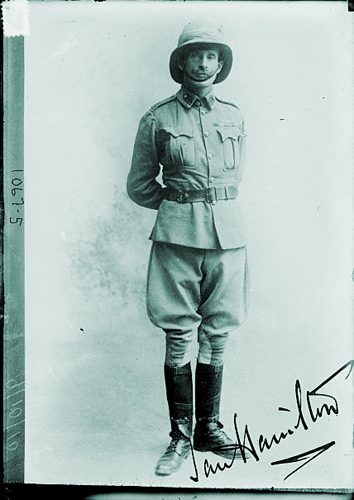 Over the next 6 months we will be publishing on our blog Sir Ian Hamilton's diary entries. In doing so we hope to provide an insight into the Anzac Campaign as it unfolded 100 years ago
: from the unsuccessful attempt by the British Navy to seize Constantinople, to the ANZAC invasion and right up until Hamilton's removal as Commander of the Allied Mediterranean Expeditionary Force.
Sir Ian Hamilton Hume was appointed commander in chief of the Dardanelles Campaign by Lord Kitchener in March 1914. Over the next six months he kept a diary of his activities which reveals some of the highly complex issues facing the campaign , including the delivery of supplies and munitions and governing troops from India, Canada and Australia as well as the British force.
Hamilton himself was an energetic 62 year old with a long and distinguished military career that dated back to 1871 when he joined the Suffolk regiment. He had twice been recommended for a V.C. and had virtually lost the use of his left hand due to a war wound. During the Boer war he had served as Chief of Staff to Lord Kitchener and it was this relationship which was probably most responsible for his appointment in 1915.
We are also hoping this project will generate comments on the Commander's activities and where possible insights into how his actions affected troops on the ground, and link these to our other posts relating to soldiers from the Sydney suburb of Parramatta and Western Sydney.
References
Ian Hamilton, Gallipoli Diary, Volume 1, George H Doran, New York, 1920


Geoff Barker, Research and Collection Services Coordinator, Parramatta Council Heritage Centre, 2015