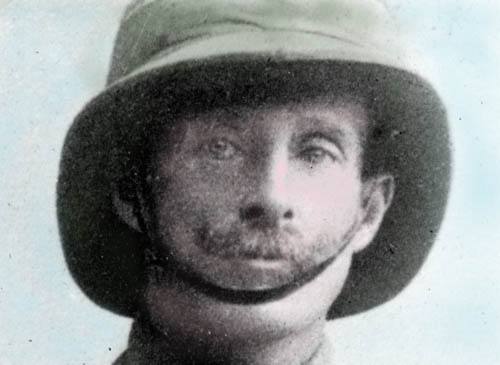 [This is one of the more important entries from the first volume of Hamilton's diaries as it describes the failure of Winston Churchill's navy to take the Dardanelles and thus Hamilton's realisation his Army's invasion of Gallipoli was now an inevitable reality.
It also contains an insight into the ideology driving men like Hamilton to believe war was a necessary step for human progress. Hamilton describes it thus … There is no other way. Only by intense sufferings can the nations grow, just as the snake once a year must with anguish slough off the once beautiful coat which has now become a strait jacket. Geoff Barker, Collection Services Coordinator, Parramatta City Council, 2015]
Cleared Tenedos Harbour at 4 a.m. and reached Lemnos at 6 a.m. I never saw so many ships collected together in my life; no, not even at Hong Kong, Bombay or New York … Passing the mouth of the Dardanelles we got a wonderful view of the stage whereon the Great Showman has caused so many of his amusing puppets to strut their tiny hour. For the purpose it stands matchless. No other panorama can touch it. … Sailing Southwards we are becoming more and more conscious of the tremendous bombardment going on in the Straits. Now and then, too, we can see a huge shell hit the top of Achi Baba and turn it into the semblance of a volcano. Everyone excited and trying to look calm. At 4 p.m., precisely, we rounded Cape Helles.
I had promised de Robeck not to take his fastest cruiser, fragile as an egg, into the actual Straits, but the Captain and the Commander (Cameron and Rosomore), were frightfully keen to see the fight, and I thought it fair to allow one mile as being the mouth of the Straits and not the Straits. Before we had covered that mile we found ourselves on the outskirts of – dream of my life – a naval battle! … The world had gone mad; common sense was only moonshine after all; the elephant and the whale of Bismarckian parable were at it tooth and nail! Shells of all sizes flew hissing through the skies.
Before my very eyes, the graves of those old Gods whom Christ had risen from the dead to destroy were shaking to the shock of Messrs. Armstrong's patent thunder bolts! … Close to us were steam trawlers and mine-sweepers steaming along with columns of spray spouting up close by them from falling field gun shells, with here and there a biggish fellow amongst them, probably a five or six inch field howitzer. One of them was in the act of catching a great mine as we drew up level with her. Some 250 yards from us was the Inflexible slowly coming out of the Straits, her wireless cut away and a number of shrapnel holes through her tops and crow's nest.
Suddenly, so quickly did we turn that, going at speed, the decks were at an angle of 45° and several of us (d'Amade for one) narrowly escaped slipping down the railless decks into the sea. The Inflexible had signalled us she had struck a mine, and that we must stand by and see her home to Tenedos. We spun round like a top (escaping thereby a salvo of four from a field battery) and followed as close as we dared. My blood ran cold – for sheer deliberate awfulness this beat everything. We gazed spellbound: no one knew what moment the great ship might not dive into the depths. The pumps were going hard. We fixed our eyes on marks about the water line to see if the sea was gaining upon them or not. She was very much down by the bows, that was a sure thing. Crew and stokers were in a mass standing strictly at attention on the main deck. A whole bevy of destroyers crowded round the wounded warrior. In the sight of all those men standing still, silent, orderly in their ranks, facing the imminence of death, I got my answer to the hasty moralizings about war, drawn from me (really) by a regret that I would very soon be drowned.
On the deck of that battleship staggering along at a stone's throw was a vindication of war in itself; of war, the state of being, quite apart from war motives or gains. Ten thousand years of peace would fail to produce a spectacle of so great virtue. Where, in peace, passengers have also shown high constancy, it is because war and martial discipline have lent them its standards.
Once in a generation a mysterious wish for war passes through the people. Their instinct tells them that there is no other way of progress and of escape from habits that no longer fit them. Whole generations of statesmen will fumble over reforms for a lifetime which are put into full-blooded execution within a week of a declaration of war. There is no other way. Only by intense sufferings can the nations grow, just as the snake once a year must with anguish slough off the once beautiful coat which has now become a strait jacket. …
Have added a P.S. to K.'s letter: "Between Tenedos and Lemnos. 6 p.m. This has been a very bad day for us judging by what has come under my own personal observation. After going right up to Bulair and down again to the South-west point looking at the network of trenches the Turks have dug commanding all possible landing places, we turned into the Dardanelles themselves and went up about a mile. The scene was what I believe Naval writers describe as 'lively.'" (Then follows an account based on my Diary jottings). I end: "I have not had time to reflect over these matters, nor can I yet realise on my present slight information the extent of these losses. Certainly it looks at present as if the Fleet would not be able to carry on at this rate, and, if so, the soldiers will have to do the trick." "Later. The Irresistible, the Ocean and the Bouvet are gone! The Bouvet, they say, just slithered down like a saucer slithers down in a bath. The Inflexible and the Gaulois are badly mauled."
From: Ian Hamilton, Gallipoli Diary, Volume 1, George H Doran, New York, 1920