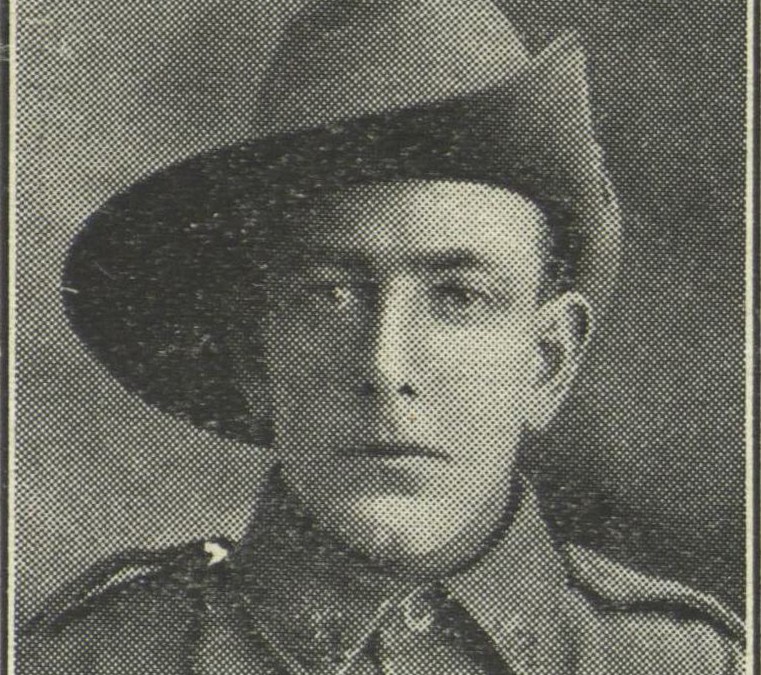 1660 Cecil Ernest Beale, copy from Parramatta Soldiers, Cumberland Argus, 1920
Private Ernest Beale or more precisely Cecil Ernest Beale was born on 8 February 1886 in Gatton, Queensland. He was the son of Eduard Samuel Beale, a "master of law at Newington College", and Margaret (nee Trevillion).[1] At the time of his enlistment in Liverpool on 18 May 1915, he was a 29 years old labourer staying with his uncle and aunt, William J. and Evangeline Coulson (nee Trevillion), of "Ardrossan", North Parade, Auburn, New South Wales (NSW). His widowed mother was living on Olinda Street, Quarry Hills, Bendigo, Victoria. His first cousin, Miss Coulson, was a well-known war worker.
On 28 July 1915 he left with the 17 Battalion aboard HMAT A23 Suffolk from Sydney for the front. He served at Gallipoli campaign from 17 September until the withdrawal in the latter part of December. Afterwards Cecil went to France and took part in all the big engagements there without being wounded until his luck ran out 7 April 1918. It was then that he was severely wounded in the head lost one of his eyes.[1] After 4 months of being in hospital in England he was officially returned to Australia on 24 August 1918 per "D21". For his service, he was awarded the 1914-15 Star Medal, British War Medal, and Victory Medal.[2]
In mid-1920 he married Australian Red Cross worker Gladys Muriel Bennett in Marrickville, NSW. During the Great Depression, Cecil returned to his original trade as a labourer despite having lost his left eye and the couple lived in Gladesville, then Balgowlah, before settling in Manly where Cecil worked for a time as a mill hand. When the Second World War broke out, he re-enlisted and worked as part of the 21 Australian Labour Company (service number N274927) [3] and was a soldier for the next 20 years before retiring in North Curl Curl where his daughter lived.[4]
At 79 years old, he passed away on 6 October 1964 at his daughter's home in North Curl Curl. He was survived by his wife, 3 daughters – Alice Heaton, Gladys Tolland, Ethel Klause, son Ernest and their families.[5]

Anne Tsang, Research Assistant, Parramatta Heritage Centre, 2014.
References
[1] Private Ernest Beale. (1918, July 20). The Cumberland Argus and Fruitgrowers Advocate, p.10. http://nla.gov.au/nla.news-article86208619
[2] National Archives of Australia. 'Cecil Ernest Beale'. Mapping our Anzacs [website]
[3] Manly Council. Roll of Honour WW2 by Surname 1. http://www.manly.nsw.gov.au/IgnitionSuite/uploads/docs/Roll%20of%20Honour%20WW2%20by%20Surname%201(1).pdf
[4] NSW Electoral rolls 1930-1963
[5] Death notice: Beale, Cecil Ernest. (1964, October 8). Sydney Morning Herald, p. 8.