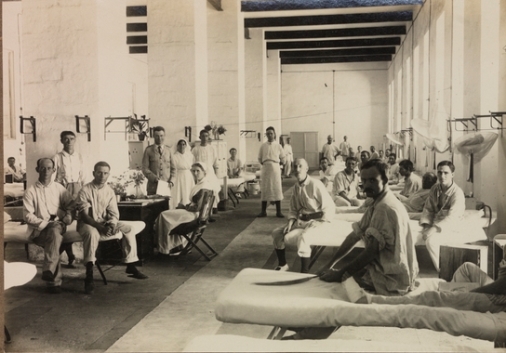 Australian Hospital Ward, Egypt, by A W Savage, State Library of New South Wales, pxe_698_a093126r
Edith was 34 years old when she joined the 3 Australian General Hospital the day after the Gallipoli landing, 26 April 1915. She was born in Glebe, Sydney, and her father was listed as living in Nelson's Bay, Port Stephens, New South Wales. But she had worked at the Parramatta Hospital before being stationed with the 3 General Hospital at Mudros, near Gallipoli 1 January 1916.
Edith was awarded the Royal Red Cross (2 Class) 1 January 1917 and after a spell sick in hospital in England she was detached for duty with the 2 Australian Army Hospital 8 May 1917. She also served in France with the 1 Australian Casualty Clearing Station, 18 February 1918. She returned to Australia 24 January 1920 and later that year the Army sent her 1914/15 Star , British War medal and Victory Medal.

Geoff Barker, Collections and Research Coordinator, Parramatta City Council Heritage Centre, 2014