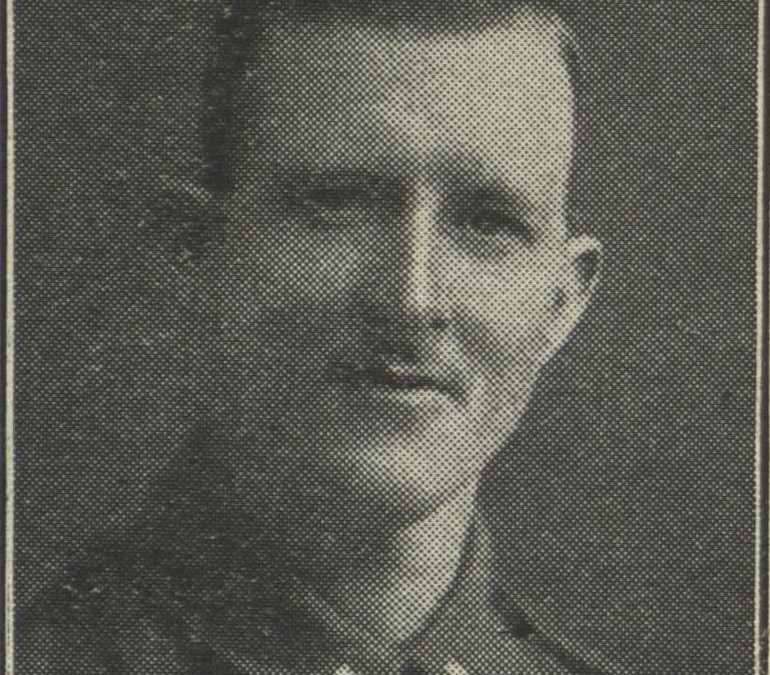 2012 Private William Quigley, copy from Parramatta Soldiers, Cumberland Argus, 1920
On 18 January 1915, 25 year old William Quigley enlisted to join the war effort. Prior to enlisting he was a druggist's labourer living with his mother Mary Ann Quigley at Morrison Road, Gladesville, New South Wales. He is linked to Parramatta through his sister Isabella Webb, who in 1913 had married Hurbert Walter Webb, a plumber, and lived at 44 (later 57) Rosehill Street, Parramatta.
According to his military records, Quigley was 5 foot 8.25 inches (1.73cm) with brown eyes, brown hair and a dark complexion. He embarked from Sydney on 13 April 1915 aboard HMAT Kyarra A55 with the 5 Reinforcements, 4 Infantry Battalion. Upon arriving in England, Quigley was charged with being 'away without leave' on three separate occasions. However he eventually became 'known to his mates as 'Iron Bill,' a sobriquet earned because he had the distinction of being the only one in his Battalion who has not been wounded'.[1]
In one of his letters home which was subsequently published in the Argus he writes:
"England is a great place, and the girls! I suppose the girls over there are biting a bit because a lot of the boys are bringing them back? Do not be surprised at anything I do, as lots of things happen in war-time. I have met some blokes who came over with the 25th Reinforcements, 'Stokers,' we call them, because they have been keeping the home fires burning so long. I think I will be wanting to organise some bombing parties when I get back and have a bit of a stunt down the domain amongst the conscientious objectors, which I hope some, of the returned soldiers would do."
A couple of postcards he sent to his friends from Egypt appear on the Smyth family website 'Lest we forget'[2]
On 20 May 1919, Corporal Quigley returned home and discharged 3 September 1919. At the time of his return his mother had moved to Ryde. A Miss Muriel Kelly, from Bristol, England had also written to the Australian Department of Defence to try to get in touch with him (see below).