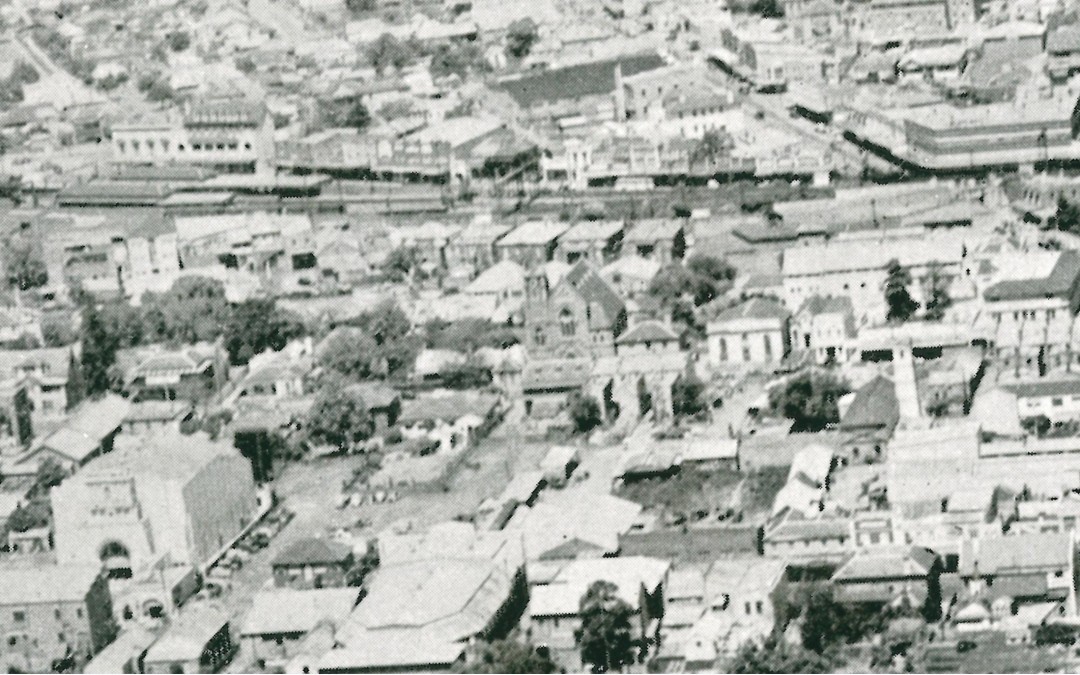 If you look closely at this image , taken about 1933, you can see at the centre, the Leigh Memorial Church, (which is still on Macquarie Street). To the left of the church you can see Dr Johnson's House and next to that 'Cranbrook' house, once owned by Harriett Holland and built around 1888.
Harriet and her husband John managed the Star Hotel around the corner in Church Street from about 1858 to 1888. The Holland's appear to have lived on the Macquarie Street site which at this time had a small wooden cottage on it, and were listed as owners in 1869. John died in 1874, and some ten years later, in 1883, Harriet purchased a vacant property next door owned by Mr. Hilt She then built a house on the new property in the same year.[1]
By 1884 it appears she was living in her new house and had demolished the old wooden cottage that was her home. But this move was just the next stage in her overall strategy. Sometime between 1884 and 1888 [we think about 1887/1888] she built another house, 'Cranbrook' on the land she had lived in with her husband for so long and and moved into the property permanently. Harriet died in 1898 and for a long time after her death the house was often referred to as 'Harriet's House' by locals.[2] After she died probate of her will was granted to Mr. C. E. Byrnes who was solicitor for the estate.[3] But the house appears to have been rented out to various occupants after this.
Residents of Cranbrook after Harriet's Death
It seems the first to move into the house after Harriet's death was Joseph Kemp and his family. Joseph was originally a mining engineer and ran a shop in the town of Orange, New South Wales. However one day burglars broke into his shop while he was working there and assaulted him so severely that he never recovered from the injuries from that day until he died.
He must have moved to Parramatta after the assault but can't have lived at 'Cranbrook' long as he died on the New years Day 1900 leaving behind a wife and two daughters. He was buried in Sherwood cemetery on 2 January, 1900.
Mrs. Kemp appears to have kept the property after his death and one of his daughters Minnie Florence Kemp married a Mr. W. F. Slinn, of the Australian Gas Company, and seems this couple lived in 'Cranbrook with their mother'.[6] Around 1906 Mrs Slinn of 'Cranbrook',  was seeking a girl to assist in all duties.[4]
By 1924 Mrs. Withers is listed as the owner of the property and on 18 June, 1926, 'Cranbrook' was auctioned off under an order of the Supreme Court of New South Wales. The advertisement described the house as:
a spacious and well-built brick cottage (cement plastered) with slate roof, containing a tiled verandah on three sides, wide through hall, sitting room, dining room, 4 bedrooms (all large rooms with marble mantles), pantry, kitchen, storeroom, breakfast room, bathroom, detached laundry, and brick lumber room. gas and sewer connected. Electric light available. The land has a frontage of 73 feet by a depth of 223 feet on the east side and 242 feet on the west side, and a rear of 76 feet.[5]
It then appears to have been brought by Dr. Woolnough who lived there till 1946. After this date his son Dr. Arthur Ronald Woolnough took ownership and lived there until it was pulled down in 1962.
References
[1]  The Cumberland Argus and Fruitgrowers Advocate, 14 August, 1897, http://trove.nla.gov.au/ndp/del/article/85768443
[2] The Cumberland Argus and Fruitgrowers Advocate, 18 June, 1898, http://trove.nla.gov.au/ndp/del/article/85844464
[3] The Cumberland Argus and Fruitgrowers Advocate, Saturday 11 June 1898, http://trove.nla.gov.au/ndp/del/article/85841231
[4] The Cumberland Argus and Fruitgrowers Advocate, 4 April, 1906, http://trove.nla.gov.au/ndp/del/article/85933187
[5] The Cumberland Argus and Fruitgrowers Advocate, 11 June, 1926, http://trove.nla.gov.au/ndp/del/article/104960594
[6] The Cumberland Argus and Fruitgrowers Advocate, 24 April, 1897, http://trove.nla.gov.au/ndp/del/article/85772430
[7] The Cumberland Argus and Fruitgrowers Advocate, 22 June 1904. http://trove.nla.gov.au/ndp/del/article/85905002