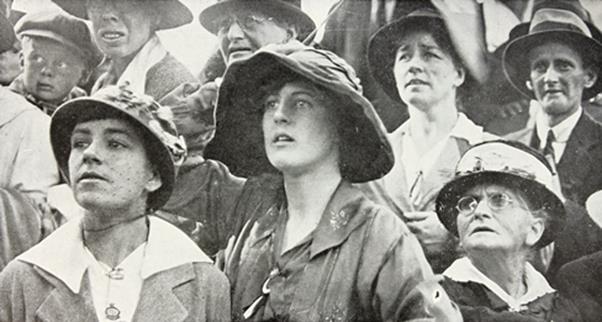 Many community organisations assisted with the return of soldiers from the war but the Welcome Home Committee, as the name suggests, was formed specifically to ensure that soldiers returning from the front were acknowledged in some way when they returned home.  They ensured there were regular functions held to welcome soldiers home and made arrangements for each soldier to be greeted by someone when they arrived at the local railway station.  Local community members who had cars provided transport and others decorated their homes with banners or bunting to provide a festive welcoming atmosphere.
"When the heroes of the Great War commenced to return it appealed to many that the time was ripe to form an association that would interest itself in giving the boys just as enthusiastic welcome home as they had received a send-off. It caught on.  The first welcome home of any note was that accorded to Frank Hosford, one of the heroes of Gallipoli, and organised by the Parramatta Bowling Club.  Frank received an address and a wallet of notes.  Then Mr W.Morphett took a hand, and, through his efforts, in June 1917, the Parramatta Citizen Soldiers' Welcome and Farewell Association was formed.  Mr W.Morphett and Miss E.L.Jones were the first secretaries.  Afterwards the position was taken by Mr H Mason who continued on until the end of the war, and the association was wound up, after doing much praiseworthy work.  
Farewell socials were held to bid God-speed to the recruits still going forward to fill the gaps caused by those who had given their lives to the great cause, and at intervals 'welcome home' functions were held.  Besides this it was seen to that every returned boy was given a fitting welcome as he stepped on to the railway platform. Cars were always in readiness to convey him and his relatives home.  These latter arrangements were in the hands of Messrs. H Mason and W.Fairclough and Miss C.Coogan, and how they succeeded is now a matter of history.  No hour was too early and no hour was too late.  The glad hand was always there.  They even arranged to deck the homes with bunting for any who so desired, and thus, they won, not only the appreciation of the citizens, but also the gratitude of the returned boys and those near and dear to them.  This work of love was carried on faithfully till the return of the last boy, and, be it said to their credit, the citizens, owners of motor cars, were always found ready and willing to supply the cars necessary for each and every occasion, and by this means, boys have been joyfully returned to their homes, even though far distant from Parramatta itself.  In appreciation of this work there was a great final function, when the returned soldiers, combined with the citizens, gracefully acknowledged the splendid work of Messrs. Mason and Fairclough and Miss Coogan by presenting them each with an illuminated letter of thanks and appreciation, and gold watches, suitably inscribed." 1
It was not only soldiers who were given a great welcome home – nurses were also subject to the same treatment, as evidenced by an article in the local Parramatta newspaper.  This article, with attached photo, describes the welcome home that a local nursing sister received.
"Welcome home to Sister Dorothy Cawood.  Nurse Cawood's father, Mr John Cawood is on the front seat of the car.  Miss Coogan and Mr Fairlough of the Parramatta Welcome Home Committee can be recognised, as also may the VAD's (Voluntary Aid Detachment).  The Mayor, Alderman H.A.Simpson, on whose right is Mrs J.Cawood, saying 'Welcome back,' to Sister Cawood.  Welcome home, thrice welcome to a brave and devoted Sister, whom shot and shell could not turn from the path of duty and heroism.  Her bravery and devotion, both in Gallipoli and France, make us all proud of her, and we feel  honored in that the King and Empire recognised such heroism, and let us not pause at that, but tender our sincere congratulations to her parents, Mr and Mrs J.Cawood (the former a staunch old volunteer of many years' standing)." 2
Footnotes:
1.  Parramatta District Soldiers in the Great War, 1914-1919, page 257
2.  The Cumberland Argus and Fruitgrowers Advocate (Parramatta, NSW 1888-1950), 12 July 1919. Viewed 14 March 2014, http:nla.news-page8964366
References:
Parramatta District Soldiers in the Great War, 1914-1919
Bean, C    Official History of Australia in the War, of 1914-1918, Photographic record of the War  Volume 12
The Cumberland Argus and Fruitgrowers Advocate (Parramatta, NSW 1888-1950),12 July 1919. Viewed 14 March 2014, Trove, http://nla.news-page8964366

Alison Lykissas, Collections Officer, Parramatta City Council heritage and Visitor Centre, 2017