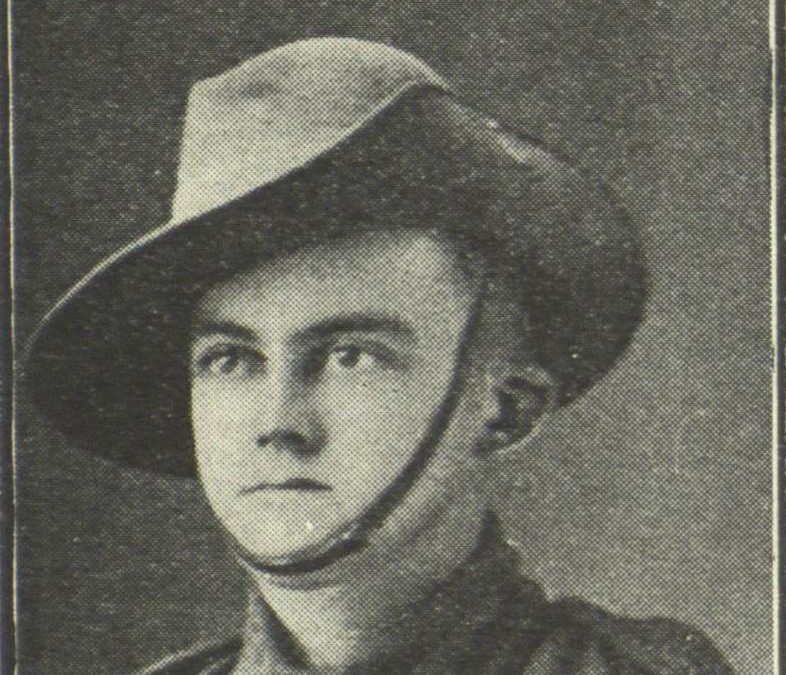 Robert F.C. Wilkinson, copy from Parramatta Soldiers, Cumberland Argus, 1920
Robert Wilkinson's story is unusual in that after being discharged as being medically unfit he was one of the few men to enlist a second time.
He first enlisted at Randwick, New South Wales (NSW) on 28 August 1914, when he was a 20 year-old. At the time, he was living with his father James Simpson (1860-1931) of Aslett Street, Lidcombe and working as a tinsmith. His mother Helena 'Ellen' Harriet (nee Blackman) has passed away in 1908. After successfully applying he was given the service number no. 757 and drafted into the Australian Naval and Military Expeditionary Force (AN&MEF) 1st Infantry Battalion – "F Company".[1]
Robert was the first lad under 21 years of age to go to 'The Front' from the Auburn area and he held the position of bugler among the battalion band.[2] He officially embarked from Sydney aboard the HMAT Afric A19 on 18 October 1914. Unfortunately while training in Egypt he became ill. First contracting measles he was admitted to the Australian General Hospital, Mena House, Cairo, Egypt, on 11 February 1915, where he stayed for 8 days. Later on 7 March 1915 he was again taken to Mena House and diagnosed with rheumatism. This led to him being transferred to the Bombay Presidency General Hospital, Alexandria on 9 March for further observations and treatment before eventually declared medically unfit, returned to Australian per Suevic and discharged on 7 July 1915.[3]
Robert was however determined to fight for his country and after regaining his health re-enlisted on 11 August 1915 at Holsworthy with the 8 Reinforcements, 17 Battalion. This time he used his full name Robert Francis Crothers Wilkinson (service no. 3652), and made sure his new address was his sister's, Mrs Nevada Freeman of 80 Helena Street, Auburn. He embarked from Sydney aboard HMAT Aeneas on 20 December 1915.[4]
Sadly, while sitting under a tree in France during a break in the fighting a the Somme he was killed in action on 9 May 1918. He was aged 24 and was buried at Franvillers Communal Cemetery Extension, France. His younger brother Alexander James Simpson (service number 2665, N90031, 85742) had also served with the AIF but returned to Australia by 6 September 1919.
He was survived by his father, 2 brothers and 3 sisters – one of whom was Mrs Alma Grace Cartwright, who The Cumberland Argus and Fruitgrowers Advocate incorrectly identified as his mother.[2]

Anne Tsang, Research Assistant, Parramatta Heritage Centre, 2015.
References
[1] P04608.001 [Studio portrait of 3652 Private (Pte) Robert Francis Crothers Wilkinson]. Australian War Memorial [website].
[2] 'Our brave on the battle fields'. (1918, June 1). The Cumberland Argus and Fruitgrowers Advocate, p.10.
[3] National Archives of Australia. 'Robert Wilkinson'. Service number: 757. Barcode: 8388769
[4] National Archives of Australia. 'Robet Francis Crother Wilkinson'. Service number: 3652. Barcode: 8388733