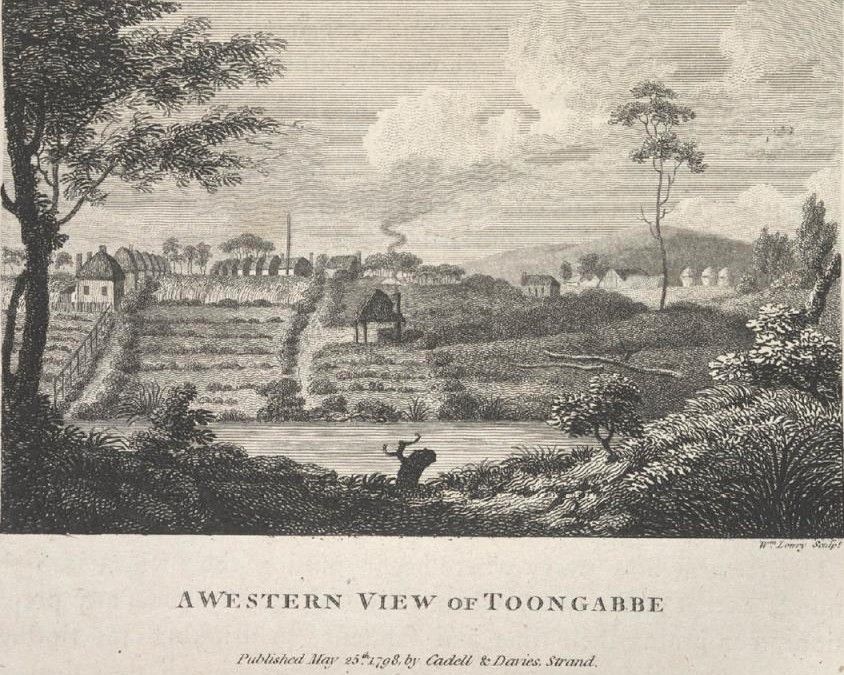 Convict Huts, Western View of Toongabbie, published by Cadell and Davies, 1798
This year we are celebrating 230 years since the establishing of Old Government Farm in 1791.
The area that is known as Toongabbie today has been used and managed by the local indigenous people for tens of thousands of years. Families used to camp alongside the creeks to provide drinking water and hunted kangaroo, possum and other wildlife. They fished and collected aquatic life and utilised the native vegetation for food, tools, art work and bark canoes.
In 1788, Governor Phillip led an expedition that travelled west along, the now Toongabbie Creek, looking for rich and farmable land for the fledgling colony. The settlement of Rose Hill was born in November 1788 and later re-named Parramatta. In April 1791, a large-scale government farm was established at "Tongabby", the meeting of the waters.
The land was given to Thomas Daveney, Andrew Hume, John Redmond and Charles Grimes and food grown by them was soon becoming the main food supply to the settlement. It grew to be the third settlement and finally called Toongabbie. Often referred to as 'Government Farm', life here was cruel and harsh. It employed up to 500 convicts, most from the Third Fleet. The 'Government Farm' ran from 1791 to 1803 and was bounded by Hawkesbury Road.  In 1805, the road was re-named Old Windsor Road and lead to a prosperous township. So much that a train station was completed in Toongabbie in 1880.
On 22 April 1788 twelve men led by Governor Phillip sailed up the Parramatta River from their settlement at Port Jackson until they could no longer travel by boat. They marched west alongside the Toongabbie Creek looking for arable land to plant crops and establish farming communities to support the fledgling colony. Later, that same year, Governor Phillip devised plans to expand the colony around the Parramatta area and on 2 November the second settlement was established on the Crescent alongside the river in what is now Parramatta Park.
The first supplies started being shipped up river from the 4 November 1788 and the settlement of Rose Hill was born. Rose Hill was later renamed on 2 June 1791, to Parramatta as it was mistakenly called, as the local Aboriginal people called the area Burramatta, or Place where the eels lie down.
On 1 April 1791 Governor Phillip established a large scale government farm 3.5 km to the north west at 'Tongabby' the meeting of waters. The 'Tongabby' farm run by Superintendent Thomas Daveney, soon became the main food supplying area of the struggling colony after the Second Fleet arrived. Pronounced Toon-gab-be, now known as Toongabbie, the farm grew into Australia's third settlement and sustained the growth of Sydney Cove and Rose Hill.
Often referred to as 'Government Farm', life here was cruel and harsh. It employed up to 500 convicts; most from the Third Fleet. The 'Government Farm' ran from 1791 to 1803 and was bounded by Hawkesbury Road (Old Windsor Road), Junction Road and Gibbon Road with the main settlement adjacent to the bend of Toongabbie Creek.
In 1794 Governor Francis Grose gave the first grants of land to Thomas Daveney (100 acres/40.4 hectares), Andrew Hume (30 acres/12 hectares), Charles Grimes (100 acres/40.4 hectares) and John Redmond (60 acres/24 hectares). These were made as the new Hawkesbury Road was built.
In 1805 The Hawkesbury Road was renamed Old Windsor Road. A prosperous township flourished around the intersection of Fitzwilliam Road and Old Windsor Road until the railway line from Parramatta to Blacktown was completed in 1860.
This led to the establishment of a new Toongabbie station and this new site about 2 km to the west attracted most of the new business.
Oakes reserve was part of the land (121.4 hectares) purchased by George Oakes purchased in 1861. It is believed George Oakes added the rock slab steps to the old carved out steps and to have constructed the weir that crossed old Toongabbie up until 2006.
Read about Francis & Rebecca Oakes and George & Mary Ann Oakes and their life by clicking on the links:
Today Parramatta City Council with the support of volunteers from Dananggara Corridors Bush care and Baxter Healthcare are restoring the creek bank ecosystem by bush regeneration, weeding/removing exotic plants and replanting with the original native plant community. The site is now listed on the State Heritage Register and the area can be a place of tranquil reflection of the past that was.

David Kuhle, Natural Resources Officer, Open Space and Natural Resources, Parramatta City Council, 2015
Neera Sahni, Research Services Leader, Parramatta Heritage Centre, City of Parramatta, 2021 - updated
References
Parramatta, Dictionary of Sydney, http://www.dictionaryofsydney.org/entry/parramatta
Mary McGuinness, 2012, 'Convict History in Old Toongabbie and Winston Hills', History Services Blog, http://historyservicesnswblog.blogspot.com.au/2012/09/convict-history-in-old-toongabbie-and.html
B. H. Fletcher, 'Phillip, Arthur (1738-1814)', Australian Dictionary of Biography, National Centre of Biography, Australian National University, http://adb.anu.edu.au/biography/phillip-arthur-2549, published first in hardcopy 1967
Old Toongabbie, Dictionary of Sydney, http://www.dictionaryofsydney.org/entry/old_toongabbie_and_toongabbie
Toongabbie Government Farm Archaeological Site, State Heritage Register, NSW Office of Environment & Heritage, http://www.environment.nsw.gov.au/heritageapp/ViewHeritageItemDetails.aspx?ID=5061406
Norma Margaret Allardice (nee Mackenzie)
My family "Mackenzie", moved to Phillip Street Parramatta from Young, New South Wales. I was only a month old and born 1938 when we settled in Phillip Street. I was named after my Dad, Norman. Mum
's name Violet, eldest son Ronald, 2nd son Arthur, third child Mary and me being the last born Norma.
I am so glad I found your wonderful articles. Phillip Street was on the Parramatta River. We spent most of our play time in the river. So many stories to tell about the ice works at the bottom of Smith Street.
We played with the aborigines from Rose Hill who lived in Phillip Street.