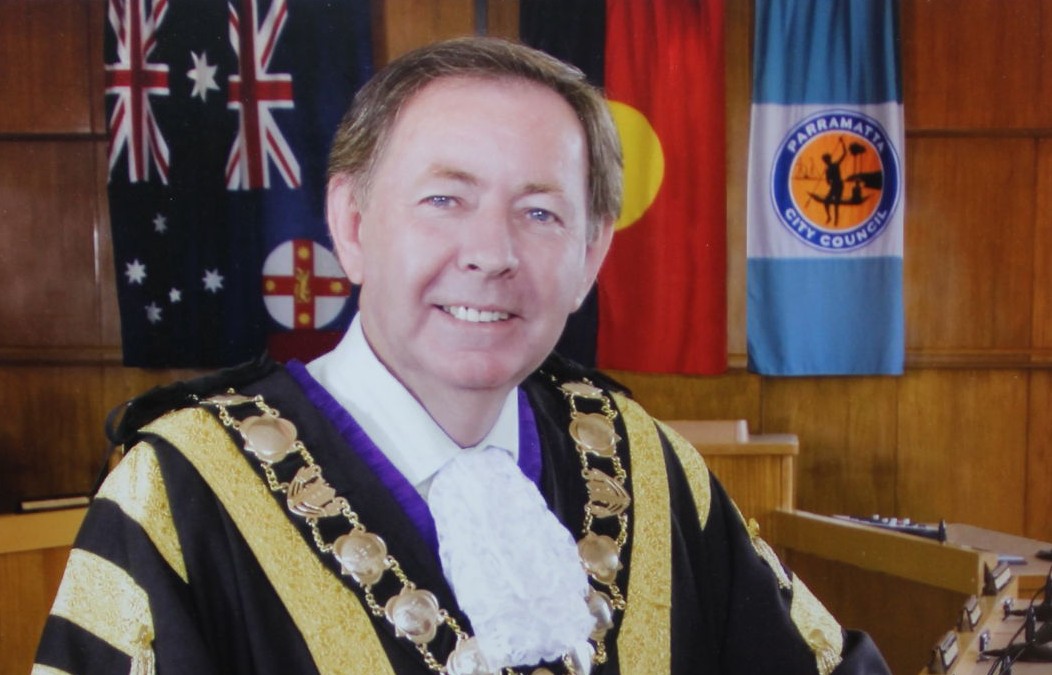 Lord Mayor 1995-1996, 1998-1999, 2002-2004, 2009-2010, 2015-
Councillor Garrard was born in Granville and was educated at Marist Brothers Auburn (now know as Benedict College). After completing his secondary education, Cr Garrard received a scholarship from the Printing and Allied Trade Employers Association which led to an apprenticeship as a camera operator. In 1971 he was the recipient of the Australasian Printer of the Year Award and has since continued his interest in the printing industry. Pursuing a career in teaching he began lecturing at the Sydney Institute of Technology in 1977.
Councillor Garrard was twenty-two years of age when he entered local politics, citing the controversy surrounding the War in Vietnam as the catalyst for his interest in government and politics.
He has served three terms as Deputy Mayor and six terms as Lord Mayor.
As Lord Mayor he initiated agreements with Sydney Olympic Park, Sydney Turf Club and the Department of Housing so as to achieve more effective outcomes for stakeholders and to better promote Parramatta as the Primary Centre in the heart of Sydney. He identified the strategic importance of the Royal Agricultural Society to Parramatta and had council develop a relationship with that organisation. Within Council he developed a "Neighbourhood Policy" enabling the organisatio to develop a more effective place management regime in the City.
He initiated and introduced a "Wireless City" approach to Parramatta's future. Council began working with the Western Sydney IT Cluster to address the challenges of the 21st Century and provide wireless internet access assisting in the creation of business productivity, investment and economic growth.
The drawing up and development of a "Friendship Agreement" between Parramatta and North Lebanon, which Councillor Garrard enacted, was important in creating a base for ethnic harmony in the city.
Parramatta City Council Media Release  – Monday 22 September 2014
Celebrating Cr Paul Garrard's 40-year service to Parramatta
Last week Parramatta City Council celebrated Cr Paul Garrard's 40-year service to local government as Councillor, with a thank you reception at Granville Town Hall.
Cr Paul Garrard was elected to Parramatta City Council in September 1974 and has been re-elected on 10 continuous occasions, serving five terms as Lord Mayor. He currently holds the position of Deputy Lord Mayor and represents the Woodville Ward.
Throughout his career Cr Garrard has been a strong advocate of better neighbourhoods and was the first councillor to introduce community precinct meetings in 1993, which are held every three months at Granville Town Hall.
Last year Cr Garrard was given the honour of becoming a Patron to HMAS Parramatta,having been an Official Council Liaison Officer since 2003, and he has been instrumental in fostering close relationships with them.
He has played a key role in establishing ParraConnect, an initiative to position Parramatta as a Smart City and a leader in innovative technologies.
Cr Garrard has been a staunch community advocate during his time at Council and was behind the Save Our Suburbs campaign in 2010, supporting the needs of locals.
"Local Government is a great industry and represents people and communities. My involvement in Local Government has enabled me to meet a whole range of people and that's probably the most pleasant part of public life," Deputy Lord Mayor of Parramatta Cr Paul Garrard said.
"When I first came to Council, the Woodville Ward was terribly run down. I spent my first 20 years at Council supporting better infrastructure and equality of funding for the Granville and Woodville Wards."
The Lord Mayor of Parramatta Cr John Chedid congratulated Cr Paul Garrard on his commitment to local government and continuous service to Parramatta. 
"On behalf of the City of Parramatta I would like to congratulate Deputy Lord Mayor, Councillor Paul Garrard on 40 years of service to the community. His service to the community of the Woodville Ward and the City of Parramatta has been exemplary," Cr Chedid said.
"Cr Garrard has showed great passion in his roles as a Lord Mayor, Deputy Lord Mayor and Councillor over four decades. 
"He would no doubt have experienced many challenges along the way but one thing that has not changed is Cr Garrard's passion for the community.
"I congratulate him on 40 years of service and wish all the best for many more."