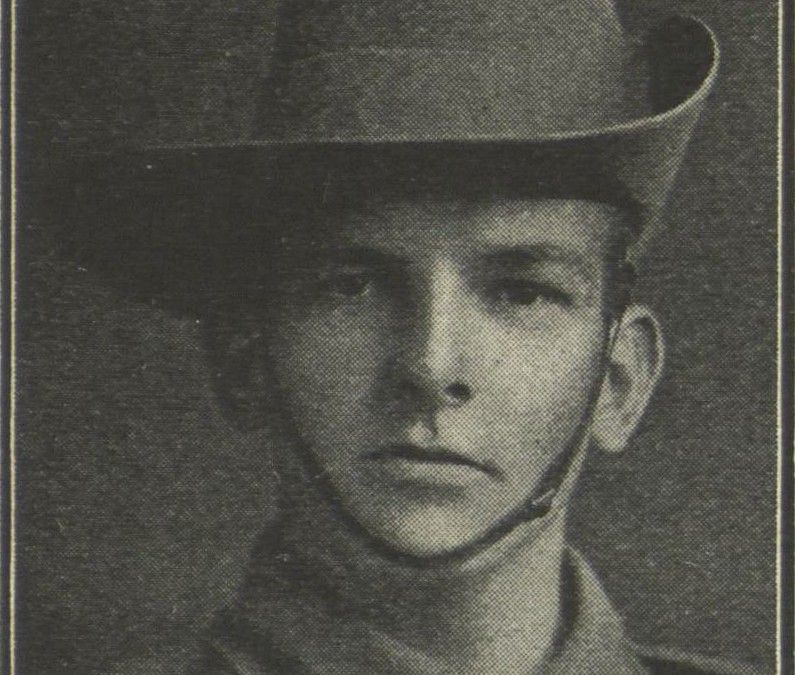 Stephen was a 23 year-old bookbinder when he enlisted 26 June 1915.
At that time he was living with his mother Mrs H.E.Booth, at Marion Street, Harris Park, Parramatta. He was a Corporal when he disembarked at Marseilles 28 March 1916 and was promoted to Lance Sergeant 7 August 1916. He was wounded in action 5 November 1916, dying of later at the 36 Casualty Clearing station in France.
September 1916 the Cumberland Argus:
THE FALLEN SOLDIER.
At the Parramatta Methodist Church on Sunday Captain Chaplain Rev. T. B. Holmes conducted an in-memoriam service in connection with the death of Sergeant Stephen J. Booth, a Parramatta boy who died of wounds in France on November 7. Tho rostrum was decorated with flowers, flags and the colors of his battalion. The congregation included many friends of the fallen hero, and a party of scouts, with hero and soldiers in khaki, to pay their tribute of respect. The service was in every way appropriate and impressive. The preacher very tenderly expressed the deep sympathy which was felt for the bereaved family and the high appreciation manifested for the sterling Christian character of him who had given his life for King and Country.
The family had lost a brother beloved, the Church had lost an earnest Christian worker, and the community had lost a good citizen. The sermon was based on the text which Sergeant Booth had given as his last message to the Christian Endeavour Society — of which he was a prominent member: — 'In nothing shall I be ashamed, but with all boldness: as always so now also Christ shall be magnified -whether it be by life or by death' (Phil. I. 20). Mr. Thomas Muston, who was superintendent of the Sunday school during the time when Sergeant Booth was scholar and teacher, took part in the service and spoke in feeling terms of his long association with Steve Booth, and paid a glowing tribute to 'his memory. Mrs. E. P. Pearco sang very sympathetically, 'David's lament over the loved one taken.' The service concluded with the National Anthem.
References

Alison Lykissas, Cultural Collections Officer and Geoff Barker, Research and Collection Services Coordinator, Parramatta City Council Heritage Centre, 2015