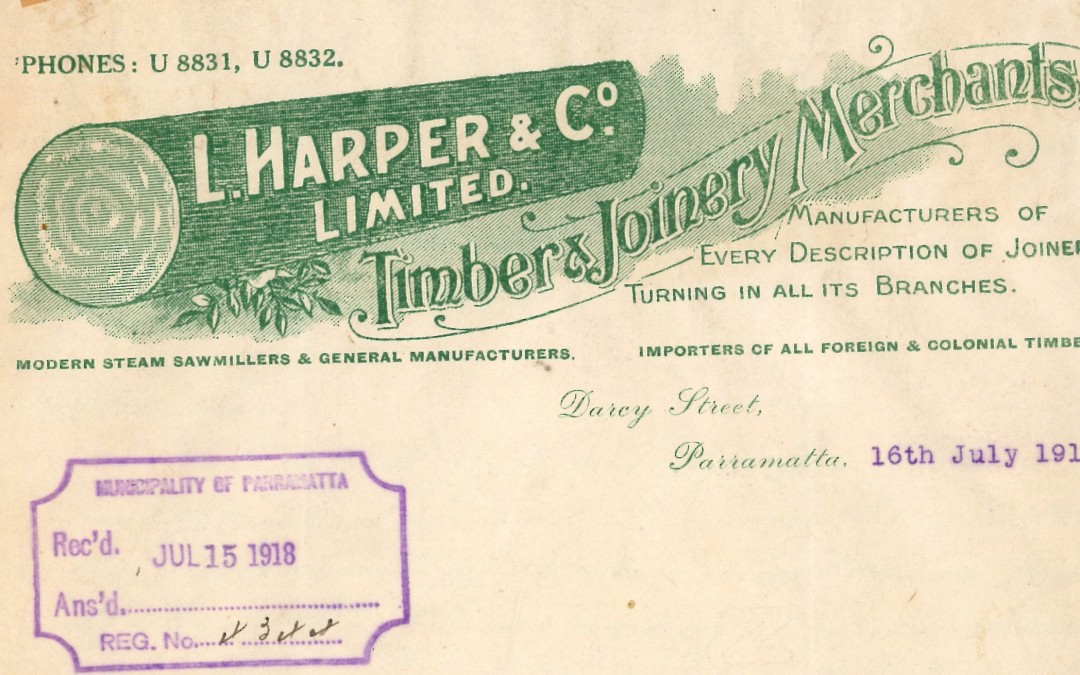 Few businesses can claim to have operated in the Parramatta area for over 160 years but 'Harper Timber' is one that can make that claim. This long time timber business is thought to have been established in 1854 at George Street Parramatta on the site of the Roxy Theatre with a branch sawmill in Granville. [1]  It isn't clear who started the business but it was taken over in 1880 by business partners George Coates, son of Master Builder and Parramatta Alderman George Coates Senior, and Richard William Harper, son of Parramatta Mayor, and brick works owner, Richard Harper. A 1894 Coates and Harper advertisement showed the business operating from two locations on George Street, one on Darcy Street, and another opposite Granville railway station. The company traded until 1897 when it was hit hard by the economic depression of the 1890s and the company suffered a financial collapse. [2] The partnership was dissolved and a new trading entity L. Harper and Co. was formed. L. Harper was most probably Louisa Harper, nee Coates (daughter of George Coates senior), who married Richard. W. Harper in 1881. The company's major competitor at this time was William Hart and Sons Timber Merchants which also went through financial difficulties and was dissolved in 1894. A new company started by W.W. Hitchcock took over trading as Hart and Hitchcock and Company.
In 1911 the L. Harper and Co. successfully applied to Parramatta Council to set up a sawmill at Darcy Street, near the current Parramatta train station. Following its incorporation in 1912 it began to experience considerable growth.  It was during this time, in February 1916, R. W. Harper died.[3] His death was followed two years later by that of one of his sons Ernest W. Harper, manager of the business. [4] However, this did not seem to slow down the company's success and in June 1918 L. Harper & Co. relocated it's mill to 18 acres of land with water frontage on the north bank of the Parramatta River near Morton Street, formerly the site of the Pemberton Orange Estate.The company erected a new wharf  at the site that would receive hardwood from the Northern Rivers of New South Wales, white pine from New Zealand, oregon and redwood from North America, and possibly Baltic timber from Scandinavia. The main office of the firm remained at Darcy Street under the control of Director Mr. R. L. Harper, and, at the river-side mills, his brother, Mr. R. G. Harper, was in charge. The Darcy Street yard was kept as a holding area and a new electric motor, panel-planing machine and circular saws installed for the treatment of timber on the 'while-you-wait ' system. [5]
L. Harper and Co. also had ideas to capitalise on their land acquistion. Soon after purchasing the land by the river they applied to Council with plans to subdivide the northern end of the property into 44 lots of land with a new road to be constructed from Morton Street. The land was advertised in 1919, however despite these plans the subdivision did not eventuate. [6]
The company continued to grow and, unlike in the 1890s depression, was strong enough to get through the Great Depression. The company built new premises on Darcy Street, opposite the railway station in 1934, on land originally owned by George Coates senior.[7] Also, as part of these new premises Neil Harper, a district tennis champion, opened a sports store alongside the timber merchants store. The opening of the new store appears to be the precursor to the company closing down its operation on the banks of the Parramatta River. Valuation records show that around 1936 the land was transferred from L. Harper and Co. to Louisa Harper. By 1939 sawmill operations had ceased and land use was described as "Dairy and Boiler House".[8] Louisa Harper passed away in November 1940. R. L. Harper and G. H. Brennan were appointed executors of her estate which included the riverside land. The land was later sold to Fredrick Rose Ltd. At this time the trading name of L. Harper and Co. was changed to Harper Timber Co. Pty. Ltd. as it again strove to become a leading Sydney timber supplier.
With Parramatta Council's development of Civic Place and the planned construction of a new Central Library near the site of the mill, Harper Timber Co. made the decision in 1962 to move its premises to Wentworth Avenue, Pendle Hill where it remains to this day. Neil Harper, who managed the business from 1945 retired from the business in 1988, selling the business to Timber Corporation Pty. Ltd, which continued to trade as Harper Timber. [9]

Peter Arfanis, Archivist, Parramatta Council, Heritage Centre, 2015
References
[1] Local Industries. (1895, October 12). The Cumberland Free Press (Parramatta, NSW : 1895 – 1897),  http://nla.gov.au/nla.news-article144435662
[2] Presentation to Messrs. Coates and Harper (1897, July 3). The Cumberland Argus and Fruitgrowers Advocate(Parramatta, NSW : 1888 – 1950),  http://nla.gov.au/nla.news-article85762900
[3] Death of Mr. R. W. Harper (1916, February 23). The Cumberland Argus and Fruitgrowers Advocate (Parramatta, NSW : 1888 – 1950),  http://nla.gov.au/nla.news-article86081625
[4] Death of Mr. E. W. Harper. (1918, March 6). The Cumberland Argus and Fruitgrowers Advocate (Parramatta, NSW : 1888 – 1950), p. 3.  http://nla.gov.au/nla.news-article86210611
[5] The New Parramatta Timber Mills and Wharf. (1918, December 14). The Cumberland Argus and Fruitgrowers Advocate(Parramatta, NSW : 1888 – 1950),  http://nla.gov.au/nla.news-article86209838
[6] PRS092/26 Parramatta Subdivision Correspondence. Application by L Harper and Co. 1918. to subdivide land. Parramatta City Council Archives
[7] Local Business Man's Enterprise. (1934, August 16).The Cumberland Argus and Fruitgrowers Advocate(Parramatta, NSW : 1888 – 1950),  http://nla.gov.au/nla.news-article104569061
[8] PRS011/061 Parramatta Valuation Book, Morton Street East Side from Victoria Road. 1939. Parramatta City Council Archives
[9] Harper Timber Pty Ltd Website. http://harpertimber.com.au/company/about.php